ASSESSMENT OF OXIDATIVE STRESS AND INFLAMMATORY MARKERS OF MEDICAL IMPORTANCE IN ORAL SQUAMOUS CELL CARCINOMA
Keywords:
Oxidative Stress Marker, Oral Squamous Cell Carcinoma, Dentistry, Oral Pathology, Malignancy
Abstract
There is an increased prevalence of oral squamous cell carcinoma (OSCC) globally but especially in Asian countries, and it is a well-known human malignant cancer. Oxidative stress markers might be helpful in diagnosis and to assess the progression of malignancy. The current analysis aimed to determine the altered levels of oxidative stress and inflammatory markers in oral squamous cell carcinoma. This research was conducted by the general pathology department of Institute of dentistry, CMH Lahore, from September 17, 2021, to January 17, 2022. Total of sixty age and sex matched participants were included in the study and further divided into two groups. In study group thirty confirmed cases of oral squamous cell carcinoma on histopathology were recruited. Oxidative stress markers were measured and statistically analyses done by using SPSS software version 25. The results showed increase levels of malondialdehyde, 8-hydroxy-2-deoxyguanosine, isoprostanes, interleukin-6 and tumor necrosis factor alpha as compared to the control group (p= 0.023, 0.001, 0.041, 0.000 and 0.033 respectively). Elevated levels of oxidative stress markers were found in patients of OSCC. That may lead to swift progression of disease and may increase mortality rate.
Downloads
Download data is not yet available.
References
Ahmad, P., Rubbia Nawaz, M. Q., Shaikh, G. M., Mohamed, R. N., Nagarajappa, A. K., Asif, J. A., and Alam, M. K. (2021). Risk factors associated with the mortality rate of oral squamous cell carcinoma patients: A 10-year retrospective study. Medicine100.
Babiuch, K., Bednarczyk, A., Gawlik, K., Pawlica-Gosiewska, D., Kęsek, B., Darczuk, D., Stępień, P., Chomyszyn-Gajewska, M., and Kaczmarzyk, T. (2019). Evaluation of enzymatic and non-enzymatic antioxidant status and biomarkers of oxidative stress in saliva of patients with oral squamous cell carcinoma and oral leukoplakia: a pilot study. Acta Odontologica Scandinavica77, 408-418.
Bozan, N., Demir, H., Gürsoy, T., Özkan, H., Düzenli, U., Sarıkaya, E., Turan, M., Kiroglu, A. F., and Çankaya, H. (2018). Alterations in oxidative stress markers in laryngeal carcinoma patients. Journal of the Chinese Medical Association81, 811-815.
Chang, R., Song, L., Xu, Y., Wu, Y., Dai, C., Wang, X., Sun, X., Hou, Y., Li, W., and Zhan, X. (2018). Loss of Wwox drives metastasis in triple-negative breast cancer by JAK2/STAT3 axis. Nature communications9, 1-12.
Cherian, D. A., Peter, T., Narayanan, A., Madhavan, S. S., Achammada, S., and Vynat, G. P. (2019). Malondialdehyde as a marker of oxidative stress in periodontitis patients. Journal of pharmacy & bioallied sciences11, S297.
Contant, C., Rouabhia, M., Loubaki, L., Chandad, F., and Semlali, A. (2021). Anethole induces anti-oral cancer activity by triggering apoptosis, autophagy and oxidative stress and by modulation of multiple signaling pathways. Scientific Reports11, 1-14.
del Carmen Migueláñez-Medrán, B., Pozo-Kreilinger, J.-J., Cebrián-Carretero, J.-L., Martínez-García, M.-Á., and López-Sánchez, A.-F. (2019). Oral squamous cell carcinoma of tongue: Histological risk assessment. A pilot study. Medicina Oral, Patología Oral y Cirugía Bucal24, e603.
Gunjal, S., Pateel, D. G. S., Yang, Y.-H., Doss, J. G., Bilal, S., Maling, T. H., Mehrotra, R., Cheong, S. C., and Zain, R. B. M. (2020). An overview on betel quid and areca nut practice and control in selected Asian and South East Asian Countries. Substance use & misuse55, 1533-1544.
Islam, S., Muthumala, M., Matsuoka, H., Uehara, O., Kuramitsu, Y., Chiba, I., and Abiko, Y. (2019). How each component of betel quid is involved in oral carcinogenesis: mutual interactions and synergistic effects with other carcinogens—a review article. Current Oncology Reports21, 1-13.
Jing, R., Long, T., Pan, W., Li, F., and Xie, Q. (2019). IL-6 knockout ameliorates myocardial remodeling after myocardial infarction by regulating activation of M2 macrophages and fibroblast cells. Eur Rev Med Pharmacol Sci23, 6283-91.
Juan, C. A., Pérez de la Lastra, J. M., Plou, F. J., and Pérez-Lebeña, E. (2021). The chemistry of reactive oxygen species (ROS) revisited: outlining their role in biological macromolecules (DNA, lipids and proteins) and induced pathologies. International Journal of Molecular Sciences22, 4642.
Ketabat, F., Pundir, M., Mohabatpour, F., Lobanova, L., Koutsopoulos, S., Hadjiiski, L., Chen, X., Papagerakis, P., and Papagerakis, S. (2019). Controlled drug delivery systems for oral cancer treatment—current status and future perspectives. Pharmaceutics11, 302.
Khurshid, Z., Zafar, M. S., Khan, R. S., Najeeb, S., Slowey, P. D., and Rehman, I. U. (2018). Role of salivary biomarkers in oral cancer detection. Advances in clinical chemistry86, 23-70.
Lee, T.-Y., and Tseng, Y.-H. (2020). The potential of phytochemicals in oral cancer prevention and therapy: a review of the evidence. Biomolecules10, 1150.
Luo, G., Jin, K., Deng, S., Cheng, H., Fan, Z., Gong, Y., Qian, Y., Huang, Q., Ni, Q., and Liu, C. (2021). Roles of CA19-9 in pancreatic cancer: Biomarker, predictor and promoter. Biochimica et Biophysica Acta (BBA)-Reviews on Cancer1875, 188409.
Meera, S., Sarangarajan, R., and Rajkumar, K. (2020). 8-Isoprostane: a salivary oxidative stress biomarker for oral submucous fibrosis and oral squamous cell carcinoma. Journal of Oral and Maxillofacial Pathology: JOMFP24, 279.
Minabe, M., Akiyama, Y., Higa, K., Tachikawa, T., Takahashi, S., Nomura, T., and Kouno, M. (2019). A potential link between desmoglein 3 and epidermal growth factor receptor in oral squamous cell carcinoma and its effect on cetuximab treatment efficacy. Experimental dermatology28, 614-617.
Mohideen, K., Sudhakar, U., Balakrishnan, T., Almasri, M. A., Al-Ahmari, M. M., Dira, A., Saeed, H., Suhluli, M., Dubey, A., and Mujoo, S. (2021). Malondialdehyde, an Oxidative Stress Marker in Oral Squamous Cell Carcinoma—A Systematic Review and Meta-Analysis. Current Issues in Molecular Biology43, 1019-1035.
Osredkar, J., Gosar, D., Maček, J., Kumer, K., Fabjan, T., Finderle, P., Šterpin, S., Zupan, M., and Jekovec Vrhovšek, M. (2019). Urinary markers of oxidative stress in children with autism spectrum disorder (ASD). Antioxidants8, 187.
Saraswat, N., Pillay, R., Prabhu, N., Everett, B., and George, A. (2021). Perceptions and Practices of General Practitioners towards Oral Cancer and Emerging Risk Factors among Indian Immigrants in Australia: A Qualitative Study. International journal of environmental research and public health18, 11111.
Singh, A., Kukreti, R., Saso, L., and Kukreti, S. (2019). Oxidative stress: a key modulator in neurodegenerative diseases. Molecules24, 1583.
Soldati, L., Di Renzo, L., Jirillo, E., Ascierto, P. A., Marincola, F. M., and De Lorenzo, A. (2018). The influence of diet on anti-cancer immune responsiveness. Journal of translational medicine16, 1-18.
Unsal, V., Dalkıran, T., Çiçek, M., and Kölükçü, E. (2020). The role of natural antioxidants against reactive oxygen species produced by cadmium toxicity: a review. Advanced pharmaceutical bulletin10, 184.
Xian, D., Lai, R., Song, J., Xiong, X., and Zhong, J. (2019). Emerging perspective: role of increased ROS and redox imbalance in skin carcinogenesis. Oxidative medicine and cellular longevity2019.
Yalcinkaya, T., Uzilday, B., Ozgur, R., Turkan, I., and Mano, J. i. (2019). Lipid peroxidation-derived reactive carbonyl species (RCS): Their interaction with ROS and cellular redox during environmental stresses. Environmental and Experimental Botany165, 139-149.
Zahra, K. F., Lefter, R., Ali, A., Abdellah, E.-C., Trus, C., Ciobica, A., and Timofte, D. (2021). The Involvement of the Oxidative Stress Status in Cancer Pathology: A Double View on the Role of the Antioxidants. Oxidative Medicine and Cellular Longevity2021.
Zhong, L., Liu, Y., Wang, K., He, Z., Gong, Z., Zhao, Z., Yang, Y., Gao, X., Li, F., and Wu, H. (2018). Biomarkers: paving stones on the road towards the personalized precision medicine for oral squamous cell carcinoma. BMC cancer18, 1-20.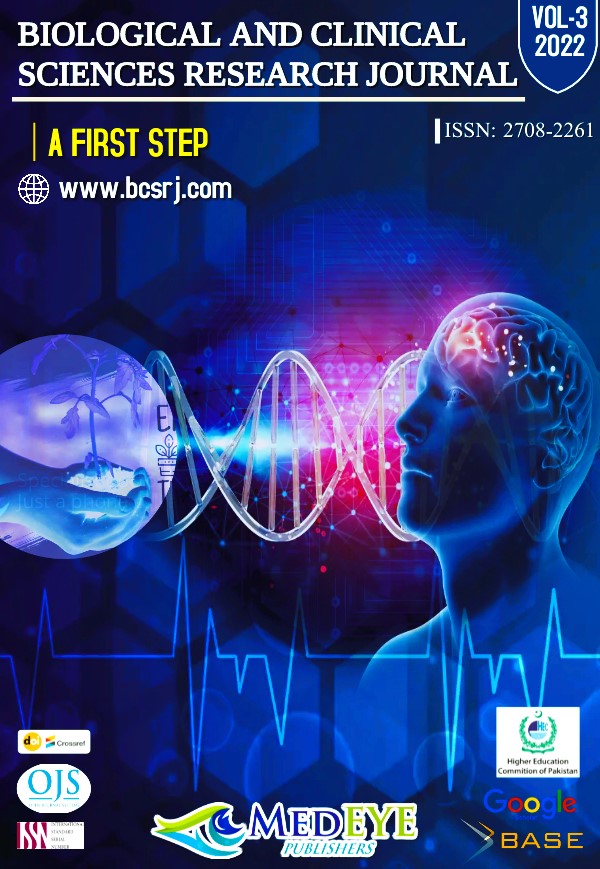 Downloads
How to Cite
Butt, S., Abbas, U., Arshad, A., Ahmad, B., Ashraf, A., Haseeb, M., Butt, A., Rana, M., & Hafeez, M. (2022). ASSESSMENT OF OXIDATIVE STRESS AND INFLAMMATORY MARKERS OF MEDICAL IMPORTANCE IN ORAL SQUAMOUS CELL CARCINOMA. Biological and Clinical Sciences Research Journal, 2022(1). https://doi.org/10.54112/bcsrj.v2022i1.91
Section
Original Research Articles
License
Copyright (c) 2022 SJ Butt, U Abbas, A Arshad, B Ahmad, A Ashraf, M Haseeb, AF Butt, MA Rana, MM Hafeez
This work is licensed under a Creative Commons Attribution-NonCommercial 4.0 International License.