STUDY ON ZOOPLANKTON DIVERSITY DURING SPRING SEASON IN CHASHMA LAKE, PAKISTAN
Keywords:
Zooplankton, Diversity, Chashma Lake, Copepodes, cladocerans
Abstract
The present study was conducted to know the zooplankton species diversity in Chashma Lake during spring (March 2016 to May 2016). Various physico-chemical parameters like Temperature, PH, Salinity, conductivity, Total dissolved solids (TDS), Turbidity, Dissolved Oxygen, Alkalinity, Chloride and Carbon dioxide which effect the distribution of zooplankton were also analyzed during this study. Zooplankton community was dominated by different species of rotifers. Those rotifers were Asplanchna herricki, Asplanchna brightwelli, Polyarthra remata, Brachionus angularis, Keratella cochlearis, Keratella tecta and Keratella valga tropica. Among these Keratella valga tropica was most common. Some species of copepods were recorded such as, Diacyclops thomasi, Acanthocyclops robustus, Mesocyclops edax, Tropocyclops prasinus mexicanus and Orthocyclops modestus. Among these Diacyclops thomasi was most abundant. Among copepods some nauplii and copepodid stages were also observed. Different species of cladocerans such as, Bosmina longirostris, Daphnia pulex, Chydorus sphaericus, Alona bicolor, Alonella exigua and Simocephalus serrulatus were also recorded.
Downloads
Download data is not yet available.
References
AbdAllah, T.A., Adel, A., Mohammad, J.K.S., Sahar, H.H., Mohammed, S., and Abdel, D. (2017). Seasonal Abundance of Zooplankton at Mangrove and Sandy Shore Habitat at Almarjan Zone, Jazan. Atmospheric and Oceanic Sciences, 2(4): 102-108.
Ahmed, M.M., Barlas, A. and Iqbal, Q.J. (1985). Some Physico-chemical variables of Rawal, lake Islamabad. Pak. J. Zool., 17(3): 313-316.
Akhter, S. and Ali, S.R. (1976). The rotifers of Pakistan I. Bull. Hydrobiol. Res. Gordon College Ser. 1(1): 12-122.
Baloch, W.A. and Soomro, A.N. (2004). Rotifers of the adjacent areas of Hyderabad, Sindh. Pak. J. Zool. 36(4): 319-322.
Baloch, W.A., Soomro, A.N. and Jafri, S.I.H. (2004). Zooplankton of highly saline water, near Hyderabad. Sind. Univ. Res. Jour. (Sci. Ser.)., 36(1): 25-28.
Baloch, W.A., Suzuki, H. and Onoue, Y. (2000). Occurrence of planktonic rotifer Filinia longiseta in Southern Kyushu, Japan. Pak. J. Zool., 32(3): 279-281.
Baqai, I.U., Siddiqui, P.A. and Iqbal, M. (1974). Limnological studies of Haleji lake. Agri. Pakistan. 2: 321-344.
Battish, S.K. (1992). Freshwater Zooplankton of India. Oxford and IBH Publishing Co. Pvt. Ltd.
Branco, C.W.C., Mariea-Isabel, A. R., Pinto, G.F.S., Gomaro, G.A. and de Filippo., R., (2002). Limnological features of Funil reservoirs (R.J. Brazil) and indicator properties of rotifers and cladocerans of the zooplankton community of lakes and reservoirs. Res. and Manag. 7: 187-192.
Castro, P. and Huber, M. (2012). Marine Biology. Ninth Edition. McGraw Hill publishers. FAO, 2006. Mangrove, description, Saudi Arabia. www.FAO.org
Clunie, P., Ryan, T., James, K. and Cant, B. (2002). Implications for rivers from salinity hazards: Scoping Stusy. Report produced for the Murray Darling Basin commission, Strategic Investigations and Riverine Program Project R2003. Department of Natural resources and Environment, Vic.
Delhi, N., and Beach, N.W. (1960). A study of the planktonic rotifers of the Presque Isle County, Michigan. Ecol. Monogr. 30: 339-357.
Dwivedi, P., and Sonar, S. (2004). Evaluation of Physico-chemical and biological characteristics of water samples in water reservoir around Rono Hills, Doimmukh (Dist. Pampum Pare), Arunachal preadesh, Pollution Research. 23(1): 101-104.
Fontaine, C.T. and Revera, D.B. (1986). The mass culture of rotifers, Branchionu splicatalis, for use as food stuff in aquaculture. Proc. World Mariculture Soc. 11: 211-218.
Gannon, J.E., and Stemberger, R.S. (1978). Zooplankton, (Especially crustaceans and rotifers) as indicator of water quality. Trans Anz Illicros Soc. 97: 16-35.
Geiger, J.G., (1983). A review of ponds zooplankton productions fertilization for the culture of larval and fingerlings. Aquaculture. 36: 353-360.
Gliwicz, M.Z., (1990). Food thresholds and body size in Cladocera. Nature. 343: 638–640.
Hakkari, L., (1978). On the productivity and ecology of zooplankton and its roleas food for fish in some lakes in central Finland. Biol. Res. Rep. Univ. Gyvaskyla. 4: 3-87.
Hall, D.J., Threlkeld, S.T., Burns, C.W. and Crowley, P.H., (1976). The size-efficiency hypothesis and the size structure of zooplankton communities. Annu. Rev. Ecol. Syst. 7: 177–208.
Iqbal, M., and Kazmi, M.A. (1990). Cladocera of Hub lake with notes on species and size composition. Sarlzad J. Agri. 6: 85-88.
Jeje, C.Y. and Fernando, C.H. (1986). A practical guide to the identification of Nigerian zooplankton. Kainji Lake Research Institute, Niger, Nigeria.
Jeje, C.Y., (1988). A revision of the Nigerian species of the genera MesocyclopsSars, 1914 and Thermocyclops Kiefer, 1927 (Copepoda: Cycloida). Hydrobiologia. 164: 171-184.
Korovchinsky, N., (1992). Introduction to the Cladocerans manual for the 1992-1993 International Training Course at University of Gent, Gent. Netherland.
Koshy, M., and Nair, T.V. (1999). Water quality aspects of River Pampa, Pollution Research. 18(4): 501-510.
Koste, W., (19780. Rotatoria. Die Radetiere Mitteleuropas. Bestimmungs werkbegrundet von Max Voigt. Borntraeger, Stuttgart, Germany.
Lawson, E.O., (2011). Physico-Chemical Parameters and Heavy Metal Contents of Water from the Mangrove Swamps of Lagos Lagoon, Lagos, Nigeria, Adv. Biol. Res. 5: 08-21.
Leghari, M.K., Leghari, M.Y., and Leghari, S.M. (2004). Water chemistry and its relationship with algae of Rawal Dam, Islamabad and Wah garden, District Attock. Sind. Univ. Res. Jour. (Sci. Ser.). 36(2): 29-48.
Maemets, A., (1983). Rotifers as indicators of Lake types in Estonia. Hydrobiologia 104: 357-361.
Mahar, M.A., Baloch, W.A. and Jafri, S.I.H. (2000). Diversity and seasonal occurrence of planktonic rotifers in Manchar lake, Sindh, Pakistan. Pakistan. J. fish. 1(1): 25-32.
McKee, D., and Ebert, D. (1996). The interactive effects of temperature, food level and material phenotype on offspring size in Daphnia magna. Oecologia. 107: 189 -196.
Meadows, A. and Meadows, P.S. (1999). The Indus River Biodiversity resources humankind. 1st ed. Oxford University Press, 5- Banglore Town, Sharae Faisal, Karachi.
Michael, R.G., (1969). Seasonal trends in physico-chemical factors and plankton of freshwater fish pond and their role in fish culture. Hydrobiologia. 33. 145-60.
Mizuno, T., and Takahashi, E. (1991). An illustrated guide to Freshwater Zooplankton in Japan. Tokai University Press.
Mizuno, T., (1964). Illustrations of freshwater plankton of Japan. Hoikusha.
Radhika, C.G., Mini, I. and Gangadevi, T. (2004). Studies on Abiotic parameters of atropical fresh water lake Vellayani Lake, Trivandrum, Kerala. Pollution Research. 23(1): 49-63.
Sabata, B.C., and Nayar, M.P., (1995). River pollution in India: a case study of Ganga River. APH Pub. Corp. 33.
Savage, A.A., (1979). The Carixidae of an inland saline lake from 1970 to1975. Aichiv fur Hydrobiologie. 86: 355-370.
Segers, H., 1993. Rotifera of some lakes in the floodplain of the River Niger (Imo State, Nigeria). I. New species and other taxonomic considerations. Hydrobiologia. 250: 39-61.
Segers, H., Nwandiaro, S.C. and Dumont, H.J. (1993). Rotifera of some lakes in the floodplain of the River Niger (Imo State, Nigeria). Hydrobiologia. 250: 63-71.
Singh, B. and Saha, P.K. (1987). Primary productivity in a composite fish culture pond at Kulia fish farm, Kalyani, West Bengal. Prod Nat Acad Sci India. 57: 124-30.
Strecker, A.L., Cobb, T.P., and Vinebrooke, R.D. (2004). Effects of experimental greenhouse warming on phytoplankton and zooplankton communities in fishless alpine ponds, Limnol Oceanogr. 49 (4): 1182-1190.
Swar, B.D., and Famando, C.H. (1980). Some studies on the ecology of limnetic crustaceaus zoolplankton in lakes Begeras and Recepa, Pakhara Valley, Nepal. Hyderobiolog. 70: 235-245.
Taylor, B.E. and Mahoney, D.L. (1988). Extinction and recolonization: Processes regulating zooplankton dynamics in a cooling reservoir. verh. Inter Limnol. 23: 1536-1541.
Templeton, R.G. (1984). Freshwater fisheries management. Fishing News Book Limited Farnham Surrey. England.
Ueda, H., and Reid, W.J. (2003). Copepoda: Cyclopoida, Genera Mesocyclops and Thermocyclops Backhuys Publishers, Leiden, Netherlands.
Unanam, A.E., and Akpan, A.W. (2006). Analysis of physicochemical characteristics of some freshwater bodies in Essien Udim Local Government area of AkwaIbom State, Nigeria, In: Proceeding of the 21st Annual Conference of the Fisheries Society of Nigeria (FI50N) Calabar, 13th -17th November.
Vajrappa, H.C., and Singh, N.R. (2005). Hydrochemical studies of Suvarna mukhisub-basin of Arkavathi river, Bangalore district, Karnataka. In: Fundamentals of Limnology.S.B. Nangia for APH Publishing Corporation 5, Ansari road, Darya Ganj, New Delhi, 171-181.
Venkateswarlu, V., (1969). An ecological study of the algae of the river Moosi, Hyderabad (India) with special reference to water pollution-I: Physico-chemical complexes. Hydrobiologia, 33,117-43.
Ward, H.B., and Whipple, G.C. (1959). Fresh water Biology. John Wiley and Sons.
Welch, P.S. (1952). Limnology Second Edition. McGraw Hill, Book Co. New York and London.
Williamson, C.E. (1991). Ecology and classification of North American freshwater invertebrates. In. J.H, 125-188. Thorp & A.P. Cov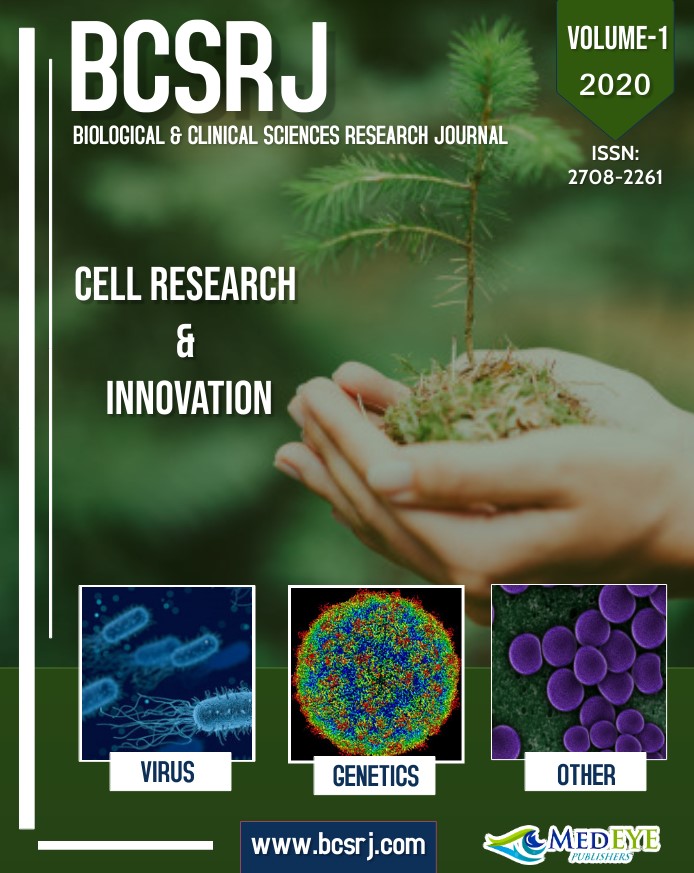 Downloads
How to Cite
Hayat, S., Naeem, M., Ramzan, M., Zafarullah, M., Ahmad, I., Ali, Q., & Malik, A. (2020). STUDY ON ZOOPLANKTON DIVERSITY DURING SPRING SEASON IN CHASHMA LAKE, PAKISTAN. Biological and Clinical Sciences Research Journal, 2020(1). https://doi.org/10.54112/bcsrj.v2020i1.9
Section
Original Research Articles
License
Copyright (c) 2020 s Hayat, m Naeem, M Ramzan, M Zafarullah, I Ahmad, Q Ali, A Malik
This work is licensed under a Creative Commons Attribution-NonCommercial 4.0 International License.