AN ANALYSIS OF EXPERIENCES AND PROBLEMS FACED BY THE DENTISTS DURING COVID-19 PANDEMIC: A QUESTIONNAIRE-BASED SURVEY
Keywords:
SARS-CoV-2, Dental Practice, Personal Protective Equipment, Dentist Experiences, coronavirus
Abstract
Severe Acute Respiratory Syndrome Coronavirus-2 pandemic started in December and spread around the globe in a few months. Nosocomial transmission of this virus shut down the dental clinics and creates many problems for patients. This study was designed to assess the experiences and problems faced by the dentist during the pandemic. The was a cross sectional questionnaire-based survey conducted in different dental sectors of Lahore. The questionnaire was distributed through online Microsoft form and total of seventy-eight complete responses were received out of 156 dentists contacted.69.2 % of participants reported that they stop taking appointments during the peaks of pandemic or have planned to stay at home till the end of the pandemic where 27% claimed to perform only emergency procedures. 86% of dentists reported having difficulty finding PPE and 97% had to buy it at a much higher cost. Dentists (96%) also reported that they are facing a significant decrease in income and needed some other source of income. Regarding financial issues they did not get any government support.The COVID-19 pandemic has a significant impact on dentistry. Most dental clinics remained closed, placing a financial burden on the dental profession. This burden was further increased as a result of the scarcity and high cost of PPE. There is a need for standardized protocols to prevent the spread of infection, and government agencies should also consider private clinics for funding and provision of low-cost PPE.
Downloads
Download data is not yet available.
References
Ahmadi, H., Ebrahimi, A., and Ghorbani, F. (2020). The impact of COVID-19 pandemic on dental practice in Iran: A questionnaire-based report. BMC oral health20, 1-9.
Ahmed, M. A., Jouhar, R., Ahmed, N., Adnan, S., Aftab, M., Zafar, M. S., and Khurshid, Z. (2020). Fear and practice modifications among dentists to combat novel coronavirus disease (COVID-19) outbreak. International journal of environmental research and public health17, 2821.
Albert, D., Ward, A., Ahluwalia, K., and Sadowsky, D. (2002). Addressing tobacco in managed care: a survey of dentists' knowledge, attitudes, and behaviors. American Journal of Public Health92, 997-1001.
Bizzoca, M. E., Campisi, G., and Lo Muzio, L. (2020). Covid-19 pandemic: What changes for dentists and oral medicine experts? A narrative review and novel approaches to infection containment. International journal of environmental research and public health17, 3793.
Brian, Z., and Weintraub, J. A. (2020). Peer Reviewed: Oral Health and COVID-19: Increasing the Need for Prevention and Access. Preventing chronic disease17.
Chang, T.-Y., Hsu, M.-L., Kwon, J.-S., Kusdhany, M. L. S., and Hong, G. (2021). Effect of online learning for dental education in asia during the pandemic of COVID-19. Journal of Dental Sciences16, 1095-1101.
Ciesielski, C., Marianos, D., Ou, C.-Y., Dumbaugh, R., Witte, J., Berkelman, R., Gooch, B., Myers, G., Luo, C.-C., and Schochetman, G. (1992). Transmission of human immunodeficiency virus in a dental practice. Annals of Internal Medicine116, 798-805.
Jamal, M., Shah, M., Almarzooqi, S. H., Aber, H., Khawaja, S., El Abed, R., Alkhatib, Z., and Samaranayake, L. P. (2021). Overview of transnational recommendations for COVID‐19 transmission control in dental care settings. Oral diseases27, 655-664.
Kirkpatrick, J. N., Mitchell, C., Taub, C., Kort, S., Hung, J., and Swaminathan, M. (2020). ASE statement on protection of patients and echocardiography service providers during the 2019 novel coronavirus outbreak: endorsed by the American College of Cardiology. Journal of the American College of Cardiology75, 3078-3084.
Lu, C.-w., Liu, X.-f., and Jia, Z.-f. (2020). 2019-nCoV transmission through the ocular surface must not be ignored. Lancet (London, England)395, e39.
Mariner, W. K. (2021). Shifting Standards of Judicial Review During the Coronavirus Pandemic in the United States. German Law Journal22, 1039-1059.
Singhal, T. (2020). A review of coronavirus disease-2019 (COVID-19). The indian journal of pediatrics87, 281-286.
Vizheh, M., Qorbani, M., Arzaghi, S. M., Muhidin, S., Javanmard, Z., and Esmaeili, M. (2020). The mental health of healthcare workers in the COVID-19 pandemic: A systematic review. Journal of Diabetes & Metabolic Disorders, 1-12.
Volgenant, C. M., Persoon, I. F., de Ruijter, R. A., and de Soet, J. (2021). Infection control in dental health care during and after the SARS‐CoV‐2 outbreak. Oral diseases27, 674-683.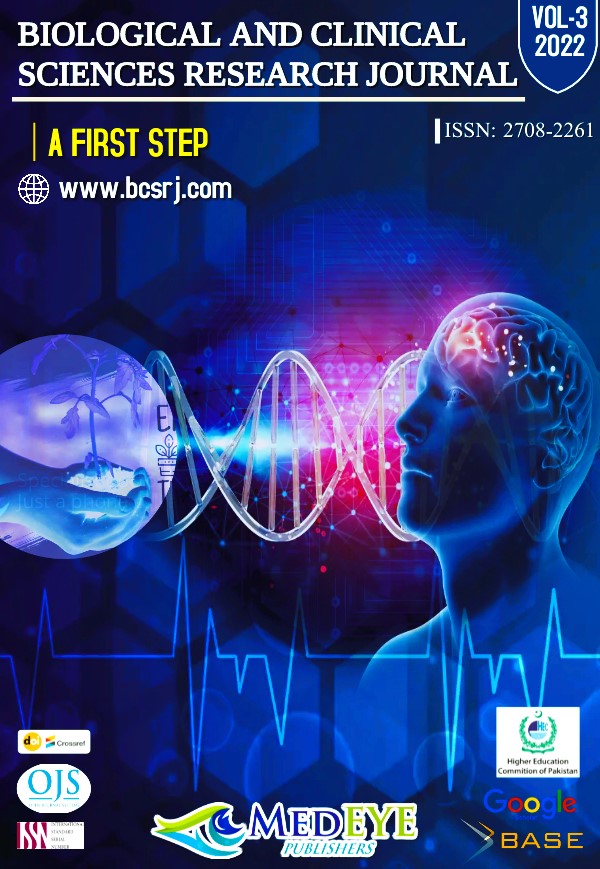 Downloads
How to Cite
Hafeez, M., Javed, Y., Hanif, S., Haseeb, M., Butt, A., Aftab, R., & Rana, M. (2022). AN ANALYSIS OF EXPERIENCES AND PROBLEMS FACED BY THE DENTISTS DURING COVID-19 PANDEMIC: A QUESTIONNAIRE-BASED SURVEY. Biological and Clinical Sciences Research Journal, 2022(1). https://doi.org/10.54112/bcsrj.v2022i1.89
Section
Original Research Articles
License
Copyright (c) 2022 MM Hafeez, S Javed, S Hanif, M Haseeb, AF Butt, R Aftab, MA Rana
This work is licensed under a Creative Commons Attribution-NonCommercial 4.0 International License.