BEGOMOVIRUSES AND BETASATELLITES ASSOCIATED WITH CLCuD
Keywords:
Begomoviruses, whitefly, betasatellites, alphasatellites, cotton, tomato, leaf curl disease
Abstract
Begomoviruses are one of the major types of plant viruses. They are transmitted by whitefly and cause many diseases. The CLCuD is the most damaging disease of cotton. It is the vector of begomoviruses, namely as monpartite or bipartite begomoviruses. Bipartite begomoviruses are consisted of A and B DNA molecuales. Monopatite consist of single genome. It is mainly linked with alphasatellites and betasatellites. Alphasatellites can replicate by using replication protein and not called as true satellites. Betasatellites are called as true satellites as they are linked with alphasatellites. Mainly cause tomato yellow leaf curl disease. Begomoviruses are different from other plant viruses as the basis of RNA genomes. DNA beta satellite is involves in suppressing the expressions of genes in plants. It has a major role in preventing RNA silencing by encoding proteins that binds with DNA and target the nucleus of cell. Affected plants show various symptoms such as leaf curling, enations etc. that cause loss in cotton field by preventing the growth. With the help of PCR, 1.4 kb fragments of DNA have been amplified from DNA template. For cloning the whole begomoviruses genome, a simple method of cloning has been widely used. Cloning is usually done by using the bacteriophage DNA polymerase. The betasatellites  have shown association with CLCuD.
Downloads
Download data is not yet available.
References
Abbas, G., Shahid, M. R., Mahmood, A., and Ali, Q. (2016a). Characterization of plant spacing best fit for economic yield, fiber quality, whitefly and CLCuV disease management on upland cotton. Nature and Science 14, 12-16.
Abbas, H., Mahmood, A., Ali, Q., Khan, M., Nazeer, W., Aslam, T., and Zahid, W. (2013). Genetic variability, heritability, genetic advance and correlation studies in cotton (Gossypium hirsutum L.). Int. Res. J. Microbiol 4, 156-161.
Abbas, H. G., Mahmood, A., and Ali, Q. (2016b). Zero tillage: a potential technology to improve cotton yield. Genetika 48, 761-776.
Abdel-Rahman, E. M., Younis, M. I., and Nayfeh, A. H. (2002). Characterization of the mechanical behavior of an electrically actuated microbeam. Journal of Micromechanics and Microengineering 12, 759.
Airapetian, A., Akopov, N., Akopov, Z., Amarian, M., Ammosov, V., Andrus, A., Aschenauer, E., Augustyniak, W., Avakian, R., and Avetissian, A. (2004). Evidence for a narrow| S|= 1 baryon state at a mass of 1528 MeV in quasi-real photoproduction. Physics Letters B 585, 213-222.
Amiji, M. M., Hornicek, F., and Duan, Z. (2011). Gene Silencing with siRNA Encapsulated Nanoparticles to Overcome Tumor Multidrug Resistance. Nanomedicine and Cancer 290.
Amrao, L., Amin, I., Shahid, M. S., Briddon, R. W., and Mansoor, S. (2010). Cotton leaf curl disease in resistant cotton is associated with a single begomovirus that lacks an intact transcriptional activator protein. Virus research 152, 153-163.
Bernard, H.-U., Burk, R. D., Chen, Z., Van Doorslaer, K., Zur Hausen, H., and de Villiers, E.-M. (2010). Classification of papillomaviruses (PVs) based on 189 PV types and proposal of taxonomic amendments. Virology 401, 70-79.
Bisaro, D. M., Hamilton, W., Coutts, R. H., and Buck, K. (1982). Molecular cloning and characterisation of the two DNA components of tomato golden mosaic virus. Nucleic acids research 10, 4913-4922.
Briddon, R., and Stanley, J. (2006). Subviral agents associated with plant single-stranded DNA viruses. Virology 344, 198-210.
Briddon, R. W. (2003). Cotton leaf curl disease, a multicomponent begomovirus complex. Molecular Plant Pathology 4, 427-434.
Briddon, R. W., and Markham, P. (2000). Cotton leaf curl virus disease. Virus research 71, 151-159.
Briddon, R. W., Patil, B. L., Bagewadi, B., Nawaz-ul-Rehman, M. S., and Fauquet, C. M. (2010). Distinct evolutionary histories of the DNA-A and DNA-B components of bipartite begomoviruses. BMC Evolutionary Biology 10, 97.
Calisher, C. H., and Van Regenmortel, M. H. (2009a). Should all other biologists follow the lead of virologists and stop italicizing the names of living organisms? A proposal. Zootaxa 2113, 63-68.
Calisher, C. H., and Van Regenmortel, M. H. (2009b). Should all other biologists follow the lead of virologists and stop italicizing the names of living organisms? A proposal. Zootaxa 2113, 63-68.
Ciriello, G., Gatza, M. L., Beck, A. H., Wilkerson, M. D., Rhie, S. K., Pastore, A., Zhang, H., McLellan, M., Yau, C., and Kandoth, C. (2015). Comprehensive molecular portraits of invasive lobular breast cancer. Cell 163, 506-519.
Claxton, A. J., Cramer, J., and Pierce, C. (2001). A systematic review of the associations between dose regimens and medication compliance. Clinical therapeutics 23, 1296-1310.
Cordts, E. B., Christofolini, D. M., dos Santos, A. A., Bianco, B., and Barbosa, C. P. (2011). Genetic aspects of premature ovarian failure: a literature review. Archives of gynecology and obstetrics 283, 635-643.
Desnues, C., Rodriguez-Brito, B., Rayhawk, S., Kelley, S., Tran, T., Haynes, M., Liu, H., Furlan, M., Wegley, L., and Chau, B. (2008). Biodiversity and biogeography of phages in modern stromatolites and thrombolites. Nature 452, 340-343.
Dimmock, D., Zhang, Q., Dionisi‐Vici, C., Carrozzo, R., Shieh, J., Tang, L. Y., Truong, C., Schmitt, E., Sifry‐Platt, M., and Lucioli, S. (2008). Clinical and molecular features of mitochondrial DNA depletion due to mutations in deoxyguanosine kinase. Human mutation 29, 330-331.
Drmanac, R., Sparks, A. B., Callow, M. J., Halpern, A. L., Burns, N. L., Kermani, B. G., Carnevali, P., Nazarenko, I., Nilsen, G. B., and Yeung, G. (2010). Human genome sequencing using unchained base reads on self-assembling DNA nanoarrays. Science 327, 78-81.
Essen, L. V., Larsson, G., Öberg, K., and Sjödén, P.-O. (2002). 'Satisfaction with care': associations with health‐related quality of life and psychosocial function among Swedish patients with endocrine gastrointestinal tumours. European journal of cancer care 11, 91-99.
Farquharson, C. (1912). Report of Mycologist. Report of Mycologist.
Fauquet, C., Briddon, R., Brown, J., Moriones, E., Stanley, J., Zerbini, M., and Zhou, X. (2008). Geminivirus strain demarcation and nomenclature. Archives of virology 153, 783-821.
Gutierrez, C., Ramirez-Parra, E., Castellano, M. M., Sanz-Burgos, A. P., Luque, A., and Missich, R. (2004). Geminivirus DNA replication and cell cycle interactions. Veterinary microbiology 98, 111-119.
Hamilton, C. M., Aldea, M., Washburn, B., Babitzke, P., and Kushner, S. (1989). New method for generating deletions and gene replacements in Escherichia coli. Journal of bacteriology 171, 4617-4622.
Hillocks, R., Thresh, J., Tomas, J., Botao, M., Macia, R., and Zavier, R. (2002). Cassava brown streak disease in northern Mozambique. International Journal of Pest Management 48, 178-181.
Hull, R., and Davies, J. W. (1992). Approaches to nonconventional control of plant virus diseases. Critical Reviews in Plant Sciences 11, 17-33.
Husnain, T. (2016). Biotechnology: Future Tools for Stable Insect Pest and Weed Control in Cotton. Cotton Genomics and Genetics 7.
Hussain, G., and Al-Jaloud, A. A. (1995). Effect of irrigation and nitrogen on water use efficiency of wheat in Saudi Arabia. Agricultural water management 27, 143-153.
Jenkin, M., Saunders, S., Wagner, V., and Pilling, M. (2003). Protocol for the development of the Master Chemical Mechanism, MCM v3 (Part B): tropospheric degradation of aromatic volatile organic compounds.
Jones, G., and Mason, T. G. (1926). On two obscure diseases of cotton. Annals of Botany 40, 759-772.
Kerr, T., and Bailey, I. W. (1934). The Cambium and Its Derivative Tissues: No. X. Structure, Optical Properties and Chemical Composition of the So-called Middle Lamella. Journal of the Arnold Arboretum 15, 327-349.
Kitaura, M., Nakajima, T., Imai, T., Harada, S., Combadiere, C., Tiffany, H. L., Murphy, P. M., and Yoshie, O. (1996). Molecular cloning of human eotaxin, an eosinophil-selective CC chemokine, and identification of a specific eosinophil eotaxin receptor, CC chemokine receptor 3. Journal of Biological Chemistry 271, 7725-7730.
Klug, S. J., Hukelmann, M., and Blettner, M. (2008). Knowledge about infection with human papillomavirus: a systematic review. Preventive medicine 46, 87-98.
Lambert, M. (1924). A Study of the First Chapter of Genesis. Hebrew Union College Annual 1, 3-12.
Liu, S., Bedford, I. D., Briddon, R. W., and Markham, P. G. (1997). Efficient whitefly transmission of African cassava mosaic geminivirus requires sequences from both genomic components. Journal of General Virology 78, 1791-1794.
Mansoor, S., Amin, I., Iram, S., Hussain, M., Zafar, Y., Malik, K., and Briddon, R. (2003). Breakdown of resistance in cotton to cotton leaf curl disease in Pakistan. Plant pathology 52, 784-784.
Matthews, S. A. (1979). A simple direction model of electoral competition. Public Choice 34, 141-156.
Ndunguru, J., Legg, J. P., Aveling, T., Thompson, G., and Fauquet, C. M. (2005). Molecular biodiversity of cassava begomoviruses in Tanzania: evolution of cassava geminiviruses in Africa and evidence for East Africa being a center of diversity of cassava geminiviruses. Virology journal 2, 21.
Puspito, A. N., Rao, A. Q., Hafeez, M. N., Iqbal, M. S., Bajwa, K. S., Ali, Q., Rashid, B., Abbas, M. A., Latif, A., and Shahid, A. A. (2015). Transformation and Evaluation of Cry1Ac+ Cry2A and GTGene in Gossypium hirsutum L. Frontiers in plant science 6, 943.
Qin, C., Xiao, Q., Li, H., Fang, M., Liu, Y., Chen, X., and Li, Q. (2004). Calorimetric studies of the action of chitosan-N-2-hydroxypropyl trimethyl ammonium chloride on the growth of microorganisms. International journal of biological macromolecules 34, 121-126.
Rehman, I., Aftab, B., Bilal, S. M., Rashid, B., Ali, Q., Umair, M. M., Hassan, S., Azam, A. M., Ahmad, N. I., and Saleem, H. M. (2017). gene expression in response to cotton leaf curl virus infection in Gossypium hirsutum under variable environmental conditions. Genetika 49, 1115-1126.
Roberts, S., and Stanley, J. (1994). Lethal mutations within the conserved stem-loop of African cassava mosaic virus DNA are rapidly corrected by genomic recombination. Journal of General Virology 75, 3203-3209.
Ryan, L. Tag Archives: Solutions.
Saunders, K., Briddon, R. W., and Stanley, J. (2008). Replication promiscuity of DNA-β satellites associated with monopartite begomoviruses; deletion mutagenesis of the Ageratum yellow vein virus DNA-β satellite localizes sequences involved in replication. Journal of general virology 89, 3165-3172.
Saunders, K., Salim, N., Mali, V. R., Malathi, V. G., Briddon, R., Markham, P. G., and Stanley, J. (2013). Characterisation of Sri Lankan cassava mosaic virus and Indian cassava mosaic virus: evidence for acquisition of a DNA B component by a monopartite begomovirus.
Srirajaskanthan, R., and Preedy, V. R. (2011). Gene Silencing with siRNA Encapsulated Nanoparticles to Overcome Tumor Multidrug Resistance. In "Nanomedicine and Cancer", pp. 298-314. CRC Press.
Stoilov, I., Akarsu, A. N., Alozie, I., Child, A., Barsoum-Homsy, M., Turacli, M. E., Or, M., Lewis, R. A., Ozdemir, N., and Brice, G. (1998). Sequence analysis and homology modeling suggest that primary congenital glaucoma on 2p21 results from mutations disrupting either the hinge region or the conserved core structures of cytochrome P4501B1. The American Journal of human genetics 62, 573-584.
Turnage, M. A., Muangsan, N., Peele, C. G., and Robertson, D. (2002). Geminivirus‐based vectors for gene silencing in Arabidopsis. The Plant Journal 30, 107-114.
Van Regenmortel, M. (2007). Virus species and virus identification: past and current controversies. Infection, Genetics and Evolution 7, 133-144.
Varma, R., Lee, P. P., Goldberg, I., and Kotak, S. (2011). An assessment of the health and economic burdens of glaucoma. American journal of ophthalmology 152, 515-522.
Zhou, H., Tran, P. O. T., Yang, S., Zhang, T., LeRoy, E., Oseid, E., and Robertson, R. P. (2004). Regulation of α-cell function by the β-cell during hypoglycemia in Wistar rats: the "switch-off" hypothesis. Diabetes 53, 1482-1487.
Zhou, X., Xie, Y., Tao, X., Zhang, Z., Li, Z., and Fauquet, C. M. (2003). Characterization of DNAβ associated with begomoviruses in China and evidence for co-evolution with their cognate viral DNA-AFN1. Journal of General virology 84, 237-247.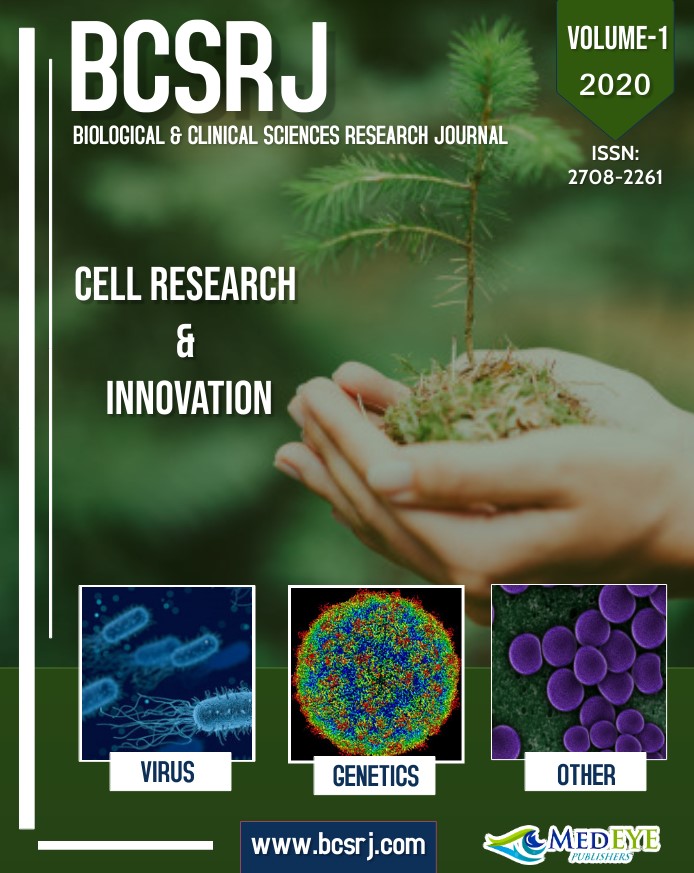 Downloads
How to Cite
Yaqoob, S., Fatima, N., Khan, S., Ali, Q., Hafeez, M., & Malik, A. (2020). BEGOMOVIRUSES AND BETASATELLITES ASSOCIATED WITH CLCuD. Biological and Clinical Sciences Research Journal, 2020(1). https://doi.org/10.54112/bcsrj.v2020i1.2
Section
Original Research Articles
License
Copyright (c) 2020 S Yaqoob, N Fatima, S Khan, Q Ali, MM Hafeez, A Malik
This work is licensed under a Creative Commons Attribution-NonCommercial 4.0 International License.