EFFECTS OF CITRULLUS COLOCYNTHIS AND MOMORDICA CHARANTIA HYDRO-ETHANOL EXTRACTS ON LIPID PROFILE OF INDUCED DIABETIC ALBINO RATS
Keywords:
Diabetes, Citrullus colocynthis, Mamordia charantia, cholesterol, triglyceride, Very low density lipoprotein, high density lipoprotein, low density lipoprotein and HbA1c
Abstract
Diabetes is a condition in which glucose levels of blood become higher and can lead to many complications and death. The recent study was designed to check the hypo-glycemic effects of the Citrullus colocynthis and Momordica charantia leaves extract on streptozotocin (STZ) induced diabetic albino rats. For this purpose, 30 albino rats were divided into five treatment groups. Three groups were treated with plant extracts and the remaining two were given only a basal diet for 21 days. At the completion of experiment, body weight and glucose level of the rats was recorded and then dissected to collect blood and organs. The blood serum was separated by centrifugation to measure various chemical compounds. The organs' weight was also recorded to check the animal performance. The recorded data was analyzed statistically by SAS and found that plants extracts separately or in combination significantly increased the body weight of rats than control groups, whereas, glucose level was decreased significantly as compared to control groups. It was observed that liver and pancreas weight were non-significantly and kidney weight was significantly decreased in treatment groups as compared to control groups. In our research, it was observed that the level of cholesterol (mg/dL), triglyceride (mg/dL) and Very low density lipoprotein (mg/dL) were non-significantly lower in treatment groups than control. However, significant increase in high density lipoprotein (mg/dL) and significant decrease in the low density lipoprotein (mg/dL) and HbA1c (%) was observed among treatment groups. It was concluded that supplementation of plant's extracts in animal's diet can put health promoting effects in diabetic rats.
Downloads
Download data is not yet available.
References
Atkinson, M. A. (2012). The pathogenesis and natural history of type 1 diabetes. Cold Spring Harbor Perspectives in Medicine, 2(11), a007641.
Atkinson, M. A., & Eisenbarth, G. S. (2001). Type 1 diabetes: new perspectives on disease pathogenesis and treatment. The Lancet, 358(9277), 221-229.
Ballester, J., Muñoz, M. C., Domínguez, J., Rigau, T., Guinovart, J. J., & Rodríguez‐Gil, J. E. (2004). Insulin‐dependent diabetes affects testicular function by FSH‐and LH‐linked mechanisms. Journal of andrology, 25(5), 706-719.
Celia, G., & Jaipaul, S. (2003). Beneficial effect and mechanism of action of Momordica charantia in the treatment of diabetes mellitus: a mini review. International Journal of Diabetes & Metabolism 11: 46-55
Ezuruike, U. F., & Prieto, J. M. (2014). The use of plants in the traditional management of diabetes in Nigeria: Pharmacological and toxicological considerations. Journal of Ethnopharmacology, 155(2), 857-924.
Huseini, H. F., Darvishzadeh, F., Heshmat, R., Jafariazar, Z., Raza, M., & Larijani, B. (2009). The clinical investigation of Citrullus colocynthis (L.) schrad fruit in treatment of Type II diabetic patients: a randomized, double blind, placebo‐controlled clinical trial. Phytotherapy Research: An International Journal Devoted to Pharmacological and Toxicological Evaluation of Natural Product Derivatives, 23(8), 1186-1189.
Kasuga, M. (2006). Insulin resistance and pancreatic β cell failure. The Journal of Clinical Investigation, 116(7), 1756-1760.
Kumar, S., Kumar, D., Saroha, K., Singh, N., & Vashishta, B. (2008). Antioxidant and free radical scavenging potential of Citrullus colocynthis (L.) Schrad. methanolic fruit extract. Acta Pharmaceutica, 58(2), 215-220.
Li, W. L., Zheng, H. C., Bukuru, J., & De Kimpe, N. (2004). Natural medicines used in the traditional Chinese medical system for therapy of diabetes mellitus. Journal of Ethnopharmacology, 92(1), 1-21.
Lotlikar, M. M. (1966). Pharmacology of a hypoglycemic principle isolated from the fruits of Momordica charantia Linn. Indian. J. Pharm., 28, 129.
Malviya, N., Jain, S., & Malviya, S. A. P. N. A. (2010). Antidiabetic potential of medicinal plants. Acta Pol Pharm, 67(2), 113-118.
Muoio, D. M., & Newgard, C. B. (2008). Molecular and metabolic mechanisms of insulin resistance and β-cell failure in type 2 diabetes. Nature Reviews Molecular Cell Biology, 9(3), 193-205.
Ogbonnia, S. O., Odimegwu, J. I., & Enwuru, V. N. (2008). Evaluation of hypoglycaemic and hypolipidaemic effects of aqueous ethanolic extracts of Treculia africana Decne and Bryophyllum pinnatum, Lam. and their mixture on streptozotocin (STZ)-induced diabetic rats. African Journal of Biotechnology, 7(15): 2535-2539.
Ngugi, M. P., Kimuni, N. S., Ngeranwa, N. J., Orinda, O. G., Njagi, M. J., Maina, D., ... & Gathumbi, K. (2015). Antidiabetic and safety of Lantana rhodesiensis in alloxan induced diabetic rats. Journal of Developing Drugs, 4:1
Raman, A., & Lau, C. (1996). Anti-diabetic properties and phytochemistry of Momordica charantia L. (Cucurbitaceae). Phytomedicine, 2(4), 349-362.
Shaw, J. E., Sicree, R. A., & Zimmet, P. Z. (2010). Global estimates of the prevalence of diabetes for 2010 and 2030. Diabetes Research and Clinical Practice, 87(1), 4-14.
Shetty, A. K., Kumar, G. S., Sambaiah, K., & Salimath, P. V. (2005). Effect of bitter gourd (Momordica charantia) on glycaemic status in streptozotocin induced diabetic rats. Plant Foods for Human Nutrition, 60(3), 109-112.
Shih, C. C., Lin, C. H., Lin, W. L., & Wu, J. B. (2009). Momordica charantia extract on insulin resistance and the skeletal muscle GLUT4 protein in fructose-fed rats. Journal of Ethnopharmacology, 123(1), 82-90.
World Health Organization. (2002). WHO Traditional Medicine Strategy World Health Organization. Geneva, Switzerland, 2005.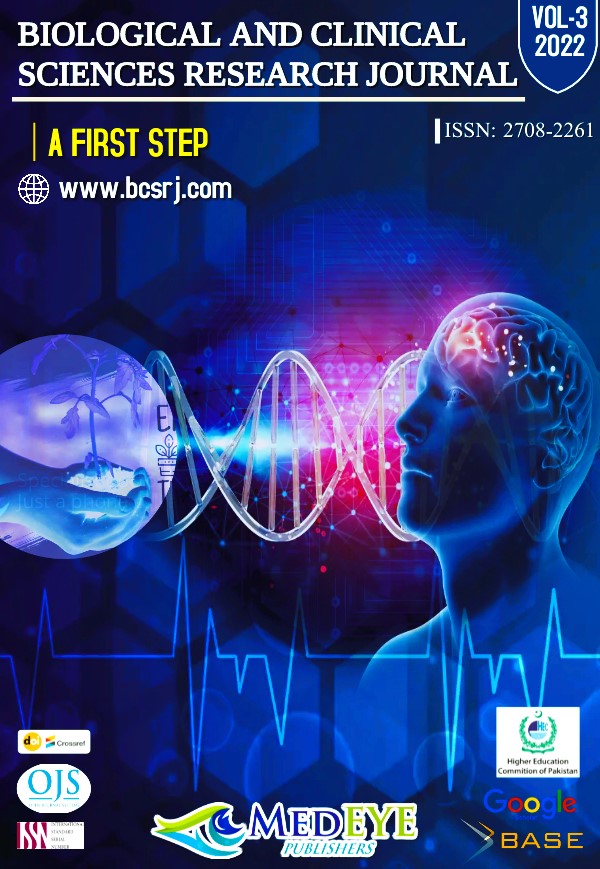 Downloads
How to Cite
Saleem, S., Hayat, S., Hussain, M., Mahmood, S., Pervaiz, S., Hanif, S., & Rana, M. (2022). EFFECTS OF CITRULLUS COLOCYNTHIS AND MOMORDICA CHARANTIA HYDRO-ETHANOL EXTRACTS ON LIPID PROFILE OF INDUCED DIABETIC ALBINO RATS. Biological and Clinical Sciences Research Journal, 2022(1). https://doi.org/10.54112/bcsrj.v2022i1.88
Section
Original Research Articles
License
Copyright (c) 2022 S Saleem, S Hayat, M Hussain, S Mahmood, S Pervaiz, Q Ali
This work is licensed under a Creative Commons Attribution-NonCommercial 4.0 International License.