PHYTOCHEMICAL AND ANTIMICROBIAL ACTIVITY ANALYSIS OF SWERTIA CHIRAYITA AND ARTEMISIA ABSINTHIUM PLANT EXTRACTS
Keywords:
Antimicrobial, Swertia chirayita, Artemisia absinthium, ethanol, n-hexane, acetone, plant extracts
Abstract
The Swertia chirayita and Artemisia absinthium (Afsanteen) plants extracts were evaluated for phytochemicals and their antimicrobial activity against 3 bacteria and 2 fungal strains by using the disc diffusion technique. Phytochemical analysis showed the presence of tannins, flavonoids, saponins, and terpenoids in Swertia chirayita while in Artemisia absinthium only saponins, terpenoids were present. To a very small extent tannins were present in the ethanolic extract of Afsanteen. But both plant extracts gave negative results for the presence of cardiac glycosides. Antibacterial activity of Swertia chirayita and Afsanteen plant extracts were screened against 3 bacterial strains (E. coli, Bacillus subtilis, Pseudomonas syringola) and 2 fungal strains (Aspergillus niger and Fusarium Solani). Ampicillin was used as a standard drug for antibacterial and antifungal activity. Results showed that Afsanteen and chirayita extracts showed activity against bacterial strains except for chirayita n-hexane and ethanol extract for Bacillus subtilis and Chirayita n-hexane extract for Pseudomonas syringola. A maximum zone of inhibition was noticed for chirayita ethanol extract against Pseudomonas syringola. But both plant extracts showed zero activity against fungal strains except Chirayita acetone extract against Fusarium solani while chirayita ethanol extract against Aspergillus niger. Both extracts of plants gave concentration-dependent activity. It was concluded that the presence of antimicrobial activity for both plant extracts indicated that is due to the presence of phytochemical compounds.
Downloads
Download data is not yet available.
References
Ahirwal, L., Mehta, A., Mehta, P., John, J., & Singh, S. (2010). Anthelmintic potential of Gymnema sylvestre and Swertia chirayita . Inventi Rapid: Ethnopharmacology, 2010.
Aleem, A., & Kabir, H. (2018). Review on Swertia chirayita as traditional uses to its pyhtochemistry and phrmacological activity. Journal of Drug Delivery and Therapeutics, 8(5-s), 73-78.
Ansari, S., Shamshi, Y., & Khan, Q. A. (2019). A review of Artemisia absinthium, Linn.(afsanteen) with special reference of Unani medicine. Journal of Pharmaceutical and Scientific Innovation, 8, 11-18.
Ashraf, S. S., Islam, N., Iqbal, A., Sheeraz, M., Quraishi, H. A., & Rather, S. A. (2019). Artemisia absinthium linn (Afsanteen): a review. World Journal of Pharmaceutical Sciences, 8(1), 1421-1427.
Beigh, Y. A., & Ganai, A. M. (2017). Potential of wormwood (Artemisia absinthium Linn.) herb for use as additive in livestock feeding: A review. The Pharma Innovation, 6(8, Part C), 176.
Das, S. C., Bhadra, S., Roy, S., Saha, S. K., Islam, M. S., & Bachar, S. C. (2012). Analgesic and anti-inflammatory activities of ethanolic root extract of Swertia chirayita (Gentianaceae). Jordan Journal of Biological Sciences, 5(1), 31-6.
Erdogrul, Ö. T. (2002). Antibacterial activities of some plant extracts used in folk medicine. Pharmaceutical Biology, 40(4), 269-273.
Goud, B. J., & Swamy, B. C. (2015). A review on history, controversy, traditional use, ethnobotany, phytochemistry and pharmacology of Artemisia absinthium Linn. International Journal of Advanced Research in Engineering and Applied Sciences, 4(5), 77-107.
Hashimi, A., Siraj, M. B., Ahmed, Y., Siddiqui, M. A., & Jahangir, U. (2019). One for All-Artemisia absinthium (Afsanteen). CELLMED, 9(4), 5-1.
Joshi, P., & Dhawan, V. (2005). Swertia chirayita–an overview. Current science, 635-640.
Kaloo, M. A., & Bhat, B. A. Chemical Composition and Pharmacology of a Medicinal Herb: Swertia Chirayita . Int Pharm Sci 2020; 11: 105.
Keshebo, D. L., Washe, A. P., & Alemu, F. (2016). Determination of antimicrobial and antioxidant activities of extracts from selected medicinal plants. American Scientific Research Journal for Engineering, Technology, and Sciences (ASRJETS), 16(1), 212-222.
Khalid, A., Rehman, U. U., Sethi, A., Khilji, S., Fatima, U., Khan, M. I., & Murtaza, G. (2011). Antimicrobial activity analysis of extracts of Acacia modesta, Artimisia absinthium, Nigella sativa and Saussurea lappa against Gram positive and Gram negative microorganisms. African Journal of Biotechnology, 10(22), 4574-4580.
Khanal, S., Shakya, N., Nepal, N., & Pant, D. (2014). Swertia chirayita: the himalayan herb. International Journal of Applied Sciences and Biotechnology, 2(4), 389-392.
Kumar, A., & Sharma, S. (2015). Quantitative determination of swertiamarin, mangiferin and amarogentin in callus culture of Swertia chirayita by HPLC analysis. Journal of Pharmacology Research, 4, 1270-1279.
Kumar, V., & Van Staden, J. (2016). A review of Swertia chirayita (Gentianaceae) as a traditional medicinal plant. Frontiers in pharmacology, 6, 308.
Medda, S., Mukhopadhyay, S., & Basu, M. K. (1999). Evaluation of the in-vivo activity and toxicity of amarogentin, an antileishmanial agent, in both liposomal and niosomal forms. Journal of Antimicrobial chemotherapy, 44(6), 791-794.
Parmar, R. K., Kachchi, N. R., Tirgar, P. R., Desai, T. R., & Bhalodiya, P. N. (2012). Preclinical evaluation of antiurolithiatic activity of Swertia chirayita stems. International Research Journal of Pharmacy, 3(8), 198-202.
Rafe, M. R. (2017). A review of five traditionally used anti-diabetic plants of Bangladesh and their pharmacological activities. Asian Pacific journal of Tropical Medicine, 10(10), 933-939.
Saha, P., & Das, S. (2010). Highlighting the anti-carcinogenic potential of an ayurvedic medicinal plant, Swertia Chirayita . Asian Pacific Journal of Cancer Prevention, 11(6), 1445-1449.
Szopa, A., Pajor, J., Klin, P., Rzepiela, A., Elansary, H. O., Al-Mana, F. A., & Ekiert, H. (2020). Artemisia absinthium L. Importance in the History of Medicine, the Latest Advances in Phytochemistry and Therapeutical, Cosmetological and Culinary Uses. Plants, 9(9), 1063.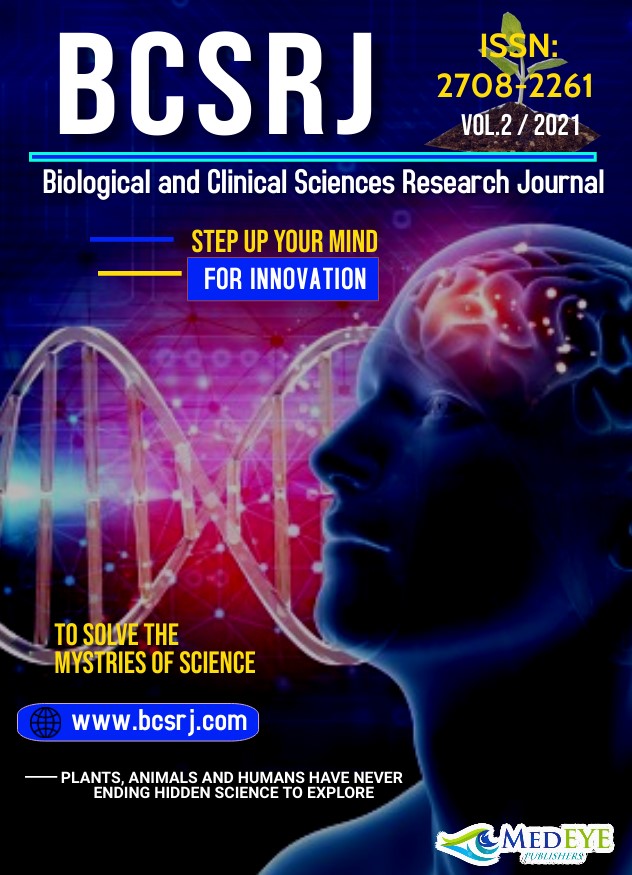 Downloads
How to Cite
Afzal, A., Aftab, B., Siddique, J., Babar, S., Sohail, A., Yasir, M., & Hanif, S. (2021). PHYTOCHEMICAL AND ANTIMICROBIAL ACTIVITY ANALYSIS OF SWERTIA CHIRAYITA AND ARTEMISIA ABSINTHIUM PLANT EXTRACTS. Biological and Clinical Sciences Research Journal, 2021(1). https://doi.org/10.54112/bcsrj.v2021i1.80
Section
Original Research Articles
License
Copyright (c) 2021 A Afzal, B Aftab, J Siddique, S Babar, A Sohail, M Yasir, S Hanif
This work is licensed under a Creative Commons Attribution-NonCommercial 4.0 International License.