PREVALENCE OF UPPER CROSS SYNDROME IN WORKING FEMALE PHYSIOTHERAPISTS: A CROSS-SECTIONAL SURVEY
Keywords:
Musculoskeletal, Oswestry, Upper cross syndrome
Abstract
Upper crossing syndrome is a common postural dysfunction resulting from the muscles in the body's shoulder girdle/cervicothoracic region having a deficient tone. The muscles typically affected are the upper trapezius and the levator scapula, which is extremely common in physiotherapists. Poor posture is the main driver of UCS. Researchers have long seen the syndrome, whose work demands much bending and twisting. A cross-sectional study assessed the Upper Cross Syndrome in working female physiotherapists. Two hundred female physiotherapists completed The Oswestry Neck Pain and Disability Questionnaire, administered to individuals aged 23-38 who met the inclusion and exclusion criteria. Significant factors for the prevalence of upper cross syndrome in female physiotherapists were Age, gender, and working hours, all of which posed serious risks for the emergence of UCS. UCS was, nevertheless, very common among female physiotherapists. It was determined that 27% of practicing physiotherapists had Upper Cross Syndrome (UCS). The study found that pain intensity, headache, driving, and work were all significantly associated, with P-values of 0.000, 0.005, and 0.002, respectively, as determined by the chi-square test. This indicates that the results were statistically significant. Additionally, the study revealed that upper cross syndrome was highly prevalent among working physiotherapists, with a prevalence rate of 27%. The prevalence was directly related to the duration and hours of work. Furthermore, there was a strong correlation between work-related musculoskeletal disorders and upper cross syndrome.
Downloads
Download data is not yet available.
References
Ahmed, S., Akter, R., Pokhrel, N., and Samuel, A. J. (2021). Prevalence of text neck syndrome and SMS thumb among smartphone users in college-going students: a cross-sectional survey study. Journal of Public Health 29, 411-416.
Ali, M., Siddiq, M. A. B., Pranto, N. K., Amran, N. H., Akter, M., Munny, M. A., Hossain, M. I., Khan, S. S., and Mehedi, M. M. H. (2023). Prevalence and predictors of musculoskeletal health complaints among sedentary, monotonous urban workers: A survey in Bangladesh. Plos one 18, e0282922.
Ali, S., Ahmad, S., Jalal, Y., and Shah, B. (2017). Effectiveness of Stretching Exercises Versus Muscle Energy Techniques in the Management of Upper Cross Syndrome: JRCRS. 2017; 5 (1): 12-16. Journal Riphah College of Rehabilitation Sciences 5, 12-16.
Anyfantis, I., and Biska, A. (2018). Musculoskeletal disorders among Greek physiotherapists: Traditional and emerging risk factors. Safety and health at work 9, 314-318.
Dehdilani, M., Gol, M. K., and Hashemzadeh, K. (2019). Effects of Stretching Exercises on Upper Crossed Syndrome in Women after a Coronary Artery Bypass Graft. Crescent Journal of Medical and Biological Sciences 6, 350-4.
Desai, M., and Jain, S. (2020). Prevalence of Musculoskeletal Problems in Physiotherapy Students. Age 20.
Fatima, A., Ashraf, H. S., Sohail, M., Akram, S., Khan, M., and Azam, H. (2022). PREVALENCE OF UPPER CROSS SYNDROME AND ASSOCIATED POSTURAL DEVIATIONS IN COMPUTER OPERATORS; A QUALITATIVE STUDY. Asian Journal of Allied Health Sciences (AJAHS) 7.
Jacquier-Bret, J., and Gorce, P. (2023). Prevalence of Body Area Work-Related Musculoskeletal Disorders among Healthcare Professionals: A Systematic Review. International Journal of Environmental Research and Public Health 20, 841.
Kompal, R., Roomi, M. S., Qadir, R., Bilal, S., Khan, S. N., Shehrin, T., and Amanbekovich, A. (2022). Prevalence of work related musculoskeletal disorders among physiotherapists of Multan. International Journal of Natural Medicine and Health Sciences 2, 17-20.
Mubashir, M. (2021). A cross-sectional survey on prevalence of upper cross syndrome and its correlation to WRMSDS in working physiotherapists. Pakistan Journal Of Rehabilitation 10, 42-50.
Mubeen, I., Malik, S., Akhtar, W., Iqbal, M., Asif, M., Arshad, A., Zia, S., and Khalid, S. (2016). Prevalence of upper cross syndrome among the medical students of University of Lahore. International journal of Physiotherapy, 381-384.
Murali, S. Prevalence of Upper Crossed Syndrome Among Software Professionals. www. ijmaes. org, www. jmmodernpublishers. ijmaes. org.
Naseer, R., and Tauqeer, S. (2021). Prevalence of Upper Cross Syndrome in Different Occupations. Pakistan Journal of Physical Therapy (PJPT), 03-07.
Rana, A. A., Ahmad, A., Gillani, S. A., Idrees, M. Q., and Awan, I. (2020). Effects of conventional physical therapy with and without muscle energy techniques for treatment of Upper Cross Syndrome. Rawal Medical Journal 45, 127-127.
Rayjade, A., Yadav, T., Chintamani, R., and Joshi, N. (2020). Comparative effectiveness of Kinesio taping and Ift in upper cross syndrome-A randomized clinical trial. Indian Journal of Forensic Medicine & Toxicology 14, 127-132.
Risalda, P., Phansopkar, P., and Naqvi, W. M. (2021). Effectiveness of active release technique verses conventional physiotherapy in management of upper cross syndrome. Indian Journal of Forensic Medicine & Toxicology 15, 246-250.
Siddique, M. A. E., Rahman, M. M., Islam, M. S., Islam, M. W., Islam, N., Uddin, Z., Hossain, S., Akter, S., Ali, M., and Hossain, K. A. (2023). Physiotherapy versus pain medication for managing chronic cervical radiculopathy: protocol for a multi-arm parallel-group randomized clinical trial. F1000Research 12, 465.
Syed, A., Ali, S. S., and Khan, M. (2018). Frequency of depression, anxiety and stress among the undergraduate physiotherapy students. Pakistan journal of medical sciences 34, 468.
Yi, Y. Z., Pillai, S., Ramalingam, V., and Hui, O. J. (2022). Prevalence of work related musculoskeletal disorders (WRMSD) and the associated risk factors among malaysian physiotherapists: A cross sectional study. Journal of Physical Education and Sport 22, 2636-2641.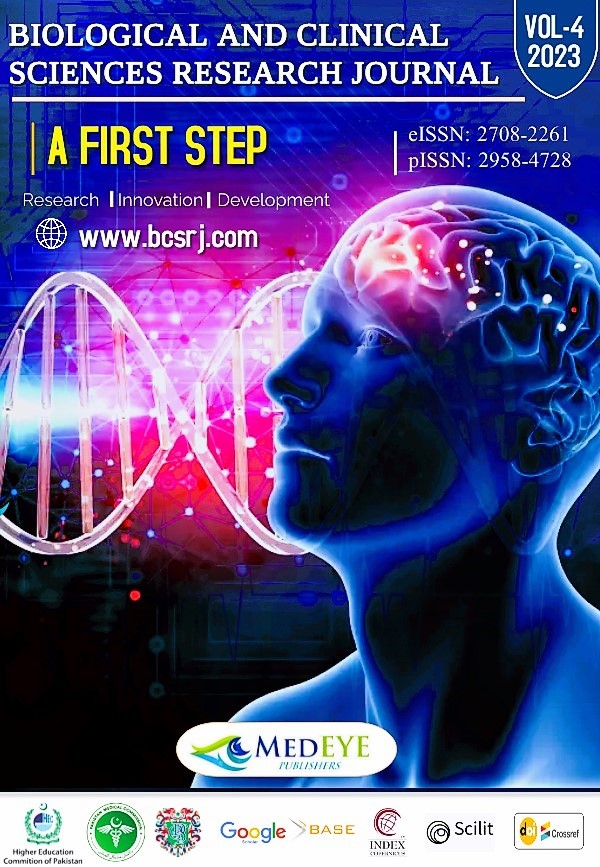 Downloads
How to Cite
HUSSAIN , G., NAWAZ , A., HAROON , M., AMON, ., SOHAIL , K., & KHAN , H. (2023). PREVALENCE OF UPPER CROSS SYNDROME IN WORKING FEMALE PHYSIOTHERAPISTS: A CROSS-SECTIONAL SURVEY. Biological and Clinical Sciences Research Journal, 2023(1), 402. https://doi.org/10.54112/bcsrj.v2023i1.402
Section
Original Research Articles
License
Copyright (c) 2023 G HUSSAIN , AS NAWAZ , MS HAROON , . AMON, K SOHAIL , H KHAN
This work is licensed under a Creative Commons Attribution-NonCommercial 4.0 International License.