EFFECTS OF VITAMIN C AND E ON LIPID PROFILE AND KIDNEY PERFORMANCE OF ALBINO RATS
Keywords:
Vitamin, Albino Rats, higher density lipoprotein, , low density lipoprotein, cholesterol
Abstract
The current study has been intended to estimate the belongings of vitamins E and C on lipid profile and renal performance of Albino rats. Vitamin E is a chain breaking lipid dissolvable cancer prevention agent that has been utilized in the therapy of cardiovascular illnesses, immunological and hematological issues and peripheral neuropathy. Vitamin C is enormous in imperative metabolic exercises including tryptophan digestion, iron retention, development of ferritin as cell cancer prevention agent, electron transport framework and coenzyme for cathepsin, liver esterases and omega-oxidation of unsaturated fats. Vitamin C and E are known to be powerful antioxidant, utilization of vitamin C and E indicated significantly lowered hypertension and improved insulin activity and decline lipid profile. Both vitamin C and vitamin E decreased lipid per oxidation. Experiment was conducted on Albino rats and treated with different doses of vitamins according to the protocol. Albino rats were divided into 4 groups, out of four group one group called the control group and other 3 groups were treated groups, treated group A was supplemented with vitamin C, treated group B was supplemented with vitamin E), treated group C was supplemented with both vitamins together and fourth group (Group D) called the control group this group was given free access to food and water throughout the experiment. After completion of experimental period, rats were sacrificed for the collection of blood and blood was taken in EDTA for the collection of serum. Serum was collected for the analysis of higher density lipoprotein test (HDL), low density lipoprotein (LDL), very low-density lipoproteins test (VLDL), total cholesterol test (TG), meanwhile Urea test, Uric acid test and Creatinine test were examined. Result showed that means values of initial body weight and final body weight were significantly (p≤0.05) different. Values of liver, kidney, Pancreas and Heart weight (g) of Albino rats were significantly (p≤0.05) different. Values of Urea, Uric acid and Creatinine of Albino rats were significantly (p≤0.05) different. Values of lipid profile of Albino rats were significantly (p≤0.05) different.
Downloads
Download data is not yet available.
References
Canbaz, S., Duran, E., Ege, T., Sunar, H., Cikirikcioglu, M., & Acipayam, M. (2003). The effects of intracoronary administration of vitamin E on myocardial ischemia-reperfusion injury during coronary artery surgery. The Thoracic and Cardiovascular Surgeon, 51(02), 57-61.
Childs, S. J. (2000). Safety of the fluoroquinolone antibiotics: focus on molecular structure. Infections in Urology, 13(1), 3-10.
Dede, E. B., & Ngawuchi, C. (2003). The Effect of Vitamin C on gasoline poisoned rats. In Proceedings of Nigeria Environmental Society Conference, 13th Annual General Meeting Bayelsa State (p. 16).
Deyhim, F., Gonzales, C., Garcia, C., Villarreal, A., Garcia, K., Rios, R., ... & Patil, B. S. (2007). Vitamin E does not modulate plasma lipid profile or C-reactive protein despite suppressing oxidative stress in orchiectomized rats. Journal of Medicinal Food, 10(3), 559-562.
Eteng, M. U., Ibekwe, H. A., Amatey, T. E., Bassey, B. J., Uboh, F. U., & Owu, D. U. (2006). Effect of vitamin C on serum lipids and electrolyte profile of albino Wistar rats. Nigerian journal of Physiological Sciences, 21(1-2).
Franke, S. I., Molz, P., Mai, C., Ellwanger, J. H., Zenkner, F. F., Horta, J. A., & Prá, D. (2018). Influence of hesperidin and vitamin C on glycemic parameters, lipid profile, and DNA damage in rats treated with sucrose overload. Anais da Academia Brasileira de Ciências, 90, 2203-2210.
Glynn, R. J., Ridker, P. M., Goldhaber, S. Z., Zee, R. Y., & Buring, J. E. (2007). Effects of random allocation to vitamin E supplementation on the occurrence of venous thromboembolism: report from the Women's Health Study. Circulation, 116(13), 1497-1503.
Hattiwale, S. H., Saha, S., Yendigeri, S. M., Jargar, J. G., Dhundasi, S. A., & Das, K. K. (2013). Protective effect of L-ascorbic acid on nickel induced pulmonary nitrosative stress in male albino rats. Biometals, 26(2), 329-336.
Helal, E. G., Abd-Elwahab, S. M., & Mohammad, A. A. (2013). Comparison between the effect of ozone and vitamin C in treatment of diabetes mellitus. The Egyptian Journal of Hospital Medicine, 51(1), 434-447.
Jena, S., & Chainy, G. B. N. (2011). Regulation of expression of antioxidant enzymes by vitamin E and curcumin in L-thyroxine-induced oxidative stress in rat renal cortex. Molecular Biology Reports, 38(2), 1047-1054.
Kalender, S., Uzun, F. G., Durak, D., Demir, F., & Kalender, Y. (2010). Malathion-induced hepatotoxicity in rats: the effects of vitamins C and E. Food and Chemical Toxicology, 48(2), 633-638.
Kędziora-Kornatowska, K., Szram, S., Kornatowski, T., Szadujkis-Szadurski, L., Kędziora, J., & Bartosz, G. (2003). Effect of vitamin E and vitamin C supplementation on antioxidative state and renal glomerular basement membrane thickness in diabetic kidney. Nephron Experimental Nephrology, 95(4), e134-e143.
Kehinde, O. S., Christianah, O. I., & Oyetunji, O. A. (2018). Ascorbic acid and sodium benzoate synergistically aggravates testicular dysfunction in adult Wistar rats. International Journal of Physiology, Pathophysiology and Pharmacology, 10(1), 39.
Kolesnikova, L., Semenova, N., Madaeva, I., Suturina, L., Solodova, E., Grebenkina, L., & Darenskaya, M. (2015). Antioxidant status in peri-and postmenopausal women. Maturitas, 81(1), 83-87.
Lykkesfeldt, J. (2005). Vitamin C as biomarker and treatment of oxidative stress caused by smoking: Methodological and clinical studies. Department of Pharmacology and Pathobiology, Royal Veterinary and Agricultural University.
Padayatty, S. J., Katz, A., Wang, Y., Eck, P., Kwon, O., Lee, J. H., ... & Levine, M. (2003). Vitamin C as an antioxidant: evaluation of its role in disease prevention. Journal of the American College of Nutrition, 22(1), 18-35.
Postic, C., Dentin, R., & Girard, J. (2004). Role of the liver in the control of carbohydrate and lipid homeostasis. Diabetes & Metabolism, 30(5), 398-408.
Sumitra, K., Pragasam, V., Sakthivel, R., Kalaiselvi, P., & Varalakshmi, P. (2005). Beneficial effect of vitamin E supplementation on the biochemical and kinetic properties of Tamm–Horsfall glycoprotein in hypertensive and hyperoxaluric patients. Nephrology Dialysis Transplantation, 20(7), 1407-1415.
Sutcu, R., Altuntas, I., Buyukvanli, B., Akturk, O., Ozturk, O., Koylu, H., & Delibas, N. (2007). The effects of diazinon on lipid peroxidation and antioxidant enzymes in rat erythrocytes: role of vitamins E and C. Toxicology and Industrial Health, 23(1), 13-17.
Zingg, J. M. (2007). Vitamin E: an overview of major research directions. Molecular Aspects of Medicine, 28(5-6), 400-422.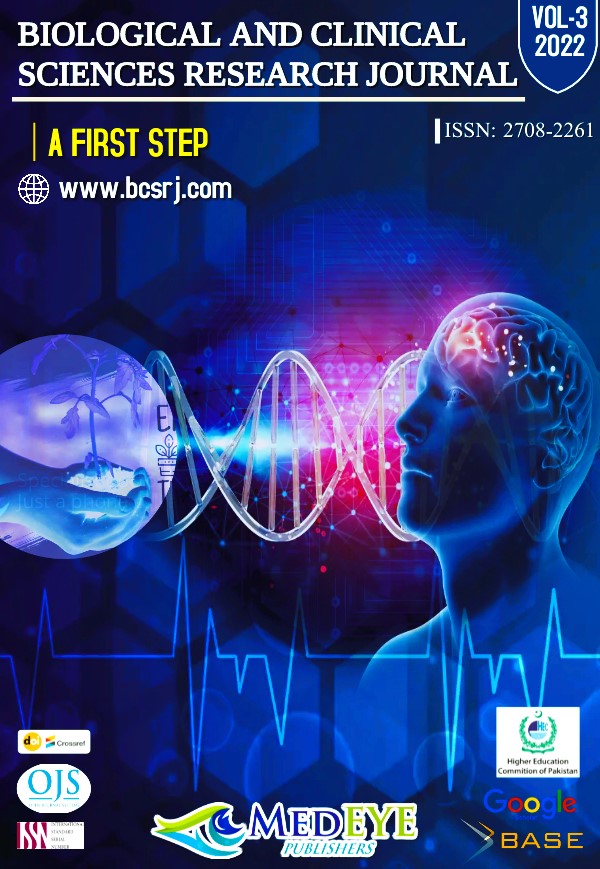 Downloads
How to Cite
Noor, S., Hayat, S., Hussain, M., Mahmood, S., Pervaiz, S., Hanif, S., & Rana, M. (2022). EFFECTS OF VITAMIN C AND E ON LIPID PROFILE AND KIDNEY PERFORMANCE OF ALBINO RATS. Biological and Clinical Sciences Research Journal, 2022(1). https://doi.org/10.54112/bcsrj.v2022i1.87
Section
Original Research Articles
License
Copyright (c) 2022 S Noor, S Hayat, M Hussain, S Mahmood, S Pervaiz, Q Ali
This work is licensed under a Creative Commons Attribution-NonCommercial 4.0 International License.