EFFICACY AND SAFETY OF SEMI-RIGID URETEROSCOPY, FLEXIBLE URETEROSCOPY, AND SHOCK WAVE LITHOTRIPSY FOR INITIAL TREATMENT OF PROXIMAL URETERAL STONES- A COMPARATIVE STUDY
Keywords:
Ureteral stones, lithotripsy, ureteroscopy
Abstract
This study was designed to compare the efficacy and safety of semi-rigid ureteroscopy, shock wave lithotripsy and flexible ureteroscopy for treating proximal ureteral stones. A retrospective study was conducted in the Urology Department of Bakhtawar Amin Trust Hospital, Mukhtar A. Sheikh Hospital Multan & Lahore from 06th Sep 2021 to 06th Sep 2022. A total of 100 patients with 11-20mm proximal ureteral stones were included in the study. The patients underwent one of the three procedures; semi-rigid ureteroscopy (23 patients), shock wave lithotripsy (35 patients) and flexible ureteroscopy (42 patients) and their results were compared. The study was conducted on a total of 100 patients. The hospital stay and operation time duration in the SWL group was shorter than in the URS groups (p < 0.001). F-URS had a higher success rate than SWL or sr-URS (p < .001), and that of sr-URS was higher as compared to SWL (p<.001). The furs group had the highest efficiency quotient. Complication grading based on the modified Clavien classification system does not show significant differences. f- URS had a lesser need for the auxiliary procedure, shorter hospital stays, and longer operation duration than sr-URS. F-URS is an effective lithotripsy procedure in treating 11-20mm proximal ureteral stones with fewer complications and retreatment requirements than SWL and sr-URS.
Downloads
Download data is not yet available.
References
Abdeldayem, M. A., AlQaralleh, A. A., Alkaabneh, A. B., Odeh, A. H., Alsmadi, M. t. H., and Hjazeen, A. A. Flexible versus Rigid ureteroscopy in the management of proximal ureteric stones.
Ahmad, S., Shah, A., Khan, R. A., Kalim, M., and Ali, S. (2021). To Compare the Effectiveness of Transurethral Pneumatic Lithotripsy and Extracorporeal Shock Wave Lithotripsy: In treatment of Lower Ureteric Stones. Journal of Saidu Medical College, Swat 11, 223-229.
Assimos, D., Krambeck, A., Miller, N. L., Monga, M., Murad, M. H., Nelson, C. P., Pace, K. T., Pais, V. M., Pearle, M. S., and Preminger, G. M. (2016). Surgical management of stones: American urological association/endourological society guideline, PART I. The Journal of urology 196, 1153-1160.
Bangash, K., Riaz, A., Mumtaz, H., Zaman, F., Malkani, I., Qureshi, M. D., Ali, F. H., and Anwar, K. (2021). The Comparison of Outcome in Treating Proximal Ureteric Stones of Size 10 mm to 15 mm Using Extracorporeal Shock Wave Lithotripsy as Compared to Ureterorenoscopic Manipulation Using Holmium Laser. Journal of Renal and Hepatic Disorders 5, 30-37.
Bhanot, R., Jones, P., and Somani, B. (2021). Minimally invasive surgery for the treatment of ureteric stones–state-of-the-art review. Research and Reports in Urology 13, 227.
Çitamak, B., Mammadov, E., Kahraman, O., Ceylan, T., Doğan, H. S., and Tekgül, S. (2018). Semi-rigid ureteroscopy should not be the first option for proximal ureteral stones in children. Journal of Endourology 32, 1028-1032.
Deng, T., Chen, Y., Liu, B., Laguna, M. P., de la Rosette, J. J., Duan, X., Wu, W., and Zeng, G. (2019). Systematic review and cumulative analysis of the managements for proximal impacted ureteral stones. World Journal of Urology 37, 1687-1701.
Drake, T., Grivas, N., Dabestani, S., Knoll, T., Lam, T., Maclennan, S., Petrik, A., Skolarikos, A., Straub, M., and Tuerk, C. (2017). What are the benefits and harms of ureteroscopy compared with shock-wave lithotripsy in the treatment of upper ureteral stones? A systematic review. European urology 72, 772-786.
Esposito, C., Masieri, L., Bagnara, V., Tokar, B., Golebiewski, A., and Escolino, M. (2019). Ureteroscopic lithotripsy for ureteral stones in children using holmium: yag laser energy: results of a multicentric survey. Journal of Pediatric Urology 15, 391. e1-391. e7.
Kartal, I., Baylan, B., Çakıcı, M. Ç., Sarı, S., Selmi, V., Ozdemir, H., and Yalçınkaya, F. (2020). Comparison of semi-rigid ureteroscopy, flexible ureteroscopy, and shock wave lithotripsy for initial treatment of 11-20 mm proximal ureteral stones. Archivio Italiano di Urologia e Andrologia 92, 39-44.
Kozyrakis, D. G., Kratiras, Z. K., Perikleous, S. K., Zarkadas, A. P., Chatzistamoy, S.-E. E., Karagiannis, D. K., and Solinis, I. T. (2019). How effective is retrograde semi-rigid and flexible ureteroscopic lithotripsy for the treatment of large ureteral stones equal of or greater than 15 mm? Results from a single center. Urologia Internationalis 103, 74-80.
Lai, S., Jiao, B., Diao, T., Seery, S., Hu, M., Wang, M., Hou, H., Wang, J., Zhang, G., and Liu, M. (2020). Optimal management of large proximal ureteral stones (> 10 mm): A systematic review and meta-analysis of 12 randomized controlled trials. International Journal of Surgery 80, 205-217.
Li, J., Wang, W., Du, Y., and Tian, Y. (2018). Combined use of flexible ureteroscopic lithotripsy with micro-percutaneous nephrolithotomy in pediatric multiple kidney stones. Journal of pediatric urology 14, 281. e1-281. e6.
Manikandan, R., Mittal, J. K., Dorairajan, L. N., Mishra, A. K., Sreerag, K. S., and Verma, A. (2016). Endoscopic combined intrarenal surgery for simultaneous renal and ureteral stones: a retrospective study. Journal of Endourology 30, 1056-1061.
Rukin, N. J., Siddiqui, Z. A., Chedgy, E. C., and Somani, B. K. (2017). Trends in upper tract stone disease in England: evidence from the hospital episodes statistics database. Urologia Internationalis 98, 391-396.
Türk, C., Petřík, A., Sarica, K., Seitz, C., Skolarikos, A., Straub, M., and Knoll, T. (2016). EAU guidelines on interventional treatment for urolithiasis. European urology 69, 475-482.
Yallappa, S., Amer, T., Jones, P., Greco, F., Tailly, T., Somani, B. K., Umez-Eronini, N., and Aboumarzouk, O. M. (2018). Natural history of conservatively managed ureteral stones: analysis of 6600 patients. Journal of Endourology 32, 371-379.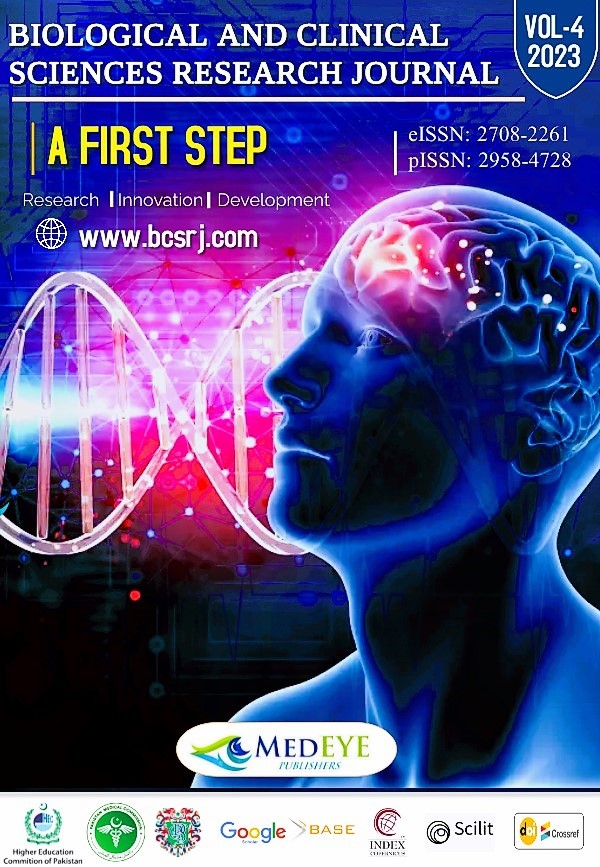 Downloads
How to Cite
ADNAN, M., AHMAD, I., KHAN, M., SAIFULLAH, HUSSAIN, M., & JAVED, N. (2023). EFFICACY AND SAFETY OF SEMI-RIGID URETEROSCOPY, FLEXIBLE URETEROSCOPY, AND SHOCK WAVE LITHOTRIPSY FOR INITIAL TREATMENT OF PROXIMAL URETERAL STONES- A COMPARATIVE STUDY. Biological and Clinical Sciences Research Journal, 2023(1), 192. https://doi.org/10.54112/bcsrj.v2023i1.192
Section
Original Research Articles
License
Copyright (c) 2023 M ADNAN, I AHMAD, MAH KHAN, SAIFULLAH, M HUSSAIN, N JAVED
This work is licensed under a Creative Commons Attribution-NonCommercial 4.0 International License.