IMPACT OF SHORTAGE OF STAFF NURSES ON QUALITY CARE OF PATIENTS AT SPECIALISED HOSPITALS IN LAHORE
Keywords:
Nursing shortage, Quality care of Patients, Impact of nursing shortage
Abstract
The nursing shortage has been recognized as a global healthcare issue that can negatively impact the quality of patient care. Adequate staffing of nurses is an essential factor that can ensure the provision of high-quality healthcare services to patients. A shortage of nurses may lead to poor patient outcomes, including medication errors, patient falls, and hospital-acquired infections. Therefore, addressing the nursing shortage is critical to improve patient care and health outcomes. This study investigates the impact of nursing shortage on patient care in healthcare settings. This study used a quantitative cross-sectional descriptive study design to assess the impact of nursing shortage on patient care. The study was conducted in multiple healthcare settings across different regions. A convenience sampling technique was used to select participants for the study. The patients in settings with nursing shortages used and filled out a questionnaire according to international guidelines. The results of the study showed that the majority of the participants reported a negative impact of nursing shortage on patient care. The shortage of nurses was associated with decreased patient satisfaction with nursing staff care. Furthermore, the study found that nursing shortages often led to nurses being overworked and exhausted, leading to medical errors and declining patient quality of care. The study concluded that the nursing shortage significantly negatively impacts patient care in healthcare settings. The shortage of nurses leads to decreased quality of care, increased length of hospital stay, patient mortality rates, and decreased patient satisfaction with care. Therefore, addressing the nursing shortage is crucial for improving patient outcomes and ensuring the provision of high-quality healthcare services.
Downloads
Download data is not yet available.
References
Abraham, V., Meyer, J. C., Godman, B., and Helberg, E. (2022). Perceptions of managerial staff on the patient safety culture at a tertiary hospital in South Africa. International Journal of Qualitative Studies on Health and Well-being 17, 2066252.
Adib-Hajbaghery, M., and Aghajani, M. (2015). Patients dignity in nursing. Nurs Midwifery Stud 4, e22809.
Aiken, L. H., Clarke, S. P., Sloane, D. M., Sochalski, J., and Silber, J. H. (2002). Hospital nurse staffing and patient mortality, nurse burnout, and job dissatisfaction. Jama 288, 1987-1993.
Bano, S., Pradhan, N. A., Rizvi, N., and Midhet, F. (2019). NURSES'JOB DISSATISFACTION AND ASSOCIATED FACTORS AT PUBLIC SECTOR TERTIARY CARE HOSPITAL IN PAKISTAN: A QUALITATIVE STUDY. Journal on Nursing 9.
Bersano, A., Kraemer, M., Touzé, E., Weber, R., Alamowitch, S., Sibon, I., and Pantoni, L. (2020). Stroke care during the COVID‐19 pandemic: experience from three large European countries. European journal of neurology 27, 1794-1800.
Bichel-Findlay, J., Koch, S., Mantas, J., Abdul, S. S., Al-Shorbaji, N., Ammenwerth, E., Baum, A., Borycki, E. M., Demiris, G., and Hasman, A. (2023). Recommendations of the International Medical Informatics Association (IMIA) on education in Biomedical and Health Informatics: second revision. International Journal of Medical Informatics 170, 104908.
Cœugnet, S., Forrierre, J., Naveteur, J., Dubreucq, C., and Anceaux, F. (2016). Time pressure and regulations on hospital-in-the-home (HITH) nurses: An on-the-road study. Applied ergonomics 54, 110-119.
Drennan, V. M., and Ross, F. (2019). Global nurse shortages: the facts, the impact and action for change. British medical bulletin 130, 25-37.
Duffy, J. R. (2022). "Quality caring in nursing and health systems: Implications for clinicians, educators, and leaders," Springer Publishing Company.
Haddad, L. M., Annamaraju, P., and Toney-Butler, T. J. (2018). Nursing shortage.
Healy, C. M., and McKay, M. F. (2000). Nursing stress: the effects of coping strategies and job satisfaction in a sample of Australian nurses. Journal of advanced nursing 31, 681-688.
Kelly, G., Mrengqwa, L., and Geffen, L. (2019). "They don't care about us": older people's experiences of primary healthcare in Cape Town, South Africa. BMC geriatrics 19, 1-14.
Khan, S., Khatoon, R., Dahri, M., and Hassan, F. (2021). Pakistan at a dearth of nurses: A persistent challenge. Journal of Nurses and Midwives Pakistan 1, 8-13.
Laeeque, S. H., Bilal, A., Hafeez, A., and Khan, Z. (2018). Violence breeds violence: burnout as a mediator between patient violence and nurse violence. International journal of occupational safety and ergonomics.
Machitidze, M. (2022). Impact of the nurses education and shortage on the patients care outcomes-literature review. Am J Biomed Sci Res 15, 441-3.
Ndirangu, E. W., Sarki, A. M., Mbekenga, C., and Edwards, G. (2021). Professional image of nursing and midwifery in East Africa: an exploratory analysis. BMC nursing 20, 1-11.
Organization, W. H. (2021). Standards for healthy eating, physical activity, sedentary behaviour and sleep in early childhood education and care settings: a toolkit.
Parveen, S. (2016). Acute shortage of nursing professional in Pakistan. Texila Int. J. Nurs 2, 1-6.
Pfettscher, S. A. (2021). Florence Nightingale: modern nursing. Nursing Theorists and Their Work E-Book 52.
Porter-O'Grady, T. (2019). Principles for sustaining shared/professional governance in nursing. Nursing Management 50, 36-41.
Selanders, L. C., and Crane, P. C. (2012). The voice of Florence Nightingale on advocacy. Online Journal of Issues in Nursing 17, F1.
Strohmeier, H., and Scholte, W. F. (2015). Trauma-related mental health problems among national humanitarian staff: A systematic review of the literature. European journal of psychotraumatology 6, 28541.
Wong, F. K. Y., Liu, H., Wang, H., Anderson, D., Seib, C., and Molasiotis, A. (2015). Global nursing issues and development: Analysis of World Health Organization documents. Journal of Nursing Scholarship 47, 574-583.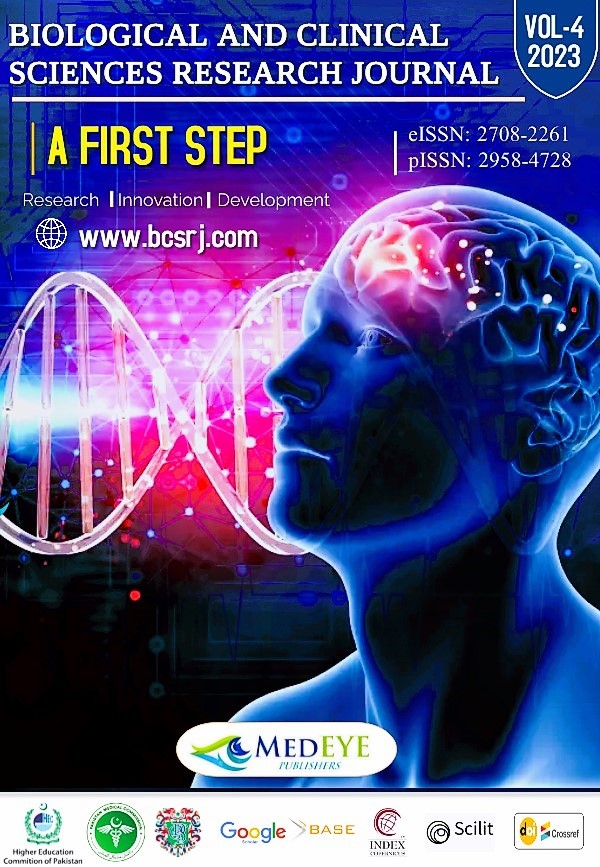 Downloads
How to Cite
MAHMOOD , I., SHAHBAZ , T., FAROOQ , Z., PARVEEN , I., SHARIF , R., MUNIR , S., & SHAMOUN , A. (2023). IMPACT OF SHORTAGE OF STAFF NURSES ON QUALITY CARE OF PATIENTS AT SPECIALISED HOSPITALS IN LAHORE. Biological and Clinical Sciences Research Journal, 2023(1), 409. https://doi.org/10.54112/bcsrj.v2023i1.409
Section
Original Research Articles
License
Copyright (c) 2023 I MAHMOOD , T SHAHBAZ , Z FAROOQ , I PARVEEN , R SHARIF , S MUNIR , A SHAMOUN
This work is licensed under a Creative Commons Attribution-NonCommercial 4.0 International License.