FISH FAUNA AND POPULATION DYNAMICS OF ECONOMICALLY IMPORTANT FISH SPECIES OF MANMADE FRESHWATER RESERVOIR
Keywords:
Chashma reservoir, biomass, fish, irrigation, biodiversity
Abstract
Chashma reservoir is located at latitude of Nº 32'26.110 and longitude of E° 71'25.571 and is constructed on the river Indus at District Mianwali on Dera Ismail Khan Road in the province of Punjab, Pakistan. It is the third largest multi-purpose reservoir in Pakistan and covers a surface area of 360 Km². It is used for flood control, irrigation, power generation and fish production. Its fish biodiversity was studied during a period of twenty four months from September 2013 to September 2015. Various fishing gears like hand nets, mosquito nets, rod and line, cast nets, drag nets and gill nets etc. were employed for sample collection. Total 74 numbers of fish species distributed over 9 orders, 21 families and 54 genera were recorded. Population dynamics of commercial fish specieswas also studied. Their numbers and biomass in the fish catch were recorded. Labeo gonius is the most prevalent species and found 50% in number and 37.34% in biomass in the total harvest whereas Wallago attu is the most commercial fish species which represent 5.37 % in number and 18% by weight in the total fish catch. Fish species are classified as common (C), not common (NC), rare (R), and very rare (VR) based on how frequently they appeared in the samples. Species utilized for aquaculture are marked as (CU) and the exotic species are represented as (E). This reservoir
hosts around 39% of Pakistan's entire freshwater fish biodiversity.
Downloads
Download data is not yet available.
References
Ahmad, I., Afshan, K., Ramzan, M., Hayat, S., Raza Rizvi, S. S., and Qayyum, M. (2016). Effect of water quality parameters on isopod parasite Alitropus typus (Aegidae) of ectotherms in Chashma Lake, Pakistan. Pakistan Journal of Zoology 48.
Ahmad, Z., Ahmad, I., Ayub, M., and Mirza, M. (2010). Fishes of River Attock Gorge, with new record of Batasio pakistanicus. Proc. Pak.Cong. Zool 30.
Ali, M., Shakir, A.S. Sustainable sediment management options for reservoirs: a case study of Chashma Reservoir in Pakistan. Appl Water Sci 8, 103 (2018).
DAY, F. (1880). 1. On the Fishes of Afghanistan. In "Proceedings of the Zoological Society of London", Vol. 48, pp. 224-232. Wiley Online Library.
FAO, F. (2018). The state of world fisheries and aquaculture. Opportunities and challenges. Food and Agriculture Organization of the United Nations.
Hasan, Z., Ullah, S., Rasheed, S., Kakar, A., and Ali, N. (2015). Ichthyofaunal diversity of river Panjkora, district Dir lower, Khyber Pakhtunkhwa. The Journal of Animal and Plant Sciences 25, 550-563.
Helfrich LA, Neves R J. 2009. Sustaining America's Aquatic Biodiversity Freshwater Fish Biodiversity and Conservation. Virginia Cooperative Extension, Publication. 420-525.
Hora, S.L., 1919.Fishes of Lahore. M.Sc. Thesis, University of the Punjab, Lahore, Pakistan.
Jayaram, K. (2010). The Freshwater Fishes of the Indian Region (Revised second edition). Vol. 2nd Edition, Narendra Publishing House, Delhi, 616 p. Delhi, Narendra Publishing House, New Delhi, India Region.
Khalid, P., Zafar Iqbal and M.N. Javed., 2013. Population dynamics of Tor macrolepis (Teleostei: Cyprinidae) and other fishes of Attock Region, Pakistan Canadian Journal of Pure And applied Science. Vol.7, No.1, pp.2195-2201.
Khan, A., Shakir, H., Khan, M., Abid, M., and Mirza, M. (2008). Ichthyofaunal survey of some freshwater reservoirs in Punjab. Journal of Animal and Plant Sciences 18, 155-157.
Khan, A. A., and Ali, S. B. (2003). Effects of erosion On Indus River bio-diversity in Pakistan. Pakistan Journal of Biological Sciences (Pakistan) 6, 1035-104.
Kottelat. M, Whitten T.1996.Fresh water biodiversity in Asia With special reference to fish World Bank Technical Paper No. 343, Washington, DC,U Linnaeus, C.,1758. Systema Naturae, Ed. X. (Systema naturae per regna tria naturae, secundumclasses, Ordines, genera, species cum characteribus, differentiis, synonymis, locis, Tomis, I Editiodecimal, reformata.) [Nantes and Pisces in Tom, I, pp.230-338].
Mirza, M., and Ahmad, I. (1987). Fishes of river Jhelum in Sargodha district. Biologia 33,253-263.
Mirza, M.R. 1990. Freshwater fishes of Pakistan. Urdu Science Board, Lahore, Pakistan.pp.130.
Mirza, M.R. 1993. Distribution of freshwater fishes in Pakistan and AJK. Proc. Sec. Aqua. Dev. Pakistan, pp.1-15.
Mirza, M.R. 1994. Geographical distribution of freshwater fishes in Pakistan: A review. Punjab Univ. J. Zool., 9: 93-108.
Mirza, M.R. and Sharif, H.M., 1996. A Key to fishes of the Punjab. Ilmi Kitab Khana, Lahore, Pakistan 263.
Mirza, M. R., & Hussain, S., 1998. A note on the fish fauna of Chashma Lake, Pakistan, with the record of Racoma labiata McClelland (Pisces: Cyprinidae). Punjab Univ. J. Zool.,13: 55-57.
Mirza, M., and S. Alam. (2000). Ichthyo regions of Indus River, Lahore. Sci.Int.12 (2): 143-149.
Mirza M. R. and Sharif, H. M. 2003. A key to fishes of the Punjab. Ilmi kitab Khana (Pakistan). PP .32.
Mirza, M. R., 2006. Revised ichthyo-geography of Pakistan and adjoining areas. Biologia, 52(2):105-115.
Mirza, M. R., & Sandhu, A. A. (2007). Fishes of the Punjab Pakistan. Polymer Publication, Urdu Bazar, Lahore.
Mirza, M. R., and Z. S. Mirza. (2014). Longitudinal Zonation in the Fish Fauna of the Indus River in Pakistan. Biologia. 60(1): 149-152.
Mirza, Z. S., Mirza, M. R., Mirza, M., and Sulehria,A. (2011). Ichthyofaunal diversity of the river Jhelum, Pakistan. Biologia 57, 23-32.
Muhammad, H., Iqbal, Z., and Saleemi, S. (2018). Diversity and distribution of fish fauna of Indus River at Taunsa Barrage in Punjab, Pakistan. Pakistan J Zool 49, 155-161.
Nelson, J.S., 1994. Fishes of the World. New York: John Wiley and sons.
Paller, V. G. V., Labatos, B. V., Lontoc, B. M., Matalog, O. E., and Ocampo, P. P. (2011). Freshwater fish fauna in watersheds of Mt. Makiling Forest reserve, Laguna, Philippines. Philippine Journal of Science 140, 195-206.
Peter, T. (1999). Coldwater fish and fisheries in Pakistan.
FAO Fisheries, Rome. Technical Paper 385, 122-137.
Rafique, M. (2001). Fish fauna of the Himalayas in Pakistan with comments on the origin and dispersal of its high Asian elements. Pakistan Journal of Zoology (Pakistan). 35,
-98.
Rafique, M., Akhtar, S., and Niazi, M. H. K. (2003). Fish Fauna of Jinnah Barrage and adjoining areas. Pakistan journal of zoology, 35(2): 95-98
Rafique, M., and Khan, N. U. H. (2012). Distribution and status of significant freshwater fishes of Pakistan. Rec. Zool. Surv. Pakistan 21, 90-95.
Roonwal, M. (1956). The Late Dr. Sunder Lal Hora (1896-1955): an Appreciation, together with a Complete l ist of his Scientific Writings. Records of the Zoological Survey of India 54, 107-137.
Sthanadar, I. A., Sthanadar, A. A., Begum, B., Nair, M., Ahmad, I., Muhammad, A., Zahid, M., and Ullah, S. (2015). Aquatic pollution assessment using skin tissues of Mulley (Wallago attu, Bloch & Schneider, 1801) as a bio-indicator in Kalpani River at District Mardan, Khyber Pakhtunkhwa. Journal of Biodiversity and Environmental Sciences (JBES) 6, 57-66.
Ullah S, Hasan Z, RashidB. 2014.Ichthyofauna Diversity of River Panjkora, District Dir Lower, K.P.K Sindh Uni. Res.J. Reviewed submitted back. WAPDA-Annual report 2012-13, Public Relations Division (WAPDA), WAPDA House, Lahore- Pakistan.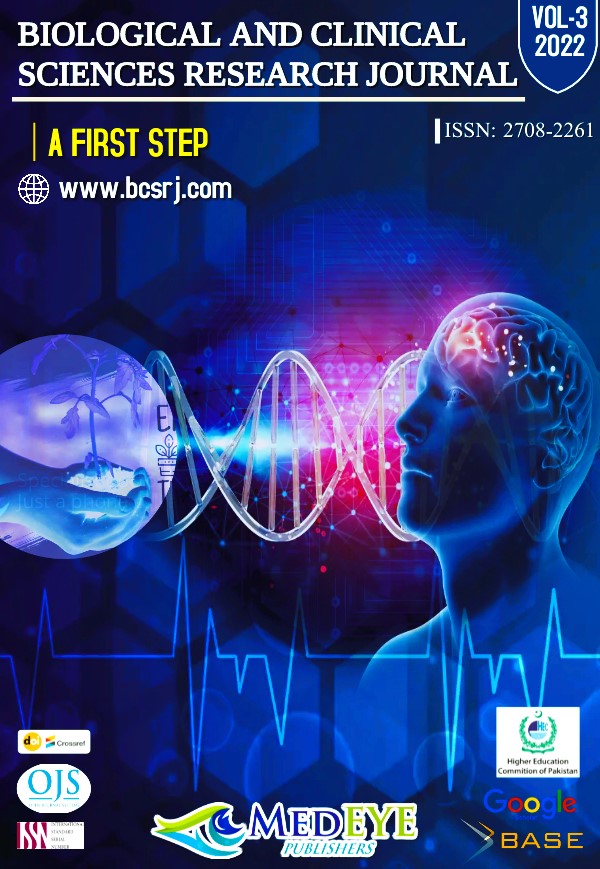 Downloads
How to Cite
AHMAD, I., QAYYUM, M., HAYAT, S., & AHMAD, F. (2022). FISH FAUNA AND POPULATION DYNAMICS OF ECONOMICALLY IMPORTANT FISH SPECIES OF MANMADE FRESHWATER RESERVOIR. Biological and Clinical Sciences Research Journal, 2022(1). https://doi.org/10.54112/bcsrj.v2022i1.110
Section
Original Research Articles
License
Copyright (c) 2022 I AHMAD, M QAYYUM, S HAYAT, F AHMAD
This work is licensed under a Creative Commons Attribution-NonCommercial 4.0 International License.