IMPACT OF PUBLIC EXTENSION SERVICES FOR EFFECTIVE WEED MANAGEMENT PRACTICES IN WHEAT-MAIZE CROPPING PATTERN IN FAISALABAD PUNJAB, PAKISTAN
Keywords:
extension services, buzz group, fellow farmers, integrated weeds management, cropping pattern
Abstract
Weeds infestation is one of the major bottlenecks for higher productivity and responsible for considerable grain losses up to 18% in Wheat and 10-60% in Maize crop. Weeds are problematic because of their faster growth and competition for use of natural resources. To ascertain the impact of different public extension services working for improvement of farmer's knowledge to effective weed management in wheat-maize cropping pattern present was conducted in district Faisalabad. Results of present study evaluated that a vast majority (64.7%) of farmers were familiar with farm and home visit, (46.3%) farmers were known to telephone call and less than one fifth (12.5%) were conversant with office call in individual contact extension services. Meanwhile only (1.5%) farmers were aware with personal letter as a public extension service. In group contact methods more than one fourth (40%) were conscious with farmer day and field day but a meager percentage (2.2%) were known to buzz group and brain storming extension services in reference to effective weeds control. Almost (75%) farmers were recognized with television, mobile phone and fellow farmers as a beneficial agricultural extension services. Majority of farmers were aware about pesticide dealers as a first source of information. According to mean value (2.00) individual contact method was tending between very low to low rates of effectiveness for proper weeds management. Almost (50%) farmers were satisfied with group contact methods as an effective public extension services. Mobile phone was considered most helpful method for obtaining proper information related to weeds control having (3.40) mean value in present research. After getting these types of results it was suggested that provision of the relevant information and awareness regarding effective weeds management may only be ensured if a combination of different contact methods is brought under implementation comprehensively. Language barriers must need to be minimized while contacting the farmers and command over local language and terms is one of the major ways forward in this regard. However further studies are required to investigate the rate of effectiveness of local herbicides.
Downloads
Download data is not yet available.
References
Arnold, R.N., M.W. Murray, E.J. Gregory and D. Smeal, (1988). Effects of herbicides on weeds in field corn grown on coarse-textured soils. Journal of Applied Agricultural Research, 3: 121-123.
Bajwa, A.A., Mahajan, G., Chauhan, B.S., 2015. Nonconventional weed management strategies for modern agriculture. Weed Science. 63: 723e747.
Barros, J.F.C., G. Basch, and M. de-Carvalho (2008). Effect of reduced doses of a post-emergence graminicide to control Avena sterilis L. and Lolium rigidum G. in no-till wheat under Mediterranean environment. Crop Protection, 27: 1031-1037.
Bhatti, I.H., Ahmad, R., Jabbar, A., Nazir, M.S., and Mahmood, T. (2006). Competitive behavior of component crops in different sesame legume intercropping systems. International Journal of Agriculture and Biology. 8:165–167.
Bilalis, D., N. Sidiras, G. Economou and C. Vakali, (2003). Effect of different levels of wheat straw soil surface coverage on weed flora in Vicia faba crops. Journal of Agronomy and Crop Science, 189: 233-241.
Cartmell, D. D., Orr, C. L., & Kelemen, D. B. (2004). Methods of information dissemination to limited-scale land owners. Oklahoma State University. InProceedings of the 31st Annual National Agricultural Education Research Conference, St. Louis, MO 2004.
Halford, C., A.S. Hamill, J. Zhang and C. Doucet, (2001). Critical period of weed control in no-till soybean (Glycine max) and corn (Zea mays L). Weed Technology, 15: 737-744.
Lashkari, M., Madani, H., Ardakani, M.R., Golzardi, F., Zargari, K. (2011). Effect of plant density on yield and yield components of different Corn (Zea mays L.) hybrids. Journal of Agriculture and Environmental Sciences. 10, 450e457.
Martin, R.J., Brown, S., and R. Johnstone (2013). Integrating agricultural adoption pathways in North-Western Cambodia. International Journal of. Environmental and Rural Development. 4, 112e117.
McBride, D. William and G. Stan (2003). Information and the Adoption of Precision Farming Technologies, Journal of Agribusiness, 21: 21-38.
Muhammad, S (2005). Agricultural Extension: Strategies and Skills. 2nd Ed. Unitech Communications, Faisalabad, Pakistan.
Muzari, W. Gatsi, W & Muvhunzi, S. (2012). The Impacts of Technology Adoption on Smallholder Agricultural Productivity in Sub-Saharan Africa: A Review, Journal of Sustainable Development; 5: 8.
Okunade, E.O. (2007). Effectiveness of extension teaching methods in acquiring knowledge, skill and attitude by women farmers in Osun State. Journal of Applied Sciences and Research, 3(4), 282-286.
Rehman, F., S. Muhammad, I. Ashraf. and S. Hassan (2013). Factors affecting the effectiveness of print media in the dissemination of agricultural information. Sarhad Journal Agriculture, 27(1), 119-124.
World Bank (2008). Millennium Development Goals. www.worldBank.org/mdgs/poverty-hunger.html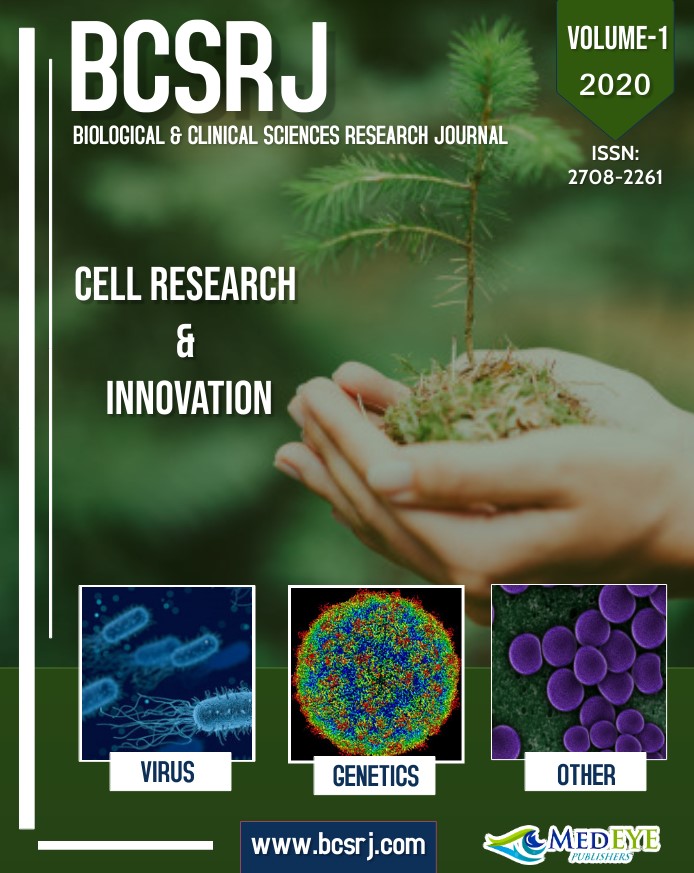 Downloads
How to Cite
Saeed, M., Chaudhry, K., Ashraf, I., Usman, M., Ejaz, R., Shoaib, M., & Riaz, I. (2020). IMPACT OF PUBLIC EXTENSION SERVICES FOR EFFECTIVE WEED MANAGEMENT PRACTICES IN WHEAT-MAIZE CROPPING PATTERN IN FAISALABAD PUNJAB, PAKISTAN. Biological and Clinical Sciences Research Journal, 2020(1). https://doi.org/10.54112/bcsrj.v2020i1.32
Section
Original Research Articles
License
Copyright (c) 2020 MM Saeed, KM Chaudhry, I Ashraf, M Usman, R Ejaz, M Shoaib, I Riaz
This work is licensed under a Creative Commons Attribution-NonCommercial 4.0 International License.