AN INVESTIGATION OF THE PROBLEMS FACED BY VEGETABLE GROWERS REGARDING POST-HARVEST PRACTICES IN DISTRICT FAISALABAD
Keywords:
nutrition value, , transportation issues, middle man, vegetable processing
Abstract
Vegetables have important role in daily food which have essential nutritionals because they have a significant source of vitamins, sugar and dietary fibre as well as antioxidants. The study was conducted in district Faisalabad. Tehsil Sammundri and Jaranwala were selected purposively, because there are maximum vegetables growers. The population of Jaranwala and Sammundri were 178 and 241 vegetable growers respectively making a total population of 419 according to the list of agricultural extension department. Sample size was 202 by using online software (survey system.com) keeping confidence interval 5% and confidence level 95%. Proportionate sampling was used to select the respondents in these two tehsils. By using proportionate sampling respondents of tehsils named Jaranwala and Sammundri were 86 and 116 respectively. Results show that majority of respondents were falling between 41-60 years age interval, cultivating the vegetables. About one third 31.7% of the respondents were matriculation those farmers having knowledge about education importance and values. Manual washing is method of washing the vegetables by using of clean water this method was ranked 4th, it secured mean value of 3.82. In studied areas mostly farmers were using simple packing including polythene, plastic bags it ranked 6th. About vast majority of 90.1% respondents have been used the simple packing for vegetables it secured mean value of 3.26. In transportation process of vegetables over whelming majority 99% of respondents were using less expensive and easily approach able vehicle that was loader Rikshaw, which ranked 1st as compared to other vehicle which secured a mean value of 4.25. About vast majority 84.2% respondents were facing the problem of middle man involvement in markets. Middle man has most important role between customer and farmers that was observed, it ranked 17th and it secure mean value of 3.25. There was maximum issue of technology was noticed that they had no awareness regarding the machinery. They had faced the issue of markets and middle man commission. Government should pay attention toward infrastructure, markets governance and reduce the commission of middle man by involving the responsible authorities. Government institutes should deliver the proper guideline related to vegetables post-harvest problems to improve the quality and quantity of products.
Downloads
Download data is not yet available.
References
Abbas, M.A. (2006). General Agriculture. Emporium Publishers, Lahore, Pakistan.
Ali, A. (1991). A study into the adoption of recommended rice growing practices in tehsil Shakargarh of district Sialkot. M.Sc. (Hons.) Thesis, Dept. of Agri. Ext., Uni. of Agri., Faisalabad, Pakistan.
Allahyari, M. S., Chizari, M., & Homaee, M. (2008). Perceptions of Iranian agricultural extension professionals toward sustainable agriculture concepts. Journal of Agriculture and Social Sciences, 4(3), 101-106.
Amir, J. (2003). An investigation into the adoption of broiler production/ management practices by poultry farmers in tehsil Samundri. M.Sc. (Hons.) Thesis, Dept. of Agri. Ext., Uni. of Agri., Faisalabad, Pakistan
Attaullah. (2014). Analysis of factors affecting the cotton production in tehsil Muzaffargarh. M.Sc. (Hons.) Thesis, Inst. of Agri. Ext. & Rural Dev., Uni. of Agri., Faisalabad, Pakistan.
Babalola, D. A., Makinde, Y. O., Omonona, B. T., & Oyekanmi, M. O. (2010). Determinants of post-harvest losses in tomato production: a case study of Imeko-Afon local government area of Ogun state. Acta Satech, 3(2), 14-18.
Bachmann, J., & Earles, R. (2000). Postharvest handling of fruits and vegetables. Appropriate technology transfer for rural areas. Fayetteville, Arizona: ATTRA.
Chaudhry, K. M., Muhammad, S., Saghir, A., & Ashraf, I. (2008). Rural women's access to various sources of information in tehsil Faisalabad. Journal of Animal and Plant Science, 18(2-3).
Chun-Ta, W. (2010). An overview of postharvest biology and technology of fruits and vegetables. In Technology on Reducing Post-harvest Losses and Maintaining Quality of Fruits and Vegetables: Proceedings of 2010 AARDO Workshop.
Fadare, O. A., Akerele, D., & Toritseju, B. (2014). Factors influencing adoption decisions of maize farmers in Nigeria. International Journal of Food and Agricultural Economics (IJFAEC), 2(1128-2016-92049), 45-54.
FAO. (2009). FAOSTAT on-line. Rome: United Nations Food and Agriculture Organization. http://faostat.fao.org/default.aspx.
FAO. (2010). The state of food insecurity in the world: Addressing food insecurity in the protracted crises. Food and Agriculture Organization of the United Nations Rome.
Govt. of Pakistan. (2017-18). Education: Economic Survey of Pakistan. Economic advisory wing, Ministry of Finance, Pakistan.
Hanif, M., Khan, S., & Nauman, F. (2004). Agricultural perspective and policy. Ministry of Food, Agriculture and Livestock (MINFAL), Islamabad.
Hossain, M. A. (1972). Adoption of improved farm practices by the transplanted of Mymensingh district. Research in agricultural extension (a compilation of Master'Thesis, 1960-90), BAU, Mymensingh.
https://agrihunt.com/articles/pak-agri-outlook/post-harvest-losses-in-fruits-and-vegetables-in-pakistan/
Jariko, G. A., Junejo, M. A., Rahpoto, M. S., & Shah, M. Z. (2011). Socioeconomic factors affecting adoption of sunflower varieties in Sindh. Pakistan Journal of Commerce and Social Sciences (PJCSS), 5(1), 192-201.
Kader, A. A. (2005). Increasing Food Availability by Reducing Postharvest Losses of Fresh Produce UC Davis.
Kader, A. A., & Rolle, R. S. (2004). The role of post-harvest management in assuring the quality and safety of horticultural produce (Vol. 152). Food & Agriculture Org.
Keatinge, J. D. H., Yang, R. Y., Hughes, J. D. A., Easdown, W. J., & Holmer, R. (2011). The importance of vegetables in ensuring both food and nutritional security in attainment of the Millennium Development Goals. Food Security, 3(4), 491-501.
Kereth, G. A., Lyimo, M., Mbwana, H. A., Mongi, R. J., & Ruhembe, C. C. (2013). Assessment of post-harvest handling practices: knowledge and losses of fruits in Bagamoyo district of Tanzania. Journal of Food Quality Management, 11.
Kinyuru, J. N., Kahenya, K. P., Muchui, M., & Mungai, H. (2011). Influence of post-harvest handling on the quality of snap bean (Phaseolus vulgaris L.). Journal of Agriculture Food and Technology, 1(5), 43-46.
Kitinoja, L., Saran, S., Roy, S. K., & Kader, A. A. (2011). Postharvest technology for developing countries: challenges and opportunities in research, outreach and advocacy. Journal of the Science of Food and Agriculture, 91(4), 597-603.
Kotile, D. G., & Martin, R. A. (2000). Sustainable agricultural practices for weed management: Implications to agricultural extension education. Journal of Sustainable Agriculture, 16(2), 31-51.
Kumari, A., & Pankaj, P. P. (2015). Post-Harvest Losses of Agricultural Products: Management and Future Challenges in India.
Mbuk, E. M., Bassey, N. E., Udoh, E. S., & Udoh, E. J. (2011). Factors influencing post-harvest loss of tomato in urban market in Uyo, Nigeria. Nigerian Journal of Agriculture, Food and Environment, 7(2), 40-46.
Wills, R., McGlasson, B., Graham, D., & Joyce, D. (19999). Postharvest: An introduction to the physiology and handling of fruit, vegetable and ornamentals. Journal of Vegetable Crop Production, 4(2):83-4.
Muda, M. N. (2006). Post-harvest Handling. Post-harvest Management of Fruit and Vegetables in the Asia Pacific Region (pp. 187-190). New Delhi: Asian Productivity Organization.
Naidoo, K. D. (2009). The practice, constraints and perceptions of improving soil quality through manure application: a case study of three smallholder farmer groups (Doctoral dissertation).
Pakistan Bureau of Statistics, (2018-19). Education: Economic Survey of Pakistan. Economic advisory wing, Ministry of Finance, Pakistan.
Rico, D., Martin-Diana, A. B., Barat, J. M., & Barry-Ryan, C. (2007). Extending and measuring the quality of fresh-cut fruit and vegetables: a review. Trends in Food Science & Technology, 18(7), 373-386.
Sulo, T., Koech, P., Chumo, C., & Chepng'eno, W. (2012). Socioeconomic factors affecting the adoption of improved agricultural technologies among women in Marakwet County Kenya. Journal of Emerging Trends in Economics and Management Sciences, 3(4), 312-317.
Wegner, and Zwart L.G. (2011). Who will feed the world? The production challenge. United Kingdom: Oxfam.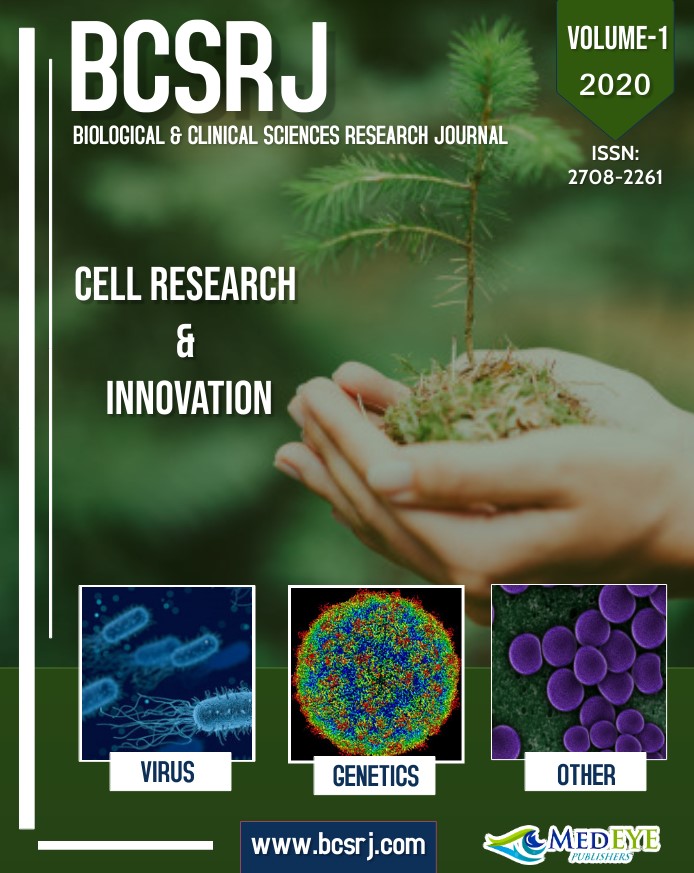 Downloads
How to Cite
Khan, H., Chaudhry, K., Ashraf, I., Usman, M., Ejaz, R., & Khadim, M. (2020). AN INVESTIGATION OF THE PROBLEMS FACED BY VEGETABLE GROWERS REGARDING POST-HARVEST PRACTICES IN DISTRICT FAISALABAD. Biological and Clinical Sciences Research Journal, 2020(1). https://doi.org/10.54112/bcsrj.v2020i1.15
Section
Original Research Articles
License
Copyright (c) 2020 HS Khan, KM Chaudhry, I Ashraf, M Usman, R Ejaz, MM Khadim
This work is licensed under a Creative Commons Attribution-NonCommercial 4.0 International License.