USE OF GENE XPERT MTB/RIF ASSAY FOR DETECTING MYCOBACTERIUM TUBERCULOSIS AND RIFAMPICIN RESISTANCE
Keywords:
Mycobacterium tuberculosis, rifampicin resistance, culture, Gene Xpert
Abstract
The current study was designed to assess the specificity and sensitivity of MTB/RIF assay for early detection of Mycobacterium tuberculosis and RIF resistance in smear-positive and smear-negative pulmonary and extrapulmonary samples. This retrospective study was conducted in Bakhtawar Amin Trust Hospital Multan from July 2021 to July 2022. Total 240 pulmonary samples (gastric fluid specimens, post-bronchoscopic sputum, bronchoscopic aspirate, bronchoalveolar lavage and sputum) and 170 extra-pulmonary samples (urine specimens, skin biopsy, pericardial fluid, cerebrospinal fluid, ascitic fluid, disc material, lymph node biopsy and pleural fluid) were collected. After culture growth and identification of species, drug susceptibility testing (DST) was done. All samples underwent Xpert MTB/RIF assay. A total of 240 pulmonary and 170 extra-pulmonary samples from 410 patients were collected. The mean age of the patients was 46.5 ± 10 years. Of 410 subjects, 100 had TB, and 310 had no evidence of TB. Of 100 TB patients, the specificity of the MTB/RIF assay was 100 % (100), sensitivity was 69% (69), PPV was 100% (100), and NPV was 91% (91). According to the MTB/RIF assay, 79 samples were RIF-susceptible, and 1 was RIFresistant; DST confirmed the results. MTB/RIF assay is a valuable tool for detecting Mycobacterium tuberculosis and rifampicin resistance. It is not technique sensitive and provides results in less than three hours.
Downloads
Download data is not yet available.
References
Anand, M., Jnaneshwara, K., Patil, A. B., and Naidu, M. B. (2018). Cepheid GeneXpert Mycobacterium tuberculosis/Rifampicin assay for the rapid detection of Mycobacterium tuberculosis and identification of Rifampicin resistance. Journal of The Academy of Clinical Microbiologists 20, 84.
Bahraminia, F., Zangiabadian, M., Nasiri, M. J., Fattahi, M., Goudarzi, M., Ranjbar, R., and Fooladi, A. I. (2021). Rifampicin resistance in Mycobacterium tuberculosis in Iran: a two-centre study. New Microbes and New Infections 42, 100909.
Bonney, W., Price, S. F., and Miramontes, R. (2019). Design and Implementation of Data Exchange Formats for Molecular Detection of Drug-Resistant Tuberculosis. AMIA Summits on Translational Science Proceedings 2019, 686.
Chakaya, J., Petersen, E., Nantanda, R., Mungai, B. N., Migliori, G. B., Amanullah, F., Lungu, P., Ntoumi, F., Kumarasamy, N., and Maeurer, M. (2022). The WHO Global Tuberculosis 2021 Report–not so good news and turning the tide back to End TB. International Journal of Infectious Diseases.
Diandé, S., Badoum, G., Combary, A., Zombra, I., Saouadogo, T., Sawadogo, L. T., Nébié, B., Gnanou, S., Zigani, A., and Ouédraogo, S. M. (2019). Multidrug-resistant tuberculosis in Burkina Faso from 2006 to 2017: results of national surveys. European Journal of Microbiology and Immunology 9, 23-28.
Fakhreddine, M., Khalid, K., Othman, D., Idrissa, D., Houria, B., and Khalid, Z. (2020). Rapid detection of Mycobacterium tuberculosis complex by real-time polymerase chain reaction (PCR) in pulmonary and extra-pulmonary samples in Casablanca, Morocco. Pan African Medical Journal 36.
Georghiou, S. B., Penn-Nicholson, A., de Vos, M., Macé, A., Syrmis, M. W., Jacob, K., Mape, A., Parmar, H., Cao, Y., and Coulter, C. (2021). Analytical performance of the Xpert MTB/XDR® assay for tuberculosis and expanded resistance detection. Diagnostic Microbiology and Infectious Disease 101, 115397.
Katoch, C., Peter, D. K., Marwah, V., Kumar, K., and Bhati, G. (2021). Prevalence of isoniazid resistance in cases of rifampicin resistance detected on GeneXpert MTB/RIF assay. Medical Journal Armed Forces India.
Kolia-Diafouka, P., Carrère-Kremer, S., Lounnas, M., Bourdin, A., Kremer, L., Van de Perre, P., Godreuil, S., and Tuaillon, E. (2019). Detection of Mycobacterium tuberculosis in paucibacillary sputum: performances of the Xpert MTB/RIF ultra compared to the Xpert MTB/RIF, and IS6110 PCR. Diagnostic microbiology and infectious disease 94, 365-370.
Penn-Nicholson, A., Gomathi, S. N., Ugarte-Gil, C., Meaza, A., Lavu, E., Patel, P., Choudhury, B., Rodrigues, C., Chadha, S., and Kazi, M. (2021). A prospective multicentre diagnostic accuracy study for the Truenat tuberculosis assays. European Respiratory Journal 58.
Perdigão, J., Gomes, P., Miranda, A., Maltez, F., Machado, D., Silva, C., Phelan, J. E., Brum, L., Campino, S., and Couto, I. (2020). Using genomics to understand the origin and dispersion of multidrug and extensively drug resistant tuberculosis in Portugal. Scientific reports 10, 1-17.
Phetsuksiri, B., Klayut, W., Rudeeaneksin, J., Srisungngam, S., Bunchoo, S., Toonkomdang, S., Wongchai, T., Nakajima, C., and Suzuki, Y. (2020). The performance of an in-house loop-mediated isothermal amplification for the rapid detection of Mycobacterium tuberculosis in sputum samples in comparison with Xpert MTB/RIF, microscopy and culture. Revista do Instituto de Medicina Tropical de São Paulo 62.
Piersimoni, C., Gherardi, G., Gracciotti, N., and Pocognoli, A. (2019). Comparative evaluation of Xpert MTB/RIF and the new Xpert MTB/RIF ultra with respiratory and extra-pulmonary specimens for tuberculosis case detection in a low incidence setting. Journal of clinical tuberculosis and other mycobacterial diseases 15, 100094.
Schwoebel, V. (2020). Surveillance of tuberculosis. Indian Journal of Tuberculosis 67, S33-S42.
Zignol, M., Dean, A. S., Falzon, D., van Gemert, W., Wright, A., van Deun, A., Portaels, F., Laszlo, A., Espinal, M. A., and Pablos-Méndez, A. (2016). Twenty years of global surveillance of antituberculosis-drug resistance. New England Journal of Medicine 375, 1081-1089.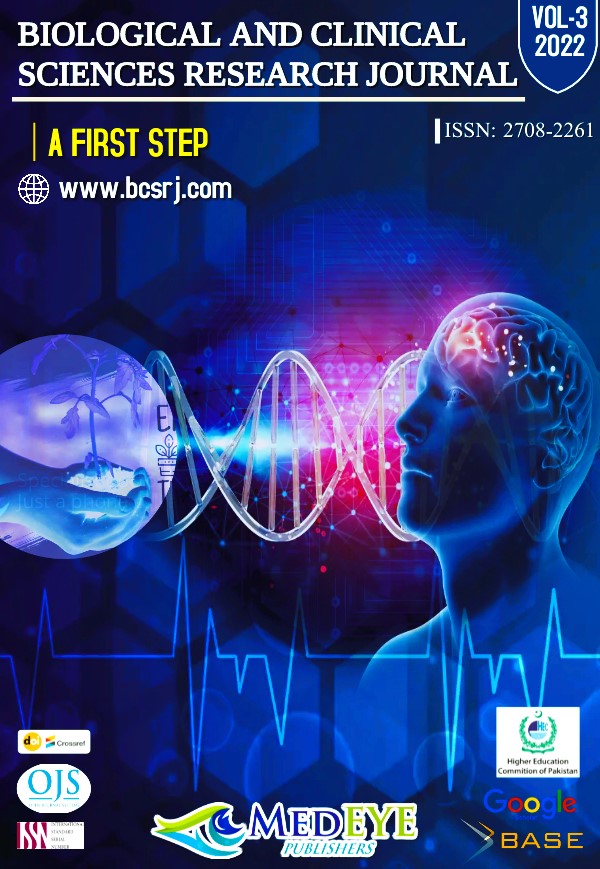 Downloads
How to Cite
ULLAH, U., MEHMOOD, M., IRFAN, M., RAZZQA, M., & ATIF, M. (2022). USE OF GENE XPERT MTB/RIF ASSAY FOR DETECTING MYCOBACTERIUM TUBERCULOSIS AND RIFAMPICIN RESISTANCE. Biological and Clinical Sciences Research Journal, 2022(1). https://doi.org/10.54112/bcsrj.v2022i1.164
Section
Original Research Articles
License
Copyright (c) 2022 U ULLAH, M MEHMOOD, M IRFAN, MA RAZZQA, M ATIF
This work is licensed under a Creative Commons Attribution-NonCommercial 4.0 International License.