METABOLIC DISORDERS IN PATIENTS WITH HIGH RISK FOR RECURRENT URINARY TRACT STONES
Keywords:
Urinary tract stone, metabolic abnormality, Urolithiasis
Abstract
A cross-sectional study was conducted to assess the frequency of metabolic disorders detected in 24-hour urine collection in patients with increased morbidity for recurrent upper urinary tract stones. This research was conducted Department of Urology Bakhtawer Amin Hospital, Multan. Study was carried out over a period of six months from 01-12-2021 to 01-06-2022. Total 100 cases presented with the recurrent urinary tract stone were enrolled in this study. Patients were asked about their demographics which include name, age, gender and contact details. A 24-hour urine sample from each patient was analyzed for its contents. Metabolic abnormalities were recorded as per operational definition) . Out of 100 patients, 30 %( n=30) were in age Group of 12-30 years whereas 70 %(n=70) were in age Group of 31-60 years, mean age was calculated as 35.85 ± 9.83 years. Mean duration of kidney stone was 1.69 ± 0.46 months. Frequency of metabolic abnormalities were 42%. We concluded that, the most common 24-hour urine abnormalities were hyperuricosuria (32%), hypercalciuria (19%), hypernatriuria (20%).
Downloads
Download data is not yet available.
References
Abufaraj, M., Al Karmi, J., and Yang, L. (2022). Prevalence and trends of urolithiasis among adults. Current Opinion in Urology 32, 425-432.
Arumuham, V., Brodie, A., and Bycroft, J. (2019). The management of urolithiasis. Surgery (Oxford) 37, 393-403.
Bandegudda, S., Gupta, A., Mohandas, A., Kumar, N. R., Jain, S., and Santhoshkumar, B. (2023). Revisiting The Risk Factors Of Renal Stone Disease. International Journal 6, 546.
Faridi, M. S., and Singh, K. S. (2020). Preliminary study of prevalence of urolithiasis in North-Eastern city of India. Journal of Family Medicine and Primary Care 9, 5939.
Fontenelle, L. F., and Sarti, T. D. (2019). Kidney stones: treatment and prevention. American family physician 99, 490-496.
Kittanamongkolchai, W., Vaughan, L. E., Enders, F. T., Dhondup, T., Mehta, R. A., Krambeck, A. E., McCollough, C. H., Vrtiska, T. J., Lieske, J. C., and Rule, A. D. (2018). The changing incidence and presentation of urinary stones over 3 decades. In "Mayo Clinic Proceedings", Vol. 93, pp. 291-299. Elsevier.
Moftakhar, L., Jafari, F., Ghoddusi Johari, M., Rezaeianzadeh, R., Hosseini, S. V., and Rezaianzadeh, A. (2022). Prevalence and risk factors of kidney stone disease in population aged 40–70 years old in Kharameh cohort study: a cross-sectional population-based study in southern Iran. BMC urology 22, 1-9.
Oman, R. E., Reppert, E. J., Streeter, R. N., and Jones, M. (2019). Outcome and complications in goats treated by perineal urethrostomy for obstructive urolithiasis: 25 cases (2010‐2017). Journal of veterinary internal medicine 33, 292-296.
Perumal, K. R., Chua, R. H. B., Teh, G. C., and Lei, C. C. M. (2023). Prevalence of urolithiasis in Sarawak and associated risk factors: An ultrasonagraphy‐based cross‐sectional study. BJUI compass 4, 74-80.
Ping, H., Lu, N., Wang, M., Lu, J., Liu, Y., Qiao, L., Wang, Y., Jiang, L., and Zhang, X. (2019). New‐onset metabolic risk factors and the incidence of kidney stones: a prospective cohort study. BJU international 124, 1028-1033.
Piyarungsri, K., Tangtrongsup, S., Thitaram, N., Lekklar, P., and Kittinuntasilp, A. (2020). Prevalence and risk factors of feline lower urinary tract disease in Chiang Mai, Thailand. Scientific Reports 10, 1-8.
Qiu, F., Xu, Y., Ji, X., Pu, J., Zhou, J., and Huang, Y. (2021). Incidence and correlation of metabolic syndrome and kidney stones in a healthy screening population. Translational Andrology and Urology 10, 3646.
Saeed, S., Ullah, A., Ahmad, J., and Hamid, S. (2020). The prevalence of incidentally detected urolithiasis in subjects undergoing computerized tomography. Cureus 12.
Stamatelou, K., and Goldfarb, D. S. (2023). Epidemiology of Kidney Stones. In "Healthcare", Vol. 11, pp. 424. MDPI.
Tae, B. S., Balpukov, U., Cho, S. Y., and Jeong, C. W. (2018). Eleven-year cumulative incidence and estimated lifetime prevalence of urolithiasis in Korea: a national health insurance service-national sample cohort based study. Journal of Korean medical science 33.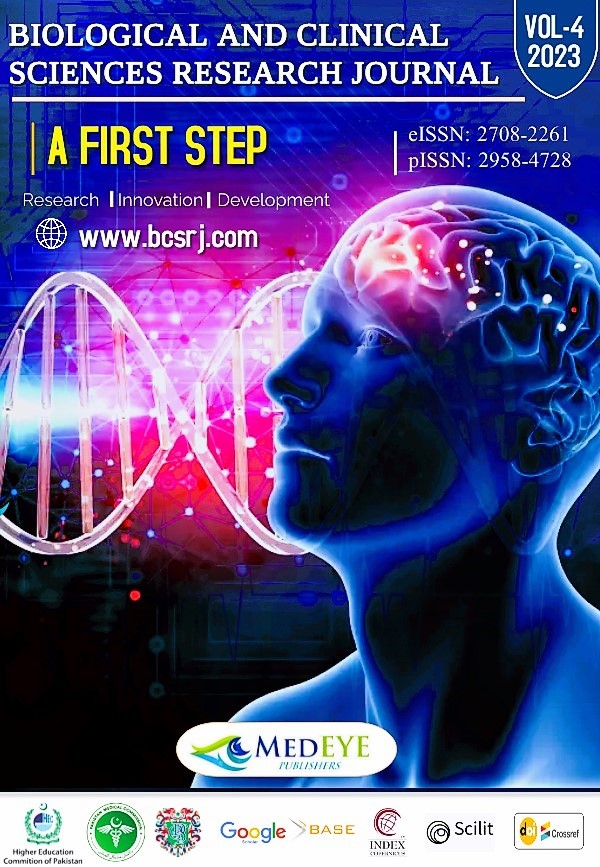 Downloads
How to Cite
JAMAL, M., ADNAN, M., MUZAMMIL, M., REHMAN, R., ULLAH, S., & AHMAD, I. (2023). METABOLIC DISORDERS IN PATIENTS WITH HIGH RISK FOR RECURRENT URINARY TRACT STONES. Biological and Clinical Sciences Research Journal, 2023(1), 222. https://doi.org/10.54112/bcsrj.v2023i1.222
Section
Original Research Articles
License
Copyright (c) 2023 MR JAMAL, M ADNAN, M MUZAMMIL, RAU REHMAN, S ULLAH, I AHMAD
This work is licensed under a Creative Commons Attribution-NonCommercial 4.0 International License.