RETRACTED: GROUND GLASS OPACITIES IN LUNG CANCER PATIENTS POSITIVE FOR COVID-19
Keywords:
COVID-19, Lung cancer, Radiology, Propensity score analysis, Ground-glass opacity
Abstract
Retraction Notice: This paper has been retracted from the journal after receipt of written complains from IRB & Ethical Committee, Shifa International Hospital Ltd. Islamabad, Pakistan. This journal is determined to promote integrity in research publication. This retraction is in spirit of the same. After formal procedures editor(s) and publisher have retracted this paper on 21th February-2023. Related policy is available here: http://bcsrj.com/ojs/index.php/bcsrj/AWP
Downloads
Download data is not yet available.
References
Bernheim, A., Mei, X., Huang, M., Yang, Y., Fayad, Z. A., Zhang, N., Diao, K., Lin, B., Zhu, X., and Li, K. (2020). Chest CT findings in coronavirus disease-19 (COVID-19): relationship to duration of infection. Radiology.
Chang, D., Lin, M., Wei, L., Xie, L., Zhu, G., Cruz, C. S. D., and Sharma, L. (2020). Epidemiologic and clinical characteristics of novel coronavirus infections involving 13 patients outside Wuhan, China. Jama 323, 1092-1093.
Chung, M., Bernheim, A., Mei, X., Zhang, N., Huang, M., Zeng, X., Cui, J., Xu, W., Yang, Y., and Fayad, Z. A. (2020). CT imaging features of 2019 novel coronavirus (2019-nCoV). Radiology.
Covid, C., Pan, F., Ye, T., Sun, P., Gui, S., Liang, B., and Li, L. (2019). Time course of lung changes at chest CT during recovery. vol.
DECLARATION, M. (2001). WORLD TRADE ORGANIZATION (WTO)-DOHA MINISTERIAL 2001: MINISTERIAL DECLARATION*[November 14, 2001]+ Cite as 41 ILM 746 (2002).
Fang, Y., Zhang, H., Xie, J., Lin, M., Ying, L., Pang, P., and Ji, W. (2020). Sensitivity of chest CT for COVID-19: comparison to RT-PCR. Radiology.
Fusco, R., Grassi, R., Granata, V., Setola, S. V., Grassi, F., Cozzi, D., Pecori, B., Izzo, F., and Petrillo, A. (2021). Artificial intelligence and COVID-19 using chest CT scan and chest X-ray images: machine learning and deep learning approaches for diagnosis and treatment. Journal of Personalized Medicine 11, 993.
Hanif, N., Rubi, G., Irshad, N., Ameer, S., Habib, U., and Zaidi, S. R. H. (2021). Comparison of HRCT Chest and RT-PCR in Diagnosis of COVID-19. J Coll Physicians Surg Pak 31, S1-S6.
Huang, P., Liu, T., Huang, L., Liu, H., Lei, M., Xu, W., Hu, X., Chen, J., and Liu, B. (2020). Use of chest CT in combination with negative RT-PCR assay for the 2019 novel coronavirus but high clinical suspicion. Radiology.
Kostakoglu, U., Kant, A., Atalar, S., Ertunc, B., Erensoy, S., Dalmanoglu, E., Yilmaz, I., Sevimli, B., Erturk, A., and Yilmaz, G. (2021). Diagnostic value of chest ct and initial real-time rt-pcr in covid-19 infection. Pakistan Journal of Medical Sciences 37, 234.
Miao, H., Li, H., Yao, Y., Wu, M., Lu, C., Wang, J., Tian, M., Li, Y., Luo, P., and Gu, J. (2020). Update on recommendations for the diagnosis and treatment of SARS-CoV-2 infection in children. European Journal of Clinical Microbiology & Infectious Diseases 39, 2211-2223.
Mitrev, L. V., Banerjee, A., and Van Helmond, N. (2021). Correlation of Country Characteristics and Government Response Measures With COVID-19 Mortality During the First Phase of the Global COVID-19 Pandemic: A Worldwide Ecological Study. Cureus 13.
Nicholls, J. M., Poon, L. L., Lee, K. C., Ng, W. F., Lai, S. T., Leung, C. Y., Chu, C. M., Hui, P. K., Mak, K. L., and Lim, W. (2003). Lung pathology of fatal severe acute respiratory syndrome. The Lancet 361, 1773-1778.
Tabassum, S., Haider, S., and Shaukat, S. (2022). Spectrum of HRCT Scan Chest Findings in COVID-19 Patients as Categorized by Modified CO-RADS Classification. Pakistan Journal of Medical Sciences 38, 838.
Talic, S., Shah, S., Wild, H., Gasevic, D., Maharaj, A., Ademi, Z., Li, X., Xu, W., Mesa-Eguiagaray, I., and Rostron, J. (2021). Effectiveness of public health measures in reducing the incidence of covid-19, SARS-CoV-2 transmission, and covid-19 mortality: systematic review and meta-analysis. bmj 375.
Team, N. L. S. T. R. (2013). Results of initial low-dose computed tomographic screening for lung cancer. New England Journal of Medicine 368, 1980-1991.
Tian, S., Hu, W., Niu, L., Liu, H., Xu, H., and Xiao, S.-Y. (2020). Pulmonary pathology of early phase SARS-COV-2 pneumonia. J Thorac Oncol 15, 700-4.
Wong, S.-C., Au, A. K.-W., Chen, H., Yuen, L. L.-H., Li, X., Lung, D. C., Chu, A. W.-H., Ip, J. D., Chan, W.-M., and Tsoi, H.-W. (2022). Transmission of Omicron (B. 1.1. 529)-SARS-CoV-2 Variant of Concern in a designated quarantine hotel for travelers: a challenge of elimination strategy of COVID-19. The Lancet Regional Health–Western Pacific 18.
Wu, G., Yang, P., Xie, Y., Woodruff, H. C., Rao, X., Guiot, J., Frix, A.-N., Louis, R., Moutschen, M., and Li, J. (2020). Development of a clinical decision support system for severity risk prediction and triage of COVID-19 patients at hospital admission: an international multicentre study. European Respiratory Journal 56.
Xie, X., Zhong, Z., Zhao, W., Zheng, C., Wang, F., and Liu, J. (2020). Chest CT for typical 2019-nCoV pneumonia: relationship to negative RT-PCR testing. Radiology.
Zhang, Y.-J., Yang, W.-J., Liu, D., Cao, Y.-Q., Zheng, Y.-Y., Han, Y.-C., Jin, R.-S., Han, Y., Wang, X.-Y., and Pan, A.-S. (2020). COVID-19 and early-stage lung cancer both featuring ground-glass opacities: a propensity score-matched study. Translational Lung Cancer Research 9, 1516.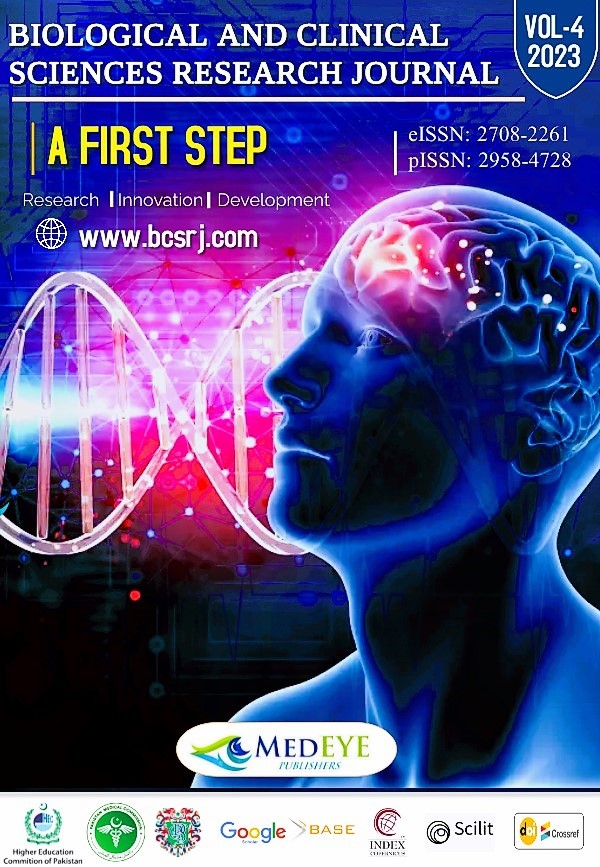 Downloads
How to Cite
TARIQ, F., IRFAN, A., SATTAR, A., ASLAM, M., & SHEIKH, R. (2023). RETRACTED: GROUND GLASS OPACITIES IN LUNG CANCER PATIENTS POSITIVE FOR COVID-19. Biological and Clinical Sciences Research Journal, 2023(1), 181. https://doi.org/10.54112/bcsrj.v2023i1.181
Section
Original Research Articles
License
Copyright (c) 2023 F TARIQ, A IRFAN, A SATTAR, MA ASLAM, R SHEIKH
This work is licensed under a Creative Commons Attribution-NonCommercial 4.0 International License.