FREQUENCY OF SKIN MANIFESTATIONS IN PATIENTS ON CHEMOTHERAPY
Keywords:
Xerosis, Papulo-pustular Eruptions, Chemotherapy, Alopecia, Mucositis
Abstract
The study's objective was to determine the frequency of skin manifestations in patients on chemotherapy. This cross-sectional study was conducted on 170 patients on chemotherapy with post-acne scarring and hyperpigmentation not responsive to other treatments were included at the Department of Dermatology, Unit-1, Jinnah Hospital Lahore from April 2016 to September 2016. Patients of both genders and any age and on chemotherapy, at least after their first dosage, were included. Patients having skin manifestation before chemotherapy, patients with a history of HCV, those having diabetes mellitus (Fasting BSR > 100 mg/dl), and
patients having other connective tissue diseases, SLE, DLE, etc., were excluded. A dermatologic examination was performed, and biopsy, mycological and bacteriological tests were conducted if necessary. Skin manifestations were labelled. A total of 170 chemotherapy patients participated in this trial. There were 58 (34.1 percent) females and 112 (65.9%) males. Fifty-three people (31.2%) had no skin manifestations, 61 people (34.9%) had one, 40 people
(23.5%) had two, and 16 people (9.4%) had three skin manifestations. A total of 75 patients (44.1%) are under the age of 30, 40 patients (23.5%) are between the ages of 31 and 45, and 55 patients (32.4%) are over the age of 45. In 2 cases, acral erythema was seen (1.2 percent ). In 21 cases, dry skin was seen (12.4 percent ). There was alopecia in 93 individuals (54.7 percent ). Sixteen patients still had the eruption (9.4 percent ). Three of the patients had acne
(1.8 percent ). In 7 cases, purpura was present (4.1 percent ). In 47 cases, mucositis was found (27.6 percent ). Age and gender had no impact on the number of cutaneous manifestations. People receiving chemotherapy frequently get cutaneous symptoms. Alopecia, mucositis, and xerosis were among the most typical cutaneous signs.
Downloads
Download data is not yet available.
References
Criado, P. R., Brandt, H. R. C., Moure, E. R. D., Pereira, G. L. S., and Sanches Júnior, J. A. (2010). Reações tegumentares adversas relacionadas aos agentes antineoplásicos: parte II. Anais Brasileiros de Dermatologia 85, 591-608.
Fabbrocini, G., Cameli, N., Romano, M. C., Mariano, M., Panariello, L., Bianca, D., and Monfrecola, G. (2012). Chemotherapy and skin reactions. Journal of Experimental & Clinical Cancer Research 31, 1-6.
Frieling, G. W. (2015). Pediatric Drug Eruptions of the Skin. In "Cutaneous Drug Eruptions", pp. 431-444. Springer.
Galimont-Collen, A., Vos, L., Lavrijsen, A., Ouwerkerk, J., and Gelderblom, H. (2007). Classification and management of skin, hair, nail and mucosal side-effects of epidermal growth factor receptor (EGFR) inhibitors. European Journal of Cancer 43, 845-851.
Hanif, M., Zaidi, P., Kamal, S., and Hameed, A. (2009). Institution-based cancer incidence in a local population in Pakistan: nine year data analysis. Asian Pac J Cancer Prev 10, 227-30.
Heidary, N., Naik, H., and Burgin, S. (2008). Chemotherapeutic agents and the skin: an update. Journal of the American Academy of Dermatology 58, 545-570.
Lacouture, M. E. (2009). The growing importance of skin toxicity in EGFR inhibitor therapy. Oncology 23, 194-194.
Li, T., and Perez-Soler, R. (2009). Skin toxicities associated with epidermal growth factor receptor inhibitors. Targeted oncology 4, 107-119.
Noushin, H., Haley, N., and Susan, B. (2008). Chemiotheraputic agents and the skin: an update. J Am Acad Dermatol 58, 545-570.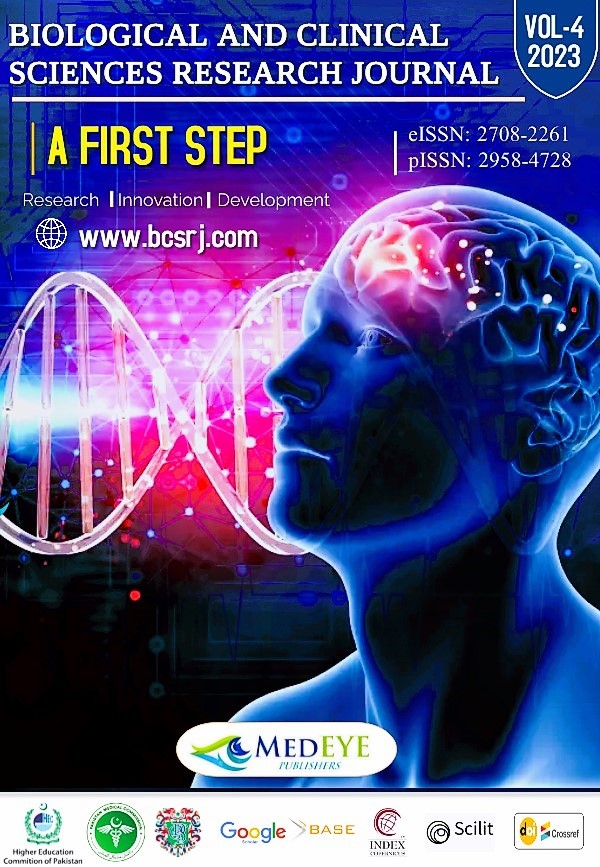 Downloads
How to Cite
ULLAH, M., SAEED, M., & RAFIQUE, S. (2023). FREQUENCY OF SKIN MANIFESTATIONS IN PATIENTS ON CHEMOTHERAPY. Biological and Clinical Sciences Research Journal, 2023(1), 186. https://doi.org/10.54112/bcsrj.v2023i1.186
Section
Original Research Articles
License
Copyright (c) 2023 MA ULLAH, M SAEED, S RAFIQUE
This work is licensed under a Creative Commons Attribution-NonCommercial 4.0 International License.