EVALUATION OF INCIDENCE OF ADYNAMIC BONE DISEASE IN PATIENTS WITH END STAGE RENAL DISEASE
Keywords:
Adynamic bone disease, End stage renal disease, Bone metabolism
Abstract
To assess frequency of adynamic bone disease in subjects with ESRD a Prospective study was carried out at Department of Medicine, Services Hospital Lahore from 6 months from January 2022 to July 2022. Demographic data of the subjects including gender, age, BMI, smoking history, socioeconomic status and duration of dialysis and end stage renal disease was recorded. Blood samples of all patients were drawn and sent to the laboratory for evaluation of phosphate, calcium, alkaline phosphatase and iPTH levels. Findings of the laboratory tests were analyzed and adynamic bone diseases were diagnosed according to operational definition. The study was conducted on 135 patients whose mean age was 50.31±12.56 years. According to this study, adynamic bone disease was found in 34(25.19%) patients. Association between adynamic bone disease and duration of ESRD, duration of dialysis was statistically insignificant (p>0.05). Adynamic bone disease was reported in 25.2% of patients having ESRD.
Downloads
Download data is not yet available.
References
Abdalbary, M., Sobh, M., Elnagar, S., Elhadedy, M., Elshabrawy, N., Abdelsalam, M., Asadipooya, K., Sabry, A., Halawa, A., and El-Husseini, A. (2022). Management of osteoporosis in patients with chronic kidney disease. Osteoporosis International, 1-16.
Bover, J., Arana, C., Ureña, P., Torres, A., Martín-Malo, A., Fayos, L., Coll, V., Lloret, M. J., Ochoa, J., and Almadén, Y. (2021). Hyporesponsiveness or resistance to the action of parathyroid hormone in chronic kidney disease. Nefrología (English Edition).
Dai, L., Golembiewska, E., Lindholm, B., and Stenvinkel, P. (2017). End-stage renal disease, inflammation and cardiovascular outcomes. Expanded Hemodialysis191, 32-43.
Fusaro, M., Holden, R., Lok, C., Iervasi, G., Plebani, M., Aghi, A., Gallieni, M., and Cozzolino, M. (2021). Phosphate and bone fracture risk in chronic kidney disease patients. Nephrology Dialysis Transplantation36, 405-412.
Jat, J., Mal, P., and Kumar, D. (2016). Renal osteodystrophy in end stage renal failure patients on maintenance haemodialysis. J Clin Exp Nephrol1, 25.
Ketteler, M., Block, G. A., Evenepoel, P., Fukagawa, M., Herzog, C. A., McCann, L., Moe, S. M., Shroff, R., Tonelli, M. A., and Toussaint, N. D. (2018). Diagnosis, evaluation, prevention, and treatment of chronic kidney disease–mineral and bone disorder: Synopsis of the kidney disease: improving global outcomes 2017 clinical practice guideline update. Annals of internal medicine168, 422-430.
Liyanage, T., Ninomiya, T., Jha, V., Neal, B., Patrice, H. M., Okpechi, I., Zhao, M.-h., Lv, J., Garg, A. X., and Knight, J. (2015). Worldwide access to treatment for end-stage kidney disease: a systematic review. The Lancet385, 1975-1982.
Mazzaferro, S., Bagordo, D., De Martini, N., Pasquali, M., Rotondi, S., Tartaglione, L., and Stenvinkel, P. (2021). Inflammation, oxidative stress, and bone in chronic kidney disease in the osteoimmunology era. Calcified Tissue International108, 452-460.
Mazzaferro, S., De Martini, N., Rotondi, S., Tartaglione, L., Ureña-Torres, P., Bover, J., and Pasquali, M. (2020). Bone, inflammation and chronic kidney disease. Clinica chimica acta506, 236-240.
Milovanova, L. Y., Taranova, M. V., Volkov, A. V., Milovanova, S. Y., Nezhdanov, K. S., and Beketov, V. D. (2022). The biomarkers of cardiovascular damage in chronic kidney disease–mineral and bone disorders, literature review. BC. Chronic Kidney Disease-Beyond the Basics.
Moe, S., Drüeke, T., Cunningham, J., Goodman, W., Martin, K., Olgaard, K., Ott, S., Sprague, S., Lameire, N., and Eknoyan, G. (2006). Definition, evaluation, and classification of renal osteodystrophy: a position statement from Kidney Disease: Improving Global Outcomes (KDIGO). Kidney international69, 1945-1953.
Mungulluh, F. F., Ruggajo, P., and Furia, F. F. (2020). Metabolic Bone Disease in Chronic Kidney Disease Patients (CKD-MBD) and its Associated Factors at Muhimbili National Hospital in Dar es salaam, Tanzania: A Cross-Sectional Study.
Park, S., Chun, J., Han, K.-D., Soh, H., Choi, K., Kim, J. H., Lee, J., Lee, C., Im, J. P., and Kim, J. S. (2018). Increased end-stage renal disease risk in patients with inflammatory bowel disease: A nationwide population-based study. World Journal of Gastroenterology24, 4798.
Pereira, L., Magalhães, J., Mendonça, L., Neto, R., Santos, J., Carvalho, C. G., Oliveira, A., Beco, A., and Frazão, J. (2022). Evaluation of Renal Osteodystrophy and Serum Bone‐Related Biomarkers in a Peritoneal Dialysis Population. Journal of Bone and Mineral Research37, 1689-1699.
Seyedzadeh, A., Tohidi, M. R., Golmohamadi, S., Omrani, H. R., Seyedzadeh, M. S., Amiri, S., and Hookari, S. (2022). Prevalence of renal osteodystrophy and its related factors among end-stage renal disease patients undergoing hemodialysis: Report from Imam Reza referral hospital of medical university of Kermanshah, Iran. Oman medical journal37, e335.
Sharma, S., and Gupta, A. (2021). Adynamic bone disease: Revisited. nefrologia.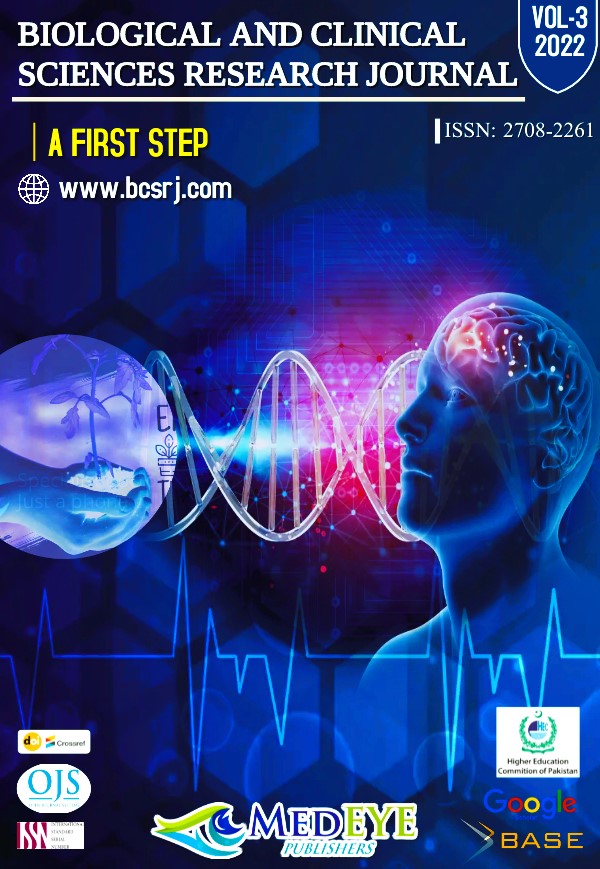 Downloads
How to Cite
HAROON, M., ANJUM, N., & TARIQ, S. (2022). EVALUATION OF INCIDENCE OF ADYNAMIC BONE DISEASE IN PATIENTS WITH END STAGE RENAL DISEASE. Biological and Clinical Sciences Research Journal, 2022(1). https://doi.org/10.54112/bcsrj.v2022i1.146
Section
Original Research Articles
License
Copyright (c) 2022 M HAROON, N ANJUM, S TARIQ
This work is licensed under a Creative Commons Attribution-NonCommercial 4.0 International License.