EFFICACY OF SEED DRESSING INSECTICIDES AT DIFFERENT DOSES FOR THE CONTROL OF SORGHUM SHOOT FLY ATHERIGONA SOCCATA (ROND.) (DIPTERA: MUSCIDAE)
Keywords:
Sorghum bicolor, dead hearts, Atherigona soccata, seed dressing, insecticides
Abstract
Shoot fly, Atherigona soccata (Rondani); an invasive pest of sorghum/jowar. Selection of proper pesticide with suitable doze is the key to economical and effective control of shoot fly. Field experiments were conducted for two consecutive years 2014-2015 during kharif season in Fodder Research Institute, Sargodha-Pakistan to find out the impact of three seed dressing insecticides at different doses (Confidor @ 2.5g, 5g, 7.5g& 10g, Actara 2.5g, 5g& 7.5g and Hombre 2ml, 4ml& 6ml) for the control of sorghum/jowar shoot-fly. It was observed that all treated plots showed significantly lower dead hearts percentage caused as compared to control. Amongst chemicals the treatment with Actara (thiamethoxam) @ 7.5g and 5g/kg seed recorded significantly lowest dead hearts (11.5, 11.9%) and gave maximum yield (1.79,1.73 t/h). Therefore, to avoid and reduce toxic effects of direct spray on sorghum against shoot fly and to maximize the yield it is recommended to use thiamethoxam @ 5 g/kg as a seed dressing insecticides for both fodder and seed crop of sorghum.
Downloads
Download data is not yet available.
References
Ashok Kumar A, Reddy BVS, Sharma HC and Ramaiah B. 2008. Shoot fly (Atherigona soccata) resistance in improved grain sorghum hybrids. Journal of SAT Agricultural Research 6.1-4.
Bhatti, I.H., R. Ahmad, A. Jabbar, M.S. Nazir and T. Mahmood, 2008. Competitive behaviour of component crops in different sesame legume intercropping systems. Int. J. Agric. Biol., 8: 165-167.
Balikai R. A., Bhagwat V. R. 2009. Evaluation of integrated pest management components for the management of shoot fly, shoot bug and aphid in rabi sorghum. Karnataka J. Agric. Sci. 22, 532–534.
Dhillon M. K., Sharma H. C., Reddy B. V. S., Ram S., Naresh J. S. (2006). Inheritance of Resistance to sorghum Shoot Fly, Atherigona soccata. Crop Sci. 46, 1377–1383.
Jotwani. M.G. and Sukhani. T. L.1971. Seed treatment for the control of sorghum shootfly. Pesticides, 5(4): 3-14.
Mote, U.N. 1983. Relative damage due to major pests and losses caused by them on kharif ratoon and rabi sorghum. Pesticides, 17(4): 19-20.
Shekharappa and S. G. Bhuti 2007.Integrated Management of sorghum Shoot fly, Atherigona soccata Rondani Karnataka J. Agric. Sci., 20(3), (535-536)
Ullah A, Khan A A, Nawab K, Khan A and Islam B. 2007. Growth characters and fodder production potential of sorghum varieties under irrigated conditions. Sarhad J. Agric., 23: 265- 268.
Yadav, O.P. 1994. Relative performance of pearl millet hybrids and open pollinated varieties in arid environments. Intl. sorghum and Millet Newslett., 35: 67-68.
Iqbal, M.A. and A. Iqbal, 2015. Overviewing forage shortage for dairy animals and suitability of forage sorghum for ensiling. Global Veterinaria, 14(2): 173-177.
Punjab development statistics, 2013. Govt. of Punjab, Pakistan. Annual Reports, pp: 80-140.
Mehmood, S., Bashir A., Amad A. and Akram Z. 2008. Molecular characterization of regional Sorghum bicolor varieties from Pakistan. Pak. J. Bot. 40: 2015-2021.
Kahate N. S., Raut S. M., Ulemale P. H., Bhogave A. F. 2014. Management of sorghum Shoot Fly. Popular Kheti. 2, 72–74.
Mohammed, R., Are, A. K., Munghate, R. S., Bhavanasi, R., Polavarapu, K. K. B., & Sharma, H. C. (2016). Inheritance of Resistance to sorghum Shoot Fly, Atherigona soccata in sorghum, Sorghumbicolor (L.) Moench. Frontiers in plant science, 7.
Padmaja P. G., Madhusudhana R., Seetharama N. 2010. Sorghum Shoot Fly. Hyderabad: Directorate of Sorghum Research. Asian Journal of Agriculture and Rural Development, 3(5) 2013: 283-289.
Sharma H. C., Taneja S. L., Kameswara Rao N., Prasada Rao K. E. 2003. Evaluation of Sorghum Germplasm for Resistance to Insect Pests. Information Bulletin no. 63, Patancheru: International Crops Research Institute for the Semi-Arid Tropics (ICRISAT).
Sridhar, K., Sridharan, S. and Muthukumar, M. (2016). Management of shoot fly Atherigona soccata (Rondani) with different seed dressing chemicals. Internat. J. Plant Protec., 9(1) : 191-196.
Vadodaria, M.P., Patel, U.J. Patel, C.J., Patel, R. B. and Masuria, I.M. 2001. Thiamethoxam (Cruiser) 70 WS: A new seed dresser against sucking pest of cotton. Pestol., 25(9):13- 19.
Subbarayudu, B., Indira, S. and Rana, B.S. 2002. Effect of integrated pest management modules on the incidence of sorghum shoot fly. Journal Research of Acharya N.G. Ranga Agricultural University, 30(2): 22-29.
Rai, S. and Jotwani, M.G. 1977. Estimation of losses at various levels of shootfly infestation. Entomologist's Newsletter. 7: 15-16.
Zaller, J. G., König, N., Tiefenbacher, A., Muraoka, Y., Querner, P., Ratzenböck, A., ... & Koller, R. (2016). Pesticide seed dressings can affect the activity of various soil organisms and reduce decomposition of plant material. BMC ecology, 16(1), 37.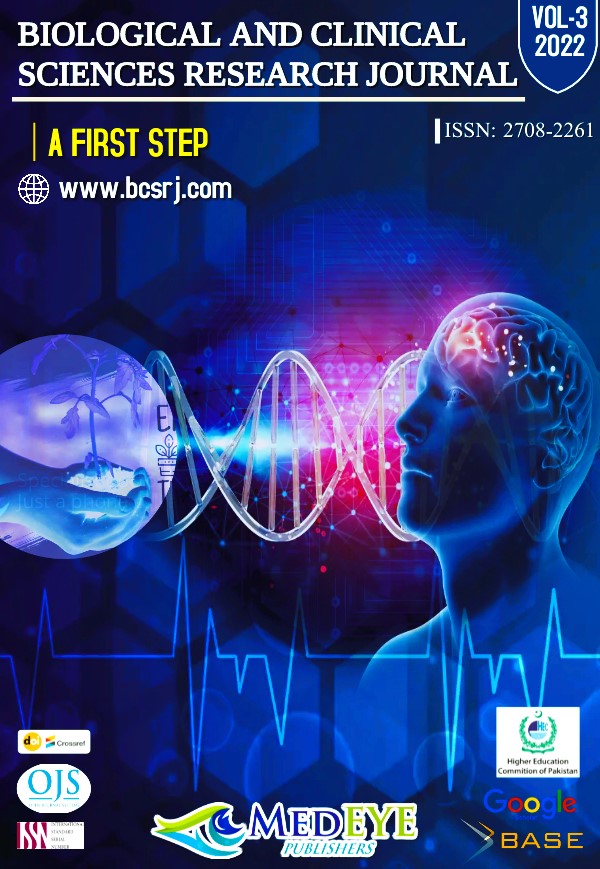 Downloads
How to Cite
KHALIQ, A., MASOOD, S., RAUF, H., FAHEEM, U., MAHMOOD, K., BASIT, A., NADEEM, M., JABBAR, A., KHAN, A., & MUHAMMAD, T. (2022). EFFICACY OF SEED DRESSING INSECTICIDES AT DIFFERENT DOSES FOR THE CONTROL OF SORGHUM SHOOT FLY ATHERIGONA SOCCATA (ROND.) (DIPTERA: MUSCIDAE). Biological and Clinical Sciences Research Journal, 2022(1). https://doi.org/10.54112/bcsrj.v2022i1.120
Section
Original Research Articles
License
Copyright (c) 2022 A KHALIQ, SA MASOOD, HA RAUF, U FAHEEM, K MAHMOOD, A BASIT, M NADEEM, A JABBAR, AA KHAN, T MUHAMMAD
This work is licensed under a Creative Commons Attribution-NonCommercial 4.0 International License.