EFFECT OF DEXAMETHASONE AS AN ADJUVANT IN SUPRACLAVICULAR BLOCK IN ORTHOPEDIC PATIENTS UNDERGOING ELBOW, FOREARM AND HAND SURGERY
Keywords:
Hemodynamics, Dexamethasone, Lovett rating scale, Sensory score, Visual analog score
Abstract
Supraclavicular blocks in orthopedic patients are considered to be of utmost importance and significance for attaining optimal results. The procedure is considered to obtain muscle relaxation and maintain stable hemodynamics. Moreover, they provide extended post-operative analgesic effects with the least reported adverse effects. The current study observed dexamethasone's effects as an adjuvant therapy along the conventional
anesthetic drugs among orthopedic patients undergoing elbow, forearm and hand surgeries. This study was conducted at the Department of anesthesiology, Aziz Bhatti Shaheed teaching hospital Gujrat, Pakistan, from 1st June 2022 to 30th October 2022. A Sum of sixty (n=60) patients of age group 18-65 years was designated into groups A and B. One group was administered conventional anesthetic drugs, and the other group was administered
dexamethasone as adjuvant therapy. Patients were observed for the onset of sensory blockade, motor blockade and duration of the sensory blockade and motor blockade with the help of the Lovett rating scale and sensory score. Findings of the study reported significant differences in the onset and duration of sensory and motor blockade among group B compared to group A. It reported the onset was faster in group B (p<0.05) and longer in duration in group B (p<0.05).Moreover, the visual analog score (VAS) score at 9 hours remained significantly lower among the group receiving adjuvant therapy. No adverse effects were reported among the patients receiving the therapy. The present study suspects the beneficial role of dexamethasone as adjuvant therapy for the group of patients. It concluded that the patients receiving the adjuvant therapy reported faster onset of sensory and motor blockade, which also lasted for longer. Therefore, dexamethasone is reported to have a prolonged anesthetic effect if administered as an adjuvant therapy among orthopedic patients.
Downloads
Download data is not yet available.
References
Azimaraghi, O., Marashi, S. M., Khazaei, N., Pourhassan, S., and Movafegh, A. (2015). The Effect of Adding Sufentanil to 0.5% Hyperbaric Bupivacaine on Duration of Brachial Plexus Blockade in Chronic Opium Abusers: a Randomized Clinical Trial. Anesth Pain Med 5, e21960.
Choi, S., Rodseth, R., and McCartney, C. J. (2014). Effects of dexamethasone as a local anaesthetic adjuvant for brachial plexus block: a systematic review and meta-analysis of randomized trials. Br J Anaesth 112, 427-39.
El-Baradey, G. F., and Elshmaa, N. S. (2014). The efficacy of adding dexamethasone, midazolam, or epinephrine to 0.5% bupivacaine in supraclavicular brachial plexus block. Saudi J Anaesth 8, S78-83.
Jarbo, K., Batra, Y. K., and Panda, N. B. (2005). Brachial plexus block with midazolam and bupivacaine improves analgesia. Can J Anaesth 52, 822-6.
Kapukaya, F., Ekinci, M., Ciftci, B., Atalay, Y. O., Golboyu, B. E., Kuyucu, E., and Demiraran, Y. (2022). Erector spinae plane block vs interscalene brachial plexus block for post-operative analgesia management in patients who underwent shoulder arthroscopy. BMC Anesthesiol 22, 142.
Moges, K., Tadesse, Y., and Fentie, F. (2022). The post-operative analgesia efficacy of dexamethasone added to bupivacaine versus bupivacaine alone in ultrasound-guided supraclavicular brachial plexus block for upper limb orthopedic surgeries, Ethiopia: An observational prospective cohort study. SAGE Open Med 10, 20503121221126687.
Persec, J., Persec, Z., Kopljar, M., Zupcic, M., Sakic, L., Zrinjscak, I. K., and Marinic, D. K. (2014). Low-dose dexamethasone with levobupivacaine improves analgesia after supraclavicular brachial plexus blockade. Int Orthop 38, 101-5.
Sane, S., Shokouhi, S., Golabi, P., Rezaeian, M., and Kazemi Haki, B. (2021). The Effect of Dexmedetomidine in Combination with Bupivacaine on Sensory and Motor Block Time and Pain Score in Supraclavicular Block. Pain Res Manag 2021, 8858312.
Sharma, U. D., Prateek, and Tak, H. (2018). Effect of addition of dexamethasone to ropivacaine on post-operative analgesia in ultrasonography-guided transversus abdominis plane block for inguinal hernia repair: A prospective, double-blind, randomised controlled trial. Indian J Anaesth 62, 371-375.
Shin, H. W., Ju, B. J., Jang, Y. K., You, H. S., Kang, H., and Park, J. Y. (2017). Effect of tramadol as an adjuvant to local anesthetics for brachial plexus block: A systematic review and meta-analysis. PLoS One 12, e0184649.
Shrestha, B. R., Maharjan, S. K., Shrestha, S., Gautam, B., Thapa, C., Thapa, P. B., and Joshi, M. R. (2007). Comparative study between tramadol and dexamethasone as an admixture to bupivacaine in supraclavicular brachial plexus block. JNMA J Nepal Med Assoc 46, 158-64.
Shrestha, B. R., Maharjan, S. K., and Tabedar, S. (2003). Supraclavicular brachial plexus block with and without dexamethasone - a comparative study. Kathmandu Univ Med J (KUMJ) 1, 158-60.
Sivashanmugam, T., Areti, A., Selvum, E., Diwan, S., and Pandian, A. (2021). Selective blockade of supraclavicular nerves and upper trunk of brachial plexus "The SCUT block" towards a site-specific regional anaesthesia strategy for clavicle surgeries - A descriptive study. Indian J Anaesth 65, 656-661.
Tandoc, M. N., Fan, L., Kolesnikov, S., Kruglov, A., and Nader, N. D. (2011). Adjuvant dexamethasone with bupivacaine prolongs the duration of interscalene block: a prospective randomized trial. J Anesth 25, 704-9.
Yuan, H., Chang, Q. Y., Chen, J., Wang, Y. T., Gan, Z. J., Wen, S., Li, T. T., and Xiong, L. L. (2021). A retrospective analysis of the effects of different analgesics on the pain of patients with traumatic thoracolumbar fractures in the peri-treatment period. J Orthop Surg Res 16, 268.
Zheng, P. (2009). Neuroactive steroid regulation of neurotransmitter release in the CNS: action, mechanism and possible significance. Prog Neurobiol 89, 134-52.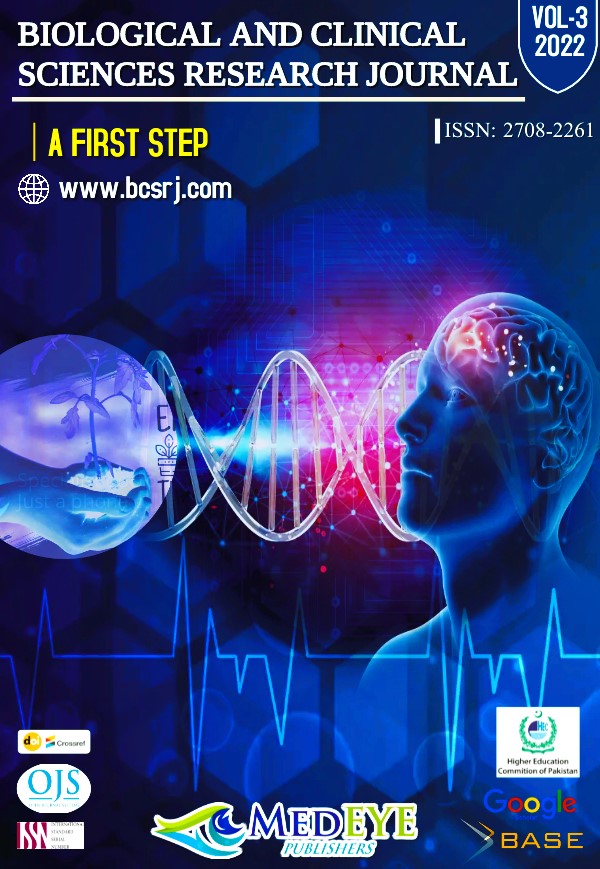 Downloads
How to Cite
SHEIKH, N., JAVED, H., SHEIKH, M., AVAIS, B., BUTT, Z., & JAMSHAID, B. (2022). EFFECT OF DEXAMETHASONE AS AN ADJUVANT IN SUPRACLAVICULAR BLOCK IN ORTHOPEDIC PATIENTS UNDERGOING ELBOW, FOREARM AND HAND SURGERY. Biological and Clinical Sciences Research Journal, 2022(1). https://doi.org/10.54112/bcsrj.v2022i1.167
Section
Original Research Articles
License
Copyright (c) 2022 NG SHEIKH, HM JAVED, MG SHEIKH, B AVAIS, Z BUTT, B JAMSHAID
This work is licensed under a Creative Commons Attribution-NonCommercial 4.0 International License.