COMPARISON OF HEALTH ANXIETY IN PSYCHIATRY AND NEUROLOGY SETTINGS
Keywords:
Health anxiety, neurology, psychiatry
Abstract
The aim of this study is to assess clinical correlates and prevalence of health anxiety in psychiatry and neurology outpatient clinic. A Prospective study was carried out at Neurology and psychiatry Department of Nishtar Medical Hospital from July 2020 to July 2021. Demographic data, clinical symptoms, comorbidities and diagnosis was recorded. Patients were given general hypochondriasis subscale of Illness Behavior Questionnaire and Short Health Anxiety Inventory (SHAI). Epi-info 7.013 was used for data entry and Stata 12.14 was used for data analysis. The prevalence of health anxiety in neurology and psychiatry was 18% and 26%, and overall prevalence was 21%. Higher health anxiety was reported in subjects with higher education, it may be due to increased awareness about illness. Health anxiety was higher in skilled workers as compared to semi skilled. The health anxiety was higher in subjects with more than one diagnosis as compared to those with single diagnosis Health anxiety is common in neurology and psychiatry settings. Further evaluation is needed to evaluate its effects on health consultation.
Downloads
Download data is not yet available.
References
Alberts, N. M., Hadjistavropoulos, H. D., Jones, S. L., and Sharpe, D. (2013). The Short Health Anxiety Inventory: A systematic review and meta-analysis. Journal of anxiety disorders 27, 68-78.
Baloğlu, M., Kozan, H. İ. Ö., and Kesici, Ş. (2018). Gender differences in and the relationships between social anxiety and problematic internet use: Canonical analysis. Journal of medical Internet research 20, e8947.
Bilani, N., Jamali, S., Chahine, A., Zorkot, M., Homsi, M., Saab, M., Saab, R., Nabulsi, M., and Chaaya, M. (2019). Illness cognition and health anxiety in parents of children with cancer. Journal of psychosocial oncology 37, 713-728.
Ferrão, Y. A. (2019). Other obsessive-compulsive related disorders. A Transdiagnostic Approach to Obsessions, Compulsions and Related Phenomena 3:320.
Ghandour, R. M., Sherman, L. J., Vladutiu, C. J., Ali, M. M., Lynch, S. E., Bitsko, R. H., and Blumberg, S. J. (2019). Prevalence and treatment of depression, anxiety, and conduct problems in US children. The Journal of pediatrics 206, 256-267. e3.
Gibler, R. C., Jastrowski Mano, K. E., O'Bryan, E. M., Beadel, J. R., and McLeish, A. C. (2019). The role of pain catastrophizing in cyberchondria among emerging adults. Psychology, Health & Medicine 24, 1267-1276.
Janzen Claude, J. A., Hadjistavropoulos, H. D., and Friesen, L. (2014). Exploration of health anxiety among individuals with diabetes: Prevalence and implications. Journal of Health Psychology 19, 312-322.
Kumar, V., Avasthi, A., and Grover, S. (2018). Somatosensory amplification, health anxiety, and alexithymia in generalized anxiety disorder. Industrial psychiatry journal 27, 47.
Prabha, L., Ganjekar, S., Gupta, V., Desai, G., and Chaturvedi, S. K. (2020). A comparative study of health anxiety in neurology and psychiatry settings. Journal of neurosciences in rural practice 11, 125-129.
Prior, K. N., and Bond, M. J. (2008). The measurement of abnormal illness behavior: Toward a new research agenda for the Illness Behavior Questionnaire. Journal of Psychosomatic Research 64, 245-253.
Strober, L. (2018). Quality of life and psychological well-being in the early stages of multiple sclerosis (MS): Importance of adopting a biopsychosocial model. Disability and health journal 11, 555-561.
Thorgaard, M. V., Frostholm, L., and Rask, C. U. (2018). Childhood and family factors in the development of health anxiety: A systematic review. Children's Health Care 47, 198-238.
Tyrer, P. (2020). Why health anxiety needs to be recognised in hospital practice. Clinical Medicine 20, 339.
Wang, Y., Duan, Z., Ma, Z., Mao, Y., Li, X., Wilson, A., Qin, H., Ou, J., Peng, K., and Zhou, F. (2020). Epidemiology of mental health problems among patients with cancer during COVID-19 pandemic. Translational psychiatry 10, 1-10.
Weck, F., Richtberg, S., and MB Neng, J. (2014). Epidemiology of hypochondriasis and health anxiety: comparison of different diagnostic criteria. Current Psychiatry Reviews 10, 14-23.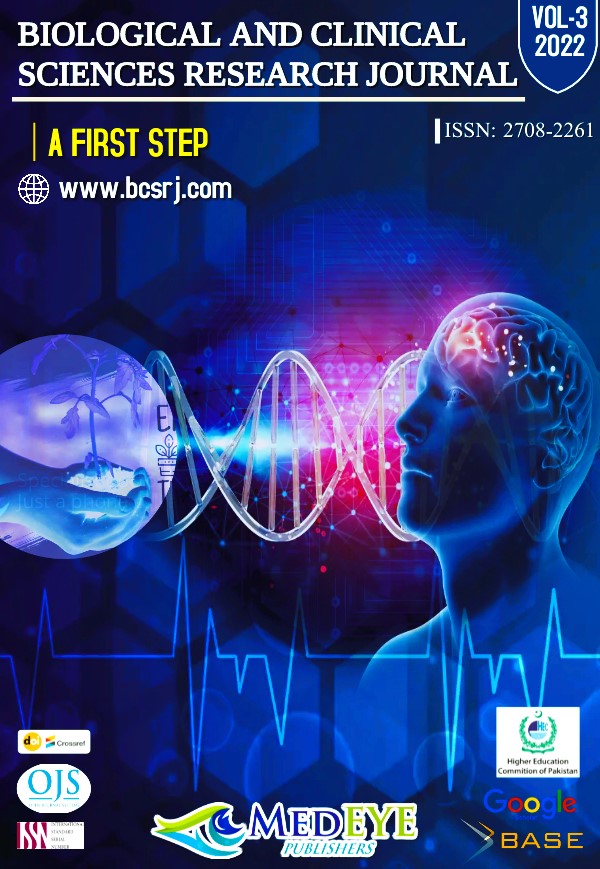 Downloads
How to Cite
AMJAD, N., IKRAM-UL-HAQ, M., MAZHAR, N., MUSSADIQ, K., SAJIDA, I., & MALIK, A. (2022). COMPARISON OF HEALTH ANXIETY IN PSYCHIATRY AND NEUROLOGY SETTINGS. Biological and Clinical Sciences Research Journal, 2022(1). https://doi.org/10.54112/bcsrj.v2022i1.133
Section
Original Research Articles
License
Copyright (c) 2022 N AMJAD, M IKRAM-UL-HAQ, N MAZHAR, K MUSSADIQ, I SAJIDA, AA MALIK
This work is licensed under a Creative Commons Attribution-NonCommercial 4.0 International License.