LANTANA CAMARA: A POTENT INFLUENTIAL FACTOR IN IMPROVING THE GASTRIC MUCOSA OF WISTAR RATS RAVAGED BY ULCER
Keywords:
Gastric mucosa, Lantana camara, aspirin, omeprazole, ulcer
Abstract
Over the years, traditional medicine has been used to treat various degrees and forms of ailment with significant positive therapeutic outcomes. We designed this research to ascertain the use of Lantana camara as a potent factor in improving gastric ulcer caused by the administration of aspirin in Wistar rats. 250mg/kg of the extract was used to evaluate the anti-ulcer capacity of the plant extract. The omeprazole was used as a standard drug (20mg/kg). It was found that the Gastric mucosa was significantly improved after the administration of 250mg/kg of the extract after aspirin-induced ulcer.  The present study justifies the traditional usage of this plant to treat the gastric ulcer.
Downloads
Download data is not yet available.
References
Adesanya, A. A., Isaac, O., Kola O., & Rocha- Afodu, J. T. (2002). Evaluation of a Locally-made Urease test for Detecting Helicobacter Pylori Infection. The Nigerian Postgraduate Medical Journal 9(1): 43-7.
Akpotuzor J. O., Udoh, A. E., & Etukudo, M. H. (2013). Total Antioxidant Status and other Antioxidant Agent Levels in Children with P. Falciparum Infection in Calabar, Nigeria, International Journal of Biomedical Laboratory Science, 1(2): 35-39.
Atawodi, S. E. (2005). Antioxidant Potential of African Medicinal Plants. African Journal of Biotechnology 4 (2): 128-133.
Awofisayo, S., Oladojo, A., Iferi, I. I., & Akpan E. E. (2008). The Pattern of Sale and Use of Non-Steroidal Anti-Inflammatory Drugs in Rural and Urban Centres in Nigeria, Tropical Journal of Pharmaceutical Research, 7(3): 1013-1018.
Edem, G. D, Essien, S. I, Ekanem, A. U, Okon, K. A., & Gabriel, S. S (2020). Lantana camara Ameliorates Gastric Ulcer in Aspirin-induced Ulcer in Wistar Rats. Drug Discovery, 14(33) :50-56
Liuz, C. J., & Jose, C. (2005). Basic Histology, Text and Atlas, 6th edition, McGraw- Hill companies, p 288.
Najm, W. I. (2011). Peptic Ulcer Disease. Primary Care: Clinics in Office Practice, 38, 383-394.
Sanjeeb K., Gaurav K., Loganathan K., & Kokati V. B. (2012). A Review on Medicinal Properties of Lantana camara Linn, Research Journal of Pharmacy and Technology, 5(6): 711-715.
Snowden, F. M. (2008). Emerging and Reemerging Diseases: a Historical Perspective. Immunological Reviews, 25(1): 9-26.
Ugochukwu, S., Arukwe, U. I., & Andonuaho, I. (2013). Preliminary Phytochemical Screening of Different Solvent Extracts of Stems Bark and Roots of Dennetia tripetala, Asian Journal of Plant Science and Research, 3(3):10-13.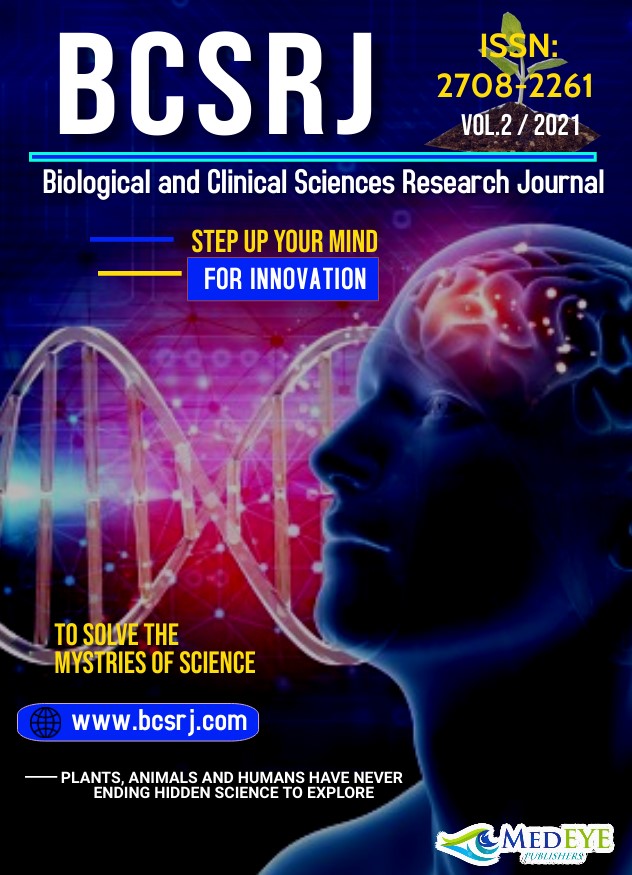 Downloads
How to Cite
EDEM, G. D. ., OKON, K. A. ., ESSIEN, S. I. ., & BASSEY, E.-O. I. . (2021). LANTANA CAMARA: A POTENT INFLUENTIAL FACTOR IN IMPROVING THE GASTRIC MUCOSA OF WISTAR RATS RAVAGED BY ULCER. Biological and Clinical Sciences Research Journal, 2021(1). https://doi.org/10.54112/bcsrj.v2021i1.66
Section
Original Research Articles
License
Copyright (c) 2021 GABRIEL D. EDEM, KINGSLEY A. OKON, SARAH I. ESSIEN, ENO-OBONG I. BASSEY
This work is licensed under a Creative Commons Attribution-NonCommercial 4.0 International License.