ANTIBODY RESPONSE TO THE COVID-19 VACCINE AMONG PREGNANT WOMEN: A PROSPECTIVE STUDY
Keywords:
SARS-CoV-2, Pregnant women, , receptor binding antibodies, ACE2 blocking antibodies
Abstract
The study's objective was to investigate the antibody responses and fetal and maternal adverse effects of the Sinopharm vaccine. A prospective study was conducted in The Gynaecology Department of LUMHS Hospital Jamshoro, Hyderabad, Multan and DG Khan from January 2021 to January 2022. A total of 90 women were included in the study who were administered Sinopharm. 3/90 (3.3%) women received shots in 1st trimester, 56/90 (62%) in 2nd trimester and 31/90 (34%) in 3rd trimester.  ELISA measured SARS-CoV-2 receptor binding domain (RBD) specific total antibodies and ACE2 blocking antibodies. The adverse effects on the mother and fetus were evaluated after the delivery. The vaccine administration showed no harmful effects or pregnancy-related complications like congenital anomalies, miscarriage, preterm delivery, thrombotic events, fetal death, or hypertensive disorders. SARS-CoV-2 specific total antibodies were found in 57/90 (63%) women at the time of recruitment (when receiving 1st dose); thus, they were considered to be previously infected. The whole sample was seroconverted after 2nd dose. Significantly high levels of RBD binding antibodies and ACE2 blocking antibodies were observed in previously infected women after administration of the second dose compared to uninfected individuals. The Sinopharm vaccine showed positive results in pregnant women and induced high seroconversion rates and ACE2-blocking antibodies in 2nd and 3rd trimester.
Downloads
Download data is not yet available.
References
Amirthalingam, G., Bernal, J. L., Andrews, N. J., Whitaker, H., Gower, C., Stowe, J., Tessier, E., Subbarao, S., Ireland, G., and Baawuah, F. (2021). Serological responses and vaccine effectiveness for extended COVID-19 vaccine schedules in England. Nature Communications 12, 1-9.
Donders, G. G., Grinceviciene, S., Haldre, K., Lonnee-Hoffmann, R., Donders, F., Tsiakalos, A., Adriaanse, A., Martinez de Oliveira, J., Ault, K., and Mendling, W. (2021). ISIDOG Consensus Guidelines on COVID-19 Vaccination for Women before, during and after Pregnancy. Journal of clinical medicine 10, 2902.
Halasa, N., Olson, S., and Staat, M. (2022). Overcoming COVID-19 Network. Effectiveness of maternal vaccination with mRNA COVID-19 vaccine during pregnancy against COVID-19–associated hospitalization in infants aged< 6 months—17 states, July 2021–January 2022. MMWR Morb Mortal Wkly Rep 71, 264-270.
Harrington, W. E., Trakhimets, O., Andrade, D. V., Dambrauskas, N., Raappana, A., Jiang, Y., Houck, J., Selman, W., Yang, A., and Vigdorovich, V. (2021). Rapid decline of neutralizing antibodies is associated with decay of IgM in adults recovered from mild COVID-19. Cell Reports Medicine 2, 100253.
Hillson, K., Clemens, S. C., Madhi, S. A., Voysey, M., Pollard, A. J., and Minassian, A. M. (2021). Fertility rates and birth outcomes after ChAdOx1 nCoV-19 (AZD1222) vaccination. The Lancet 398, 1683-1684.
Jeewandara, C., Aberathna, I. S., Pushpakumara, P. D., Kamaladasa, A., Guruge, D., Jayathilaka, D., Gunasekara, B., Tanussiya, S., Kuruppu, H., and Ranasinghe, T. (2021). Antibody and T cell responses to Sinopharm/BBIBP-CorV in naïve and previously infected individuals in Sri Lanka. MedRxiv.
Kugelman, N., Nahshon, C., Shaked-Mishan, P., Cohen, N., Sher, M. L., Gruber, M., Marom, I., Zolotarevsky, A., Lavie, O., and Damti, A. (2022). Maternal and neonatal SARS-CoV-2 immunoglobulin G antibody levels at delivery after receipt of the BNT162b2 messenger RNA COVID-19 vaccine during the second trimester of pregnancy. JAMA pediatrics 176, 290-295.
Lipkind, H. S., Vazquez-Benitez, G., DeSilva, M., Vesco, K. K., Ackerman-Banks, C., Zhu, J., Boyce, T. G., Daley, M. F., Fuller, C. C., and Getahun, D. (2022). Receipt of COVID-19 vaccine during pregnancy and preterm or small-for-gestational-age at birth—Eight Integrated Health Care Organizations, United States, December 15, 2020–July 22, 2021. Morbidity and Mortality Weekly Report 71, 26.
Mahase, E. (2022). Covid-19: Severe complications during pregnancy are more common in unvaccinated women, study finds. BMJ: British Medical Journal (Online) 376.
Moncunill, G., Aguilar, R., Ribes, M., Ortega, N., Rubio, R., Salmerón, G., Molina, M. J., Vidal, M., Barrios, D., and Mitchell, R. A. (2022). Determinants of early antibody responses to COVID-19 mRNA vaccines in a cohort of exposed and naïve healthcare workers. EBioMedicine 75, 103805.
Shimabukuro, T. T., Kim, S. Y., Myers, T. R., Moro, P. L., Oduyebo, T., Panagiotakopoulos, L., Marquez, P. L., Olson, C. K., Liu, R., and Chang, K. T. (2021). Preliminary findings of mRNA Covid-19 vaccine safety in pregnant persons. New England Journal of Medicine.
Tan, C. W., Chia, W. N., Qin, X., Liu, P., Chen, M. I.-C., Tiu, C., Hu, Z., Chen, V. C.-W., Young, B. E., and Sia, W. R. (2020). A SARS-CoV-2 surrogate virus neutralization test based on antibody-mediated blockage of ACE2–spike protein–protein interaction. Nature biotechnology 38, 1073-1078.
Trostle, M. E., Aguero-Rosenfeld, M. E., Roman, A. S., and Lighter, J. L. (2021). High antibody levels in cord blood from pregnant women vaccinated against COVID-19. American journal of obstetrics & gynecology MFM 3.
Uk, G. (2022). Covid-19 Vaccination: A Guide on Pregnancy and Breastfeeding. London: UK G.
Villar, J., Ariff, S., Gunier, R. B., Thiruvengadam, R., Rauch, S., Kholin, A., Roggero, P., Prefumo, F., Do Vale, M. S., and Cardona-Perez, J. A. (2021). Maternal and neonatal morbidity and mortality among pregnant women with and without COVID-19 infection: the INTERCOVID multinational cohort study. JAMA pediatrics 175, 817-826.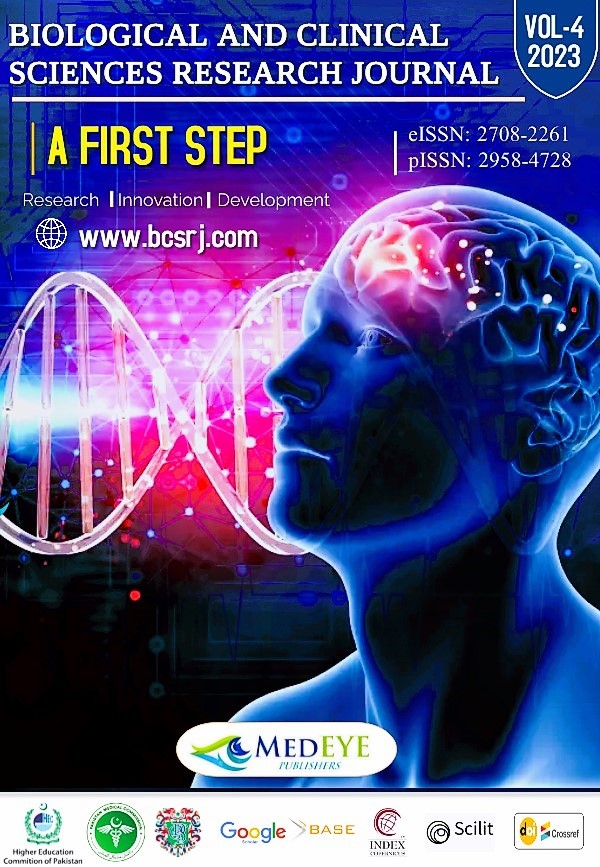 Downloads
How to Cite
ZAHRA, S., DARS, S., KUMARI, S., SAHAR, B., WAHID, A., & EJAZ, S. (2023). ANTIBODY RESPONSE TO THE COVID-19 VACCINE AMONG PREGNANT WOMEN: A PROSPECTIVE STUDY. Biological and Clinical Sciences Research Journal, 2023(1), 191. https://doi.org/10.54112/bcsrj.v2023i1.191
Section
Original Research Articles
License
Copyright (c) 2023 SS ZAHRA, S DARS, S KUMARI, B SAHAR, A WAHID, ST EJAZ
This work is licensed under a Creative Commons Attribution-NonCommercial 4.0 International License.