THE EFFICACY OF ULINASTATIN COMBINED WITH DEXAMETHASONE IN THE TREATMENT OF SEPSIS PATIENTS
Keywords:
Sepsis, Ulinastatin, Dexamethasone
Abstract
This study aims to evaluate the efficacy and application of ulinastatin combined with dexamethasone in treating sepsis. A retrospective study was conducted in Nishtar Medical Hospital from 5th July 2021 to 5th July 2022. It included 80 patients divided into Group A and Group B, with 40 patients each. In Group A, patients were included who were administered dexamethasone monotherapy. In Group B, 40 patients were administered ulinastatin combined with dexamethasone. Adverse effects, treatment efficacy and a related score of both groups were analyzed. Serum inflammatory factors were measured using ELISA. After the treatment,  APACHE II scores were 17.43±5.33 and 12.48±2.42 in Groups A and B, respectively. Similarly, SOFA scores were 7.78±2.43 and 5.28±1.32 points, respectively. The adverse effects were in 13 (32.5%) patients in Group A and in 4 (10%) patients in Group B. from the results of current analysis it can be concluded that a combination of Ulinastatin and dexamethasone effectively treats sepsis
Downloads
Download data is not yet available.
References
Angus, D. C., and Van der Poll, T. (2013). Severe sepsis and septic shock. N Engl J Med 369, 840-851.
Atal, S. S., and Atal, S. (2016). Ulinastatin–a newer potential therapeutic option for multiple organ dysfunction syndrome. Journal of Basic and Clinical Physiology and Pharmacology 27, 91-99.
Ayroldi, E., Cannarile, L., Delfino, D. V., and Riccardi, C. (2018). A dual role for glucocorticoid-induced leucine zipper in glucocorticoid function: tumor growth promotion or suppression? Cell Death & Disease 9, 1-12.
Bone, R. (1991). Pathophysiology of sepsis. Ann Intern Med 115, 457-469.
Brancaccio, P., Maffulli, N., and Limongelli, F. M. (2007). Creatine kinase monitoring in sport medicine. British medical bulletin 81, 209-230.
Chen, H., He, M.-y., and Li, Y.-m. (2009). Treatment of patients with severe sepsis using ulinastatin and thymosin α1: a prospective, randomized, controlled pilot study. Chinese medical journal 122, 883-888.
Chen, X., Wang, Y., Luo, H., Luo, Z., Liu, L., Xu, W., Zhang, T., Yang, N., Long, X., and Zhu, N. (2013). Ulinastatin reduces urinary sepsis‑related inflammation by upregulating IL‑10 and downregulating TNF‑α levels. Molecular medicine reports 8, 29-34.
Cohen, J., Vincent, J.-L., Adhikari, N. K., Machado, F. R., Angus, D. C., Calandra, T., Jaton, K., Giulieri, S., Delaloye, J., and Opal, S. (2015). Sepsis: a roadmap for future research. The Lancet infectious diseases 15, 581-614.
Doi, K., Yuen, P. S., Eisner, C., Hu, X., Leelahavanichkul, A., Schnermann, J., and Star, R. A. (2009). Reduced production of creatinine limits its use as marker of kidney injury in sepsis. Journal of the American Society of Nephrology 20, 1217-1221.
Gil, M., Kim, Y. K., Hong, S. B., and Lee, K. J. (2016). Naringin decreases TNF-α and HMGB1 release from LPS-stimulated macrophages and improves survival in a CLP-induced sepsis mice. PLoS One 11, e0164186.
Hou, T., Huang, D., Zeng, R., Ye, Z., and Zhang, Y. (2015). Accuracy of serum interleukin (IL)-6 in sepsis diagnosis: a systematic review and meta-analysis. International journal of clinical and experimental medicine 8, 15238.
Kakihana, Y., Ito, T., Nakahara, M., Yamaguchi, K., and Yasuda, T. (2016). Sepsis-induced myocardial dysfunction: pathophysiology and management. Journal of intensive care 4, 1-10.
Qiu, H., Tong, Z., Ma, P., Hu, M., Peng, Z., Wu, W., and Du, B. (2020). China Critical Care Clinical Trials Group (CCCCTG). Intensive care during the coronavirus epidemic. Intensive Care Med 46, 576-578.
Schmidt, M., Mansfield, K. E., Bhaskaran, K., Nitsch, D., Sørensen, H. T., Smeeth, L., and Tomlinson, L. A. (2017). Serum creatinine elevation after renin-angiotensin system blockade and long term cardiorenal risks: cohort study. bmj 356.
Shrestha, G. S., Kwizera, A., Lundeg, G., Baelani, J. I., Azevedo, L. C., Pattnaik, R., Haniffa, R., Gavrilovic, S., Mai, N. T. H., and Kissoon, N. (2017). International Surviving Sepsis Campaign guidelines 2016: the perspective from low-income and middle-income countries. The Lancet Infectious Diseases 17, 893-895.
Spanier, A. J., and McDonough, K. H. (2000). Dexamethasone Blocks Sepsis-Induced Protection of the Heart from Ischemia Reperfusion Injury (44466). Proceedings of the Society for Experimental Biology and Medicine 223, 82-87.
Thao, P. T. N., Tra, T. T., Son, N. T., and Wada, K. (2018). Reduction in the IL-6 level at 24 h after admission to the intensive care unit is a survival predictor for Vietnamese patients with sepsis and septic shock: a prospective study. BMC Emergency Medicine 18, 1-7.
Tolaj, I., Ramadani, H., Mehmeti, M., Gashi, H., Kasumi, A., Gashi, V., and Jashari, H. (2017). Does dexamethasone helps in meningococcal sepsis? Medical Archives 71, 173.
Wyss, M., and Kaddurah-Daouk, R. (2000). Creatine and creatinine metabolism. Physiological reviews.
Yu, Z., Rayile, A., Zhang, X., Li, Y., and Zhao, Q. (2017). Ulinastatin protects against lipopolysaccharide-induced cardiac microvascular endothelial cell dysfunction via downregulation of lncRNA MALAT1 and EZH2 in sepsis. International journal of molecular medicine 39, 1269-1276.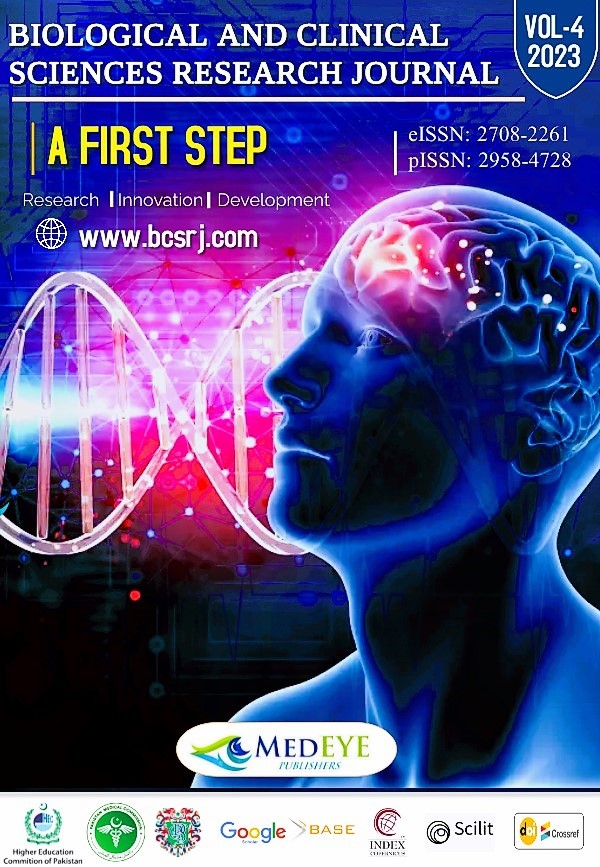 Downloads
How to Cite
AHMED, R., ASHIQ, A., & BATOOL, K. (2023). THE EFFICACY OF ULINASTATIN COMBINED WITH DEXAMETHASONE IN THE TREATMENT OF SEPSIS PATIENTS. Biological and Clinical Sciences Research Journal, 2023(1), 190. https://doi.org/10.54112/bcsrj.v2023i1.190
Section
Original Research Articles
License
Copyright (c) 2023 RA AHMED, A ASHIQ, K BATOOL
This work is licensed under a Creative Commons Attribution-NonCommercial 4.0 International License.