AGROBACTERIUM-MEDIATED TRANSFORMATION OF COTTON (GOSSYPIUM HIRSUTUM L.) USING DMO GENE FOR ENHANCED TOLERANCE AGAINST DICAMBA PESTICIDE
Keywords:
Gossypium hirsutum, Agrobacterium tumefaciens, Dicamba, genetic engineering, herbicides
Abstract
The agrobacterium based transformation of herbicide-resistant crops has modernized weed management in crops by producing cost-effective and ecosystem friendly transgenic plants. Cotton is one of the major crops which are grown worldwide due to its great economic value in textile industries.  Dicamba is a commonly used herbicide in broadleaf plants to kill a wide range of weeds in many dicotyledonous crop fields since the 20th century. In this study, Eagle 2 cotton variety was transformed with the DMO gene which is responsible for the synthesis of the Dicamba monooxygenase enzyme that exhibits tolerance against the Dicamba herbicide. This entire study was conducted at Four Brothers Genetics Lab, Lahore. Transformed cultures of Agrobacterium Tumefaciens with the DMO gene were acquired. Cotton embryos were isolated and co-cultivated with transformed Agrobacterium cultures under sterile conditions. Transformed embryos were grown on an artificial growth medium and acclimatized under favorable conditions. Healthy and stable plants were shifted infield where they were grown into a mature plant. Leaf samples of these plants were collected and DNA was successfully isolated by the CTAB method. Transformed plants were confirmed by Polymerase chain reaction and gel electrophoresis. Variations in different traits among transformed cotton plants were found which indicated that the transgenic plant 4 showed higher plant height, monopodial and sympodial branches, leaf length, leaf width, number of bolls, and bolls weight. The better performance of plant 4 indicated that the yield potential of the transgenic plant was improved as compared with other transgenic cotton plants.
Downloads
Download data is not yet available.
References
Adang, M., DeBoer, D., Endres, J., Firoozabady, E., Klein, J., Merlo, D., ... & Stock, C. (1989). In Biotechnology, Biological Pesticides and Novel Plant-Pest Resistance for Insect Test Management; Roberts, DW; Granados, RR, Eds. Insect Pathology Resource Center, Boyce Thompson Institute for Plant Research at Cornell University, Ithaca, NY, 31-37.
Ahloowalia B.S., Maluszynski M., Nichterlein K. (2004) Global impact of mutation-derived varieties. Euphytica 135, 187–204
Awan M.A. (1991) Use of induced mutations for crop improvement in Pakistan, p. 67–72. In International Atomic Energy Agency (Ed.), Plant Mutation Breeding for crop improvement, Viena, IAEA, 554p. ISBN 92-0-010091-0.
Barton, K.A., Binns, A.N., Matzke, A.J., Chilton, M.D. (1983) Regeneration of intact tobacco plants containing full length copies of genetically engineered T-DNA, and transmission of T-DNA to R1 progeny. Cell 32: 1033-1043
Basbag S., Gencer O. (2007) Investigation of some yield and fibre quality characteristics of interspecific hybrid (Gossypium hirsutum L.×G. barbadense L.) cotton varieties. Hereditas 144, 33–42.
Bayles, M.B., Verhalen, L.M., McCall, L.L., Johnson, W.M., Barnes, B.R. (2005) Recovery of recurrent parent traits when backcrossing in cotton. Crop Science 45, 2087–2095.
Behrens, M.R., Mutlu, N., Chakraborty, S., Dumitru, R., Jiang, W.Z., Lavallee, B.J., Herman, P.L., Clemente, T.E., Weeks, D.P. (2007)Dicamba tolerance: enlarging and preserving biotechnology-based weed management strategies. Science 316, 1185–1188.
Bowman, D.T. (2000) Attributes of public and private cotton breeding programs. Journal of Cotton Science 4, 130–136.
Carvalho, L.P. (1999) Contribuic¸ ˜ao do melhoramento ao cultivo do algod˜ao no Brasil, p. 253–269. In Beltr˜ao N.E.M. (Ed.), Agroneg´ocio do algod˜ao no Brasil. v.1. Embrapa Comunicac¸ ˜ao para Transferˆencia de Tecnologia, Bras´ılia. ISBN 85-7383-060-3.
Cheng, M., Fry, J.E., Pang, S., Zhou, H., Hironaka, C.M., Duncan, D.R., Conner, T.W., Wan, Y. (1997) Genetic transformation of wheat mediated by Agrobacterium tumefaciens. Plant Physiology 115: 971-980
D'Halluin, K., Bossut, M., Bonne, E., Mazur, B., Leemans, J., Botterman, J. (1992) Trans-formation of sugarbeet (Beta vulgaris L.) and evaluation of herbicide resistance in transgenic plants. Bio/Technology 10: 309 – 314
Davies K.M (2007). Genetic modification of plant metabolism for human health benefits. Mutat Res-Fund Mol M 622: 122-137.
Duke, S.O., Powles, S.B. (2008). Glyphosate: a once in a century herbicide. Pest Management Science 64, 319–325.
Ervin, D.E., Carriere, Y., Cox, W.J., Fernandez-Cornejo, J., Jussaume, R.A.A., Jr., Marra, M.C., Owen, M.D.K., Raven, P.H., Wolfenbarger, L.L., Zilberman, D. (2010). Impact of Genetically Engineered Crops on Farm Sustainability in the United States; The National Academies Press: Washington, DC.
Fehr, W.R. (1987) Principles of cultivar development: theory and technique, vol. 1. McGraw-Hill, New York. ISBN 0070203458.
Firoozabady, E., Deboer, D.L., Merlo, D.J., Halk, E.L., Amerson, L.N., Rashka, K.E., Murrae, E.E. (1987) Transformation of cotton (Gossypium hirsutum L.) by Agrobacterium tumefaciens and regeneration of transgenic plants. Plant Molecular Biology 10, 105–116.
Fitch, M.M.M., Manshardt, R.M., Gonsalves, D., Slightom, J.L. (1993) Transgenic papaya plants from Agrobacterium-mediated transformation of somatic embryos. Plant Cell Reproduction 12: 245-249
Gledhill, D. (2008). The Names of Plants (4 ed.). Cambridge University Press. p. 182. ISBN 978-0-521-86645-3.
Hari, G. (2007). Multiple references to non-wood fibers for paper. Paper on Web, Pulp & Paper Resources & Information Site.
Heinicke, C., Grove W.A. (2005) Labor markets, regional diversity, and cotton harvest mechanization in the post-World War II United States. Social Sci. Hist. 29, 269–297.
Herman, P.L., Behrens, M., Chakraborty, S., Chrastil, B. M., Barycki, J., Weeks, D.P. (2005). A three-component Dicamba O-demethylase from Pseudomonas maltophilia, strain DI-6: gene isolation, characterization and heterologous expression. Journal of Biological Chemistry 280, 24759–24767.
Hiei, Y., Ohta, S., Komari, T., Kumashiro, T. (1994) Efficient transformation of rice (Oryza sativa L.) mediated by Agrobacterium and sequence analysis of the boundaries of the T-DNA. Plant Journal 6: 271-282
Hinchee, M.A.W., Connor-Ward, D.V., Newell, C.A., McDonnell, R.E., Sato, S.J., Gasser, C.S., Fischhoff, D.A., Re, D.B., Fraley, R.T., Horsch, R.B. (1988) Production of transgenic soybean plants using Agrobacterium-mediated DNA transfer. Bio/Technology 6: 915-922
Huang, B., Liu, J.Y. (2006) A cotton dehydration responsive element binding protein function as a transcriptional repressor of DRE-mediated gene expression. Biochemical and Biophysical Research Communications 343, 1023–1031.
Humphrey, J. (2006) Commodities, diversification and poverty reduction, p. 380–401. In Sarris A., Hallam D. (Eds.), Agricultural commodity markets and trade: new approaches to analyzing market structure and instability. FAO-ONU, Roma, Italy. ISBN 1-84542-441.
Ishida, Y., Saito, H., Ohta, S., Hiei, Y., Komari, T., Kumashiro, T. (1996) High efficiency transformation of maize (Zea mays L.) mediated by Agrobacterium tumefaciens. Nat Biotechnology 14: 745-750
Jonathan, F., Wendel, Curt, Brubaker, Ines., Alvarez, Richard C. and James McD. Stewart. 2009. Evolution and Natural History of the Cotton Genus. In Andrew H. Paterson (Ed.). Genetics and Genomics of Cotton. Plant Genetics and Genomics: Crops and Models 3, 3–22.
Kinney, A.J. (2003). Engineering soybeans for food and health. AgBioForum 6, 18–22.
Krueger, J.P., Butz, R.G., Atallah, Y.H., Cork, D.J. (1989). Isolation and identification of microrganisms for the degradation of dicamba. Journal of Agricultural Food Chemistry 37, 534–538.
Liu, J., Yang, H., Hsieh, Y.L. (2005). Distribution of Single Fiber Tensile Properties of Four Cotton Genotypes. Text Research Journal 75: 117-122.
Opondo, R.M., Ombakho, G.A. (1997) Yield evaluation and stability analysis in newly selected "KSA" cotton cultivars in western Kenya. African Crop Science Journal 5, 119–125.
Puspito, A.N., Rao, A.Q., Hafeez, M.N., Iqbal, M.S., Bajwa, K.S., Ali, Q., Rashid, B., Abbas, M.A., Latif, A., Shahid, A.A. and Nasir, I.A., 2015. Transformation and evaluation of Cry1Ac+ Cry2A and GTGene in Gossypium hirsutum L. Frontiers in Plant Science, 6, p.943.
Pretty, J. (2001). The rapid emergence of genetic modification in world agriculture: contested risks and benefits. Environmental Conserv 28: 248-262.
Service, R.F. (2007). A growing treat down on the farm. Science 316, 1115–1117.
Sunilkumar G., Campbell L.M., Puckhaber L., Stipanovic R.D., Rathore K.S. (2006) Engineering cottonseed for use in human nutrition by tissue-specific reduction of toxic gossypol. Proceeding of National Academy of Science USA 103, 18054–18059.
Torres, J. B., Ruberson, J. R., & Whitehouse, M. (2009). Transgenic cotton for sustainable pest management: a review. In Organic Farming, Pest Control and Remediation of Soil Pollutants (pp. 15-53). Springer, Dordrecht.
Umbeck, P., Johnson, G., Barton, K.., Swain, W. (1987) Genetically transformed cotton (Gossypium Hirsutum L.) plants. Bio/Technology 5: 263-266
Uzogara SG (2000).The impact of genetic modification of human foods in the 21st century: A review. Biotechnological Advances 18: 179-206.
Venkateswarlu, D., Corta, L. (2001). Transformations in age and gender of unfree workers on hybrid cottonseed farms in Andhra Pradesh. Journal of Peasant Studies 28, 1–36.
Wang, M.M., Zhang, Y., Wang, J., Wu, X.L., Guo, X.O. (2007) A novel MAP kinase gene in cotton (Gossypium hirsutum L.), GhMAPK, is involved in response to diverse environmental stresses. Journal of Biochemical and Molecular Biology 40, 325–332.
Wendel, J.F., Cronn, R.C. (2003). Polyploidy and the evolutionary history of cotton. Advanced Agronomy 78: 139-186.
Wendel, J. F. (1989). New World tetraploid cottons contain Old World cytoplasm. Proceedings of the National Academy of Sciences, 86(11), 4132-4136.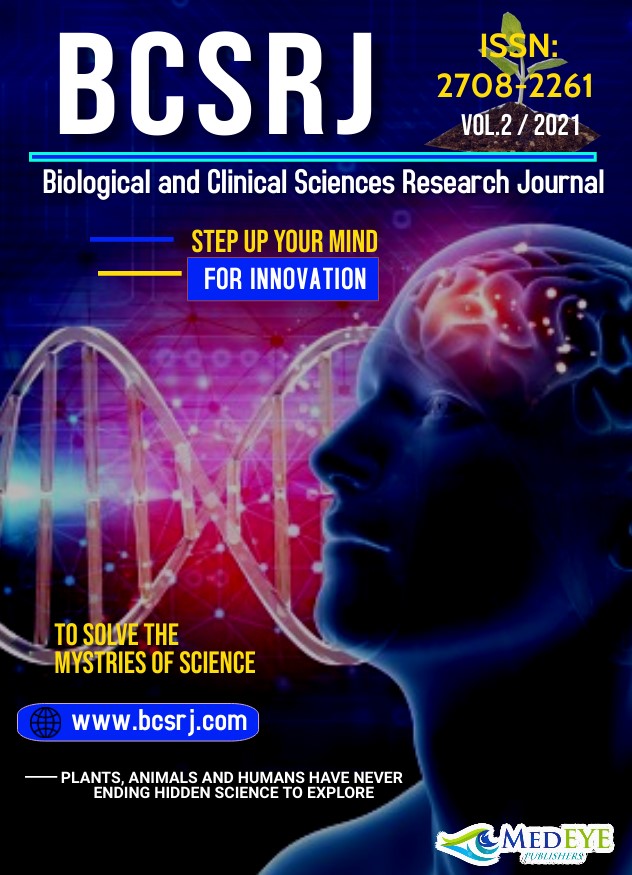 Downloads
How to Cite
Javied, M., Ashfaq, N., Haider, M., Fatima, F., Ali, Q., Ali, A., & Malik, A. (2021). AGROBACTERIUM-MEDIATED TRANSFORMATION OF COTTON (GOSSYPIUM HIRSUTUM L.) USING DMO GENE FOR ENHANCED TOLERANCE AGAINST DICAMBA PESTICIDE. Biological and Clinical Sciences Research Journal, 2021(1). https://doi.org/10.54112/bcsrj.v2021i1.54
Section
Original Research Articles
License
Copyright (c) 2021 MA Javied, N Ashfaq, MA Haider, F Fatima, Q Ali, A Ali, A Malik
This work is licensed under a Creative Commons Attribution-NonCommercial 4.0 International License.